Jobs & Internships for Students & Alumni

CAREER OPPORTUNITIES IN CHINA
---
Serving as a hub for the Columbia community abroad and at home, Beijing Global Center is committed to equipping the university students with global experience and local opportunities through our partner network, helping them fulfill individual values, and assisting with their career development. To provide high-quality career opportunities to Columbia students, especially during the COVID-19 global crisis that tightens the labor market, the Beijing Center has launched a program that enables students to get job vacancies and internship information at our partner companies/organizations online since June 2020.
STUDENT CAREER DEVELOPMENT
---
In the face of global challenges posed by COVID-19 pandemics, the student's future development has been at the center of the Beijing Center's priorities since 2020. We offer Columbia students and alumni a variety of career development services, including virtual career fairs, industry insight panels, weekly job release columns, and global virtual internship initiatives to help them explore career interests, fulfill professional needs, and advance individual career competence. 
We are committed to creating an exclusive platform for Columbia talents to connect with employers faster and more directly. In partnership with Columbia Engineering Graduate Career Placement Center, GSAS Compass, SPS Career Design Lab, and CBS Career Management Center, we've designed and delivered 8 virtual career fairs tailored to different schools and programs providing over 1,800 current students and alumni with first-hand professional resources and one-on-one networking opportunities.

Virtual Career Fairs in Numbers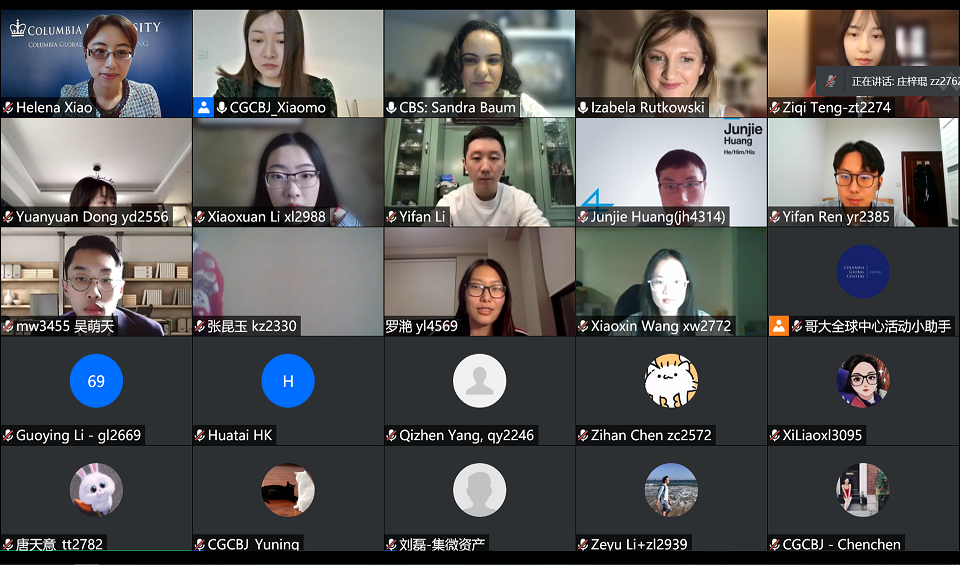 Spring 2021 Quantitative Finance Virtual China Career Fair
Mar. 26, 2021
I want to extend my great appreciation to you for coordinating such an incredible career fair, which helped me quickly navigate the local labor markets, and connect to employers directly. You guys helped me a lot in my job search. I look forward to seeing more career events like this in the future. —— Allison Yan SPS'22
The virtual career fair is a great platform for students and employers. There were many promising career opportunities, and loads of information from the attending companies. —— Jingchen HU SEAS '21
For a student who is a year away from graduation, this career fair gave me a clearer vision of where I stand now and what I should do next to achieve my goal. —— Shibo ZHAO SEAS '22
The virtual career fair was tremendously helpful to Abelian. I graduated from SEAS a couple of years ago, and I am always eager to recruit SEAS alumni. More than 15 students have submitted their resumes. —— Zhao JIN SEAS '13, Abelian Technologies
The event went far beyond our expectations. Columbia Engineering students and alumni are very enthusiastic. Many of them have added me on WeChat to find out more about jobs and how to apply. Thank you, the Beijing Center, for organizing this successful event! —— Merico
We always appreciate Columbia students' intelligence and achievements. And thank you again for your great support for this event! I had a great time talking with over 30 talented students from Columbia Engineering in the ByteDance group session, which genuinely helps with our campus recruitment. —— ByteDance
Columbia Global Centers | Beijing is a truly Pro partner in helping us continuously recruit talents. Our campus recruitment team hopes to move the partnership to the next level by trying to co-design a Tencent-Columbia Internship Initiative for all the Columbia students and alumni in the future. —— Tencent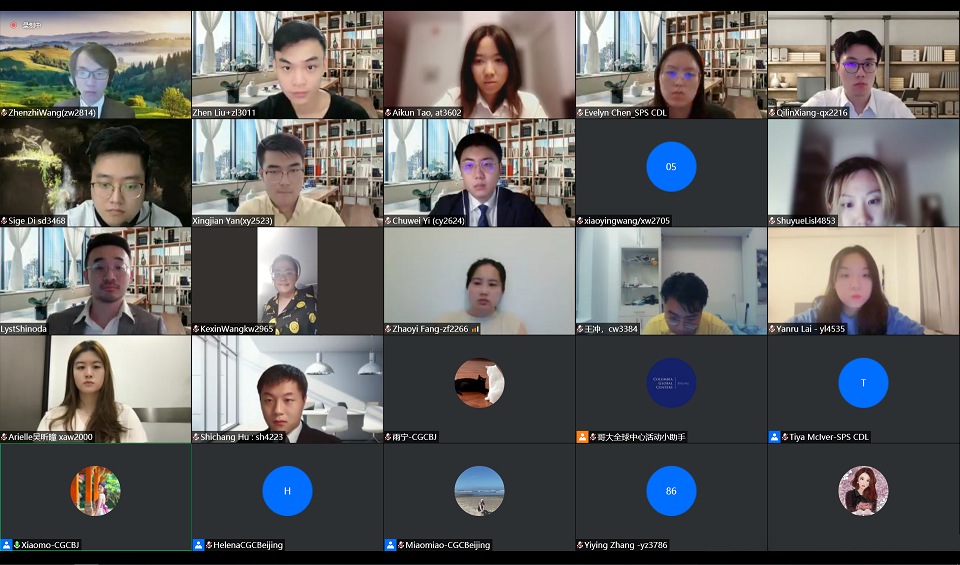 Fall 2021 SPS Virtual China Career Fair
Sep. 15, 2021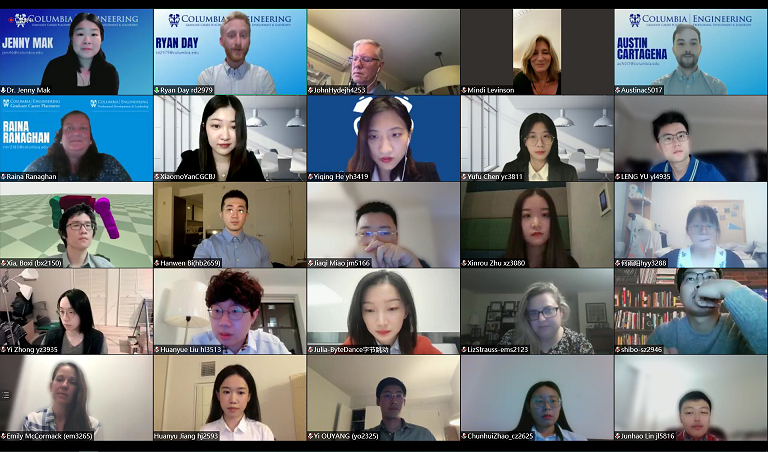 Fall 2021 SEAS Virtual China Career Fair
Oct. 12, 2021
It is a wonderful partnership and we appreciate everything that you provide seen and unseen. We couldn't achieve this level of success without your expertise. —— SPS Career Design Lab
Thank you so much, the Beijing Center team, for putting this together and recruiting the employers. My students told me that they were really excited with the lineup. —— Izabela Rutkowski, Associate Director, Graduate Career Development at M.A. Program in Mathematics of Finance 
Thank you again for making this career fair an incredible success! Your team makes these events look so easy to pull off and I know how much work goes into them. —— Columbia Engineering Graduate Career Placement Center
PREVIOUS OPENINGS
---
A platform based on WeChat, Beijing Global Center regularly releases recruitment and intern information from enterprises, organizations, and institutions, many of which were founded by Columbia alumni.