Architecture at the Amman Center is based in Studio-X Amman, which operates as a regional platform for conversations and research in architecture, focusing on questions of access, migration, representation, memory, and citizenship in the Arab region. Through partnerships with institutions and individuals on overlapping areas of interest or concern, Studio-X Amman's projects invite audiences and collaborators to join Columbia's faculty and students and other partners from around the world for programming and research initiatives. The activities, which include lectures, symposia, screenings, workshops, and seminars, have become recognized occasions for students, architects, designers, artists, and researchers to come together to exchange knowledge and ideas, and for new collaborative projects to emerge. Operating from Columbia Global Centers | Amman, Studio-X Amman has continued to expand and build upon ongoing projects.
Programming Highlights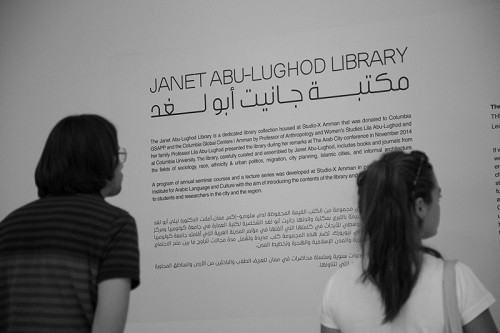 Janet Abu-Lughod Library Seminar
Studio-X Amman expanded initiatives and programs around the Janet Abu-Lughod Library, generously donated by Lila Abu-Lughod, Joseph L. Buttenwieser Professor of Social Science at Columbia University, and her family. The fourth Janet Abu-Lughod Library Seminar was held in partnership with the Sijal Institute for Language and Culture. Participants reflected on the temporality, vulnerability, and exploitation of lives on a construction site. Questioning the frameworks and sources of "third world architecture" history, the seminar experimented with and produced the contents of Superheat, the first issue of an annual publication. While the intensifying heat warms up construction sites and their materials, the stories of the lives on these sites survive as they happen within a bearable substructure.
Emergency Urbanism: Infrastructure and Cities
This online series of webinars run by Columbia Global Centers | Amman and Studio-X Amman examined the ways in which the pandemic has further exposed and aggravated nations' urban challenges including inequality, urban density, lack of adequate physical and social infrastructure, access to affordable housing, as well as environmental health risk. Conversations brought together experts to discuss what is required to avert the indirect socio-cultural impact that may result when urban life is interrupted; what city recovery strategies centred on inclusive and sustainable models are needed to address such challenges; and what are the lessons learnt from previous work on urban resilience in terms of digitalization, mobility, density, urban design, collaborative governance, and action oriented guidance to build back better cities. The series was organized in partnership with Columbia's Global Centers in Istanbul and Tunis.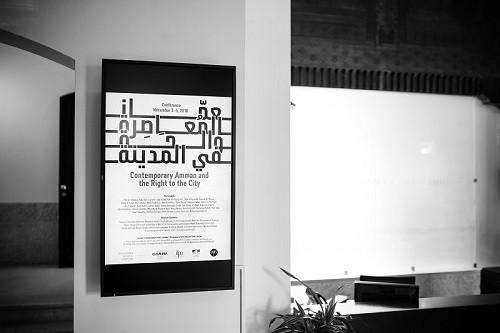 Contemporary Amman and the Right to the City
Despite the growing power of nationalist politics and of neoliberal agendas in shaping the urban trajectory of the city of Amman, the simultaneous rise of its residents associations, youth initiatives, and codified everyday practices of resistance have allowed inhabitants to reshape their physical and conceptual interactions within the city, and to practice alternatives imaginaries for shared livelihoods. At an important historical juncture, and fifty years since the publishing of Henri Lefebvre's seminal text in 1968, this conference sought to reposition the notion of the right to the city in relation to the particularities of Amman within the context of a global movement toward localized urban projects of direct democracy.
Three interrelated themes were presented through which the right to the city can be understood, articulated, or negotiated. These included urban policies and governance, social fabric and urban practices, and housing, access, and speculative growth. A book project that draws on and extends the conversation was published following the conference.
The conference was organized in partnership with Studio-X Amman and the French Institute for the Near East (Ifpo).