During 2019, Chile hosted four Capstone Programs, which are live consulting projects developed by Columbia graduate students with an external client. Each Capstone workshop - which partners a team of about six to ten students with a faculty advisor - seeks to provide clients with innovative analysis and practical recommendations, while students gain experience by working on a real-world problem.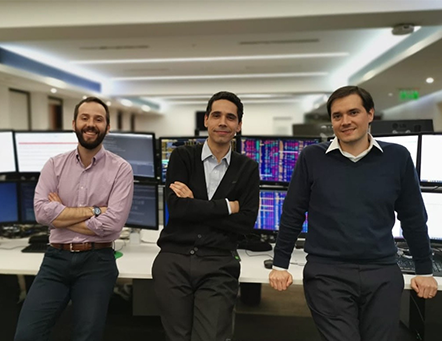 AFP Habitat
In September 2019, AFP Habitat, the largest pension fund manager in Chile by assets managed, enlisted 20 School of Professional Studies (SPS) students under the Capstone Project to contribute to three strategic projects."We have always known about these Capstone projects, and we've wanted to work together [with Columbia] for some time," said Felipe Vargas (GSAS'12), Quantitative Strategist at AFP Habitat.
Along with the students, the majority of which are studying a Master of Science in Applied Analytics, Vargas worked with fellow AFP Habitat co-worker and Columbia alumnus José Manuel Peña (SPS'17) on developing three machine learning projects that involve several areas of the company. AFP Habitat expects to continue working with the Capstone Program in 2020 "to specifically delve into the topic of asset networks and factor models," as well as other projects, according to Vargas.
Municipality of Santiago
In March 2019, six students from the School of International and Public Affairs, advised by Professor Carol O'Cleireacain, spent a week on-site in Chile with the Municipality of Santiago. Tasked with making recommendations to improve the capital city's revenue collection process, they met with leaders from the local and national government.
Also, they worked with tax inspectors to observe the city's interaction with local businesses, and they dialogued with the municipality's clients and stakeholders. Their research included operational, behavioral, and technological solutions for the municipality to improve its collection rates. At the end, the group met with Felipe Alessandri, Mayor of Santiago, to report on their week's research and preliminary recommendations. The mayor expressed his gratitude for the work done by the SIPA team, lauding the students' "sharp insights and perspectives" as well as the "effort and generosity" dedicated to the project.