A Capstone Workshop is a live consulting project with an external client outside of SIPA. Each workshop partners a team of about 6 graduate students with a faculty advisor. The goal is to provide clients with innovative analysis and practical recommendations, while SIPA students gain experience by working on a real-world problem.
A core requirement for the Master of International Affairs (MIA), Master of Public Administration (MPA), and Master of Public Administration in Environmental Science Policy (MPA-ESP), the workshops give students an opportunity to put learning into practice. Serving as their culminating educational experience at SIPA, students work in teams of 6-8 students under the guidance of an expert faculty advisor to work on a real-world consultancy project with an external client.  
For more information:  https://www.sipa.columbia.edu/
HOW TO APPLY?
All applicants are required to submit a completed application through our online Application Portal. While there is no separate deadline for international applicants, each degree program has its own application deadlines and requirements so review the information below carefully prior to applying. 
Please follow the instructions below to assemble and submit the online application.
Note that the applicant must submit all materials directly, not through an agent or third-party vendor, with the sole exception of submissions by the U.S. Department of State's Fulbright Program and its three partner agencies IIE, LASPAU and AMIDEAST, and by the Danish-American Fulbright Commission (DAF), Deutscher Akademischer Austauschdienst (DAAD), and Vietnam Education Fund (VEF). In addition, the applicant will be required to attest to the accuracy and authenticity of all information and documents submitted to Columbia. If you have any questions about this requirement, please contact the admissions office at [email protected].
Failure to submit complete, accurate, and authentic application documents consistent with these instructions may result in denial or revocation of admission, cancellation of academic credit, suspension, expulsion, or eventual revocation of degree. Applicants may be required to assist the Admissions Committee involved in admission reviews in the verification of all documents and statements made in documents submitted by students as part of the application review process.
Please note that the applicant may upload unofficial transcripts at the start of the application process. Once an applicant has been admitted and has indicated acceptance of our offer of admission, certified and secure electronic official transcripts must be submitted directly to Columbia from the applicant's prior institution(s)' Registrar Office. Columbia will use its verification vendor to verify the applicant's degree and transcript with the prior academic institutions and/or the relevant country's Ministry of Education. 
Moreover, students who plan to enroll at SIPA will be required to participate in a verification process. More detailed information will be provided upon admission.
To Apply visit the following link:  https://www.sipa.columbia.edu/admissions/how-apply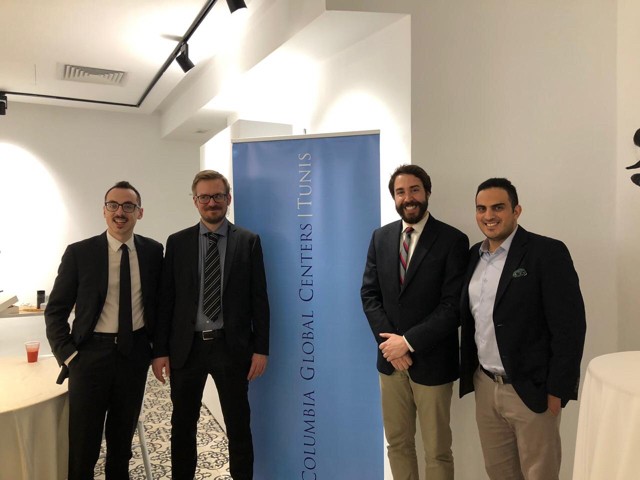 Former Capstone Workshops
June 09, 2023
The Tunis Center hosted a lecture on American Avant-Garde Filmmaking by Columbia professor Richard Peña.
June 02, 2023
This workshop is jointly organized by Columbia Global Centers | Tunis, the University of Sousse, ROAR Lab and LMS.
May 16, 2023
This workshop is co-organized by Columbia Global Centers | Tunis, hosted both at CGC Tunis premises and at CEMAT's.
Related Events
There are no upcoming events.