The University initiative for international students offers students and their schools the ability to leverage four types of study and community spaces in over 65 cities worldwide. 
Over 3,500 students are actively engaged and have registered interest, and roughly 2,500 are currently enrolled, most of whom are using these spaces regularly.
Due to the pandemic and visa issues, I could not go to the Columbia campus this fall semester, which broke my heart.

But you managed to bring Columbia (or at least part of it) to me, to my home country, to my residential city! Thank you so much!
Study and Community Spaces
I would like to thank CGC for providing dedicated spaces to international students in Hong Kong and across the globe. The site has been very popular with students here.

Not only has it enhanced students' academic experiences, but it has also fostered a greater sense of community among Columbia students in Hong Kong.
How Schools Can Plan Events and Programs
During this intense period of disconnectedness, these study and convenings spaces offer schools and departments a powerful opportunity to connect directly with their students. The Global Centers, local WeWork Community Teams, and over 100 student volunteers are prepared to make each school's events successful, meaningful, and well attended.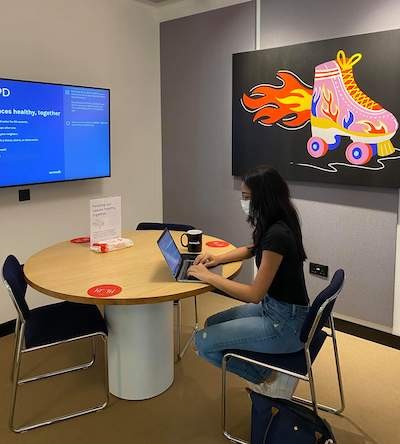 To start the event-planning process, please contact Paul Hersh, the Global Centers' Director of Strategic Planning and Initiatives, at phh2114@columbia.edu. 
Paul and the Global Centers team will:
Work with the school to brainstorm the right event or program design for the desired outcomes.
Share lessons learned from what has worked well in these locations.
Connect the right people to make sure the event is successful.
Discuss guests, speakers, and attendance targets and what that means for venues.
Identify the right day and time to ensure maximum impact. 
We are here to help!
Please note that schools and departments will not be charged for the use of space at the WeWork sites. Schools and departments are responsible for any catering or other incidental expenses.
Please also note that you can direct students to the student Student Access Registration Form in order for them to enroll.
Program and Event Ideas for Schools
Programs and events organized by schools and departments can focus on academic, social, or professional engagement opportunities. There are endless possibilities. Here are a few suggestions: 
Enhancing students' experiences
Opportunities for building upon online academic coursework, such as adding global dimensions to class projects and exercises. Also, students are able to gather at these sites and connect virtually, as a group, with their faculty on campus.
Tutoring, review sessions, & exams
When nearing exams, schools and departments may offer virtual review sessions conducted by faculty and staff in New York or local alumni. Students are also able to take their exams at the sites.
These locations offer a new chance for schools and departments to engage alumni, in their home cities. Alumni may be engaged around social events, as well as career and networking opportunities. 
New and matriculating student orientations, coinciding with on-site activities in New York, or separate (this could be ideal for the spring semester).
Schools can also directly connect their deans to their international students through "fireside chats," or informal conversations with students, gathered on sight and connected virtually.
Social and cohort-building activities
These could include events that connect students with one another, within and across programs, intra-school mentorship programs, and opportunities to connect international students with students in New York. 
These may be organized with alumni on-site, with a virtual connection to campus.
... and any other ideas schools may imagine!
Current and Planned Events & Programs
Schools, departments, and the initiative have already begun to organize events and programming for students worldwide, ranging from social gatherings to connecting with campus resources to professional development training. Programming is designed to include an in-person component (where conditions allow).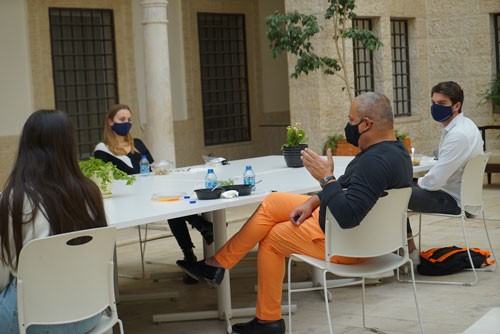 Events
Multi-city, all-school in-person Halloween gathering in China
In-person luncheons for students and Global Centers' Directors and staff
Programming
I would like to thank you very sincerely for organising access to the WeWork spaces for international students unable to move to NYC this year.

Having an accessible workspace has changed the experience of restrictions imposed on life in general and academic life in particular.
WHAT WE CAN AND CANNOT DO IN-PERSON AT THESE SITES
What We Can Do
Provide access to study, convene, and collaborate
Convene students and alumni for social, networking, professional development, and speaker events
Gather for virtual interaction with faculty on campus
Host tailored, targeted school events
Convene alumni, students, and prospective applicants for information sessions
Purchase, and serve, food and non-alcoholic drinks
What We Cannot Do
Deliver in-country instruction
Hire and pay local staff
Install Columbia assets
Engage in marketing or fundraising activities
Conduct revenue-generating or for-profit activities
Health and Safety Protocols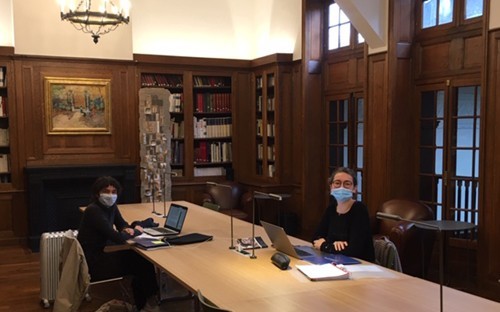 All locations have implemented the strictest health and safety guidelines - whether that be Columbia or local standards, whichever is more stringent. Any in-person gatherings take place in the safest possible conditions. To ensure a continually safe community, students cannot access a WeWork location or a Global Center until they have agreed to the Columbia Health Compact, and students must acknowledge the Required Daily Facility Terms of Use every time they wish to access a space.
In addition to University policies, each location is subject to the local regulations imposed by the government of their jurisdiction.  Both WeWork and the University are closely monitoring local conditions and will adapt both usage and access as local conditions merit. Click here to review guidance on gathering sizes by city.
Student Outreach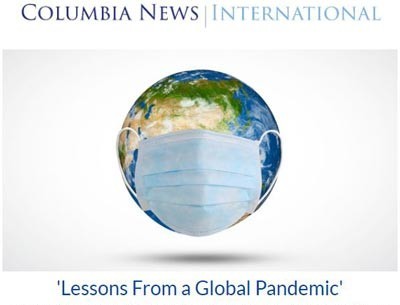 Student outreach is designed to inform, solicit two-way feedback, and enhance students' connection to the University. This communication includes:
Direct emails from Safwan M. Masri, Executive Vice President for Global Centers and Global Development, inviting participation and providing updates.
Surveys designed to gauge interest, engagement, and feedback.
First-ever weekly newsletter distributed by Columbia Communication for international students.
Weekly programming / events newsletter for the international students directly engaged in the initiative.
Peer-to-peer communication channels, such as WhatsApp, WeChat, and Instagram.
Specially designed programming and events, both in-person and virtual.
Student Volunteers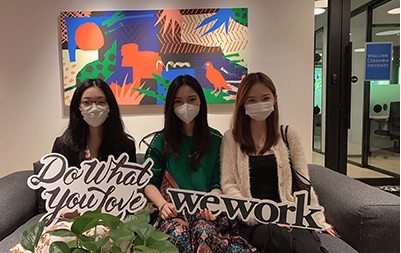 More than 100 students, across all locations and 14 schools, have signed up to support communications, events, and community-building in their locations and across the world. As members of the new Global Student Advisory Council, they will advise, support, and organize on-the-ground activities, as well as engage with virtual events.
Students have self-selected among three volunteer opportunities:
Outreach and Engagement Volunteers - offer advice on the most effective and efficient ways to connect with students
Events and Community Volunteers - conceptualize and curate programs and events for international students
School Liaison Volunteers - serve as point person to work with their school to bridge the online experience of their classmates and the in-person campus experience
Students can complete a form here to volunteer for any of the above opportunities.
The WeWork in Seoul makes me feel like a Columbia student again. The library-like space meant so much during midterms and the more social space has created a small but lively Columbia community.

It's brought a slice of home to Seoul and I'm so grateful for it.
Planning for Spring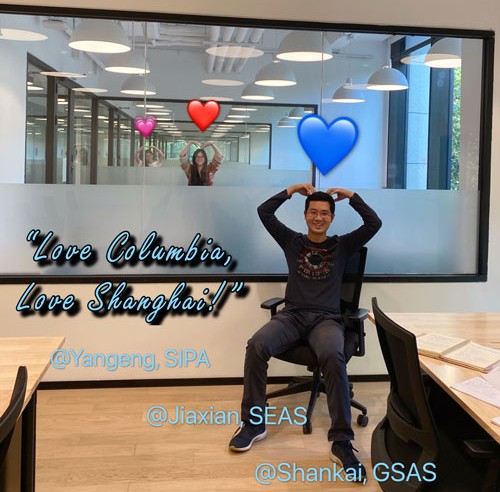 The feedback from students regarding this initiative has been overwhelmingly positive. Students are eagerly awaiting its continuation and the opportunity to again engage with their local Columbia community during the spring term.  As the University, schools, and the world gain a clearer picture of what early 2021 may bring, the Columbia Global Centers are working to ensure we are listening to students, schools, and the broader Columbia community about what may be needed next term to ensure that Columbia's international students continue to thrive–academically, socially, and professionally.
The Global Centers have already begun planning how to best support international students next term, which includes engaging schools on what would be most valuable for them and their students in the spring and how to make this happen. The Global Centers will be in touch throughout the fall term to work with schools on how to make this an even more exciting, meaningful, and enriching experience for all students next term.
I've absolutely been loving the entire experience – I think it's so, so, so cool that we get our own office space to work and hang out with other students!

I really like the variety of people I've been meeting – it's not just freshmen, but students across different schools and degrees. All the WeWorks staff are extremely nice and accommodating, and the location is absolutely fantastic.
Implementation Task Force
Supporting this initiative is a task force composed of senior university leaders who represent the diversity of functional areas necessary to support a project of this scale and scope. These are: Office of the President, Office of the Provost, public health, facilities, communications, technology, legal, undergraduate global engagement, University Life, Libraries, International Students and Scholars Office (ISSO), finance, alumni relations, and representatives from the Columbia Global Centers. Click here to view the full task force.
The task force is also subdivided into three subgroups:
Health & Safety
Ensures the initiative's study spaces meet and maintain the highest level of health and safety standards.
Student Outreach
Creates channels to engage students and designs communications collateral to connect and share information with them, such as through the creation of a new newsletter tailored for international students. 
Programming & Community
Works with on-campus partners to create customized programming that enriches students' academic and social experiences and helps connect them to campus and their fellow students.