Past Event
Beyond Liberal Order: States, Societies and Markets in the Global Indian Ocean
May 18, 2022
4:00 PM - 5:00 PM
Online Columbia Global Centers | Nairobi
What happens to our understanding of liberal international order – its history, material bases and ideological claims – if we read its development not solely as a social formation built by the West and exported around the earth but rather as an economic and political encounter with the world of the Global Indian Ocean?

Of all the macro-regions of the earth, the Indian Ocean world contains the greatest range of cultures and religions, political systems and commercial networks. Almost three billion humans live in the countries along the shores of the Ocean, and another half a billion reside in states adjacent to the oceanic rim. More than anywhere else, the populations here are young, multilingual, and likely to move in their lives from the countryside to the cities. It is in this region that many of the key challenges facing humanity in the next decades –adapting to climate change, rethinking mechanisms of legitimate governance and accountability, and ensuring durable human security– will demand a defining response.

A ground-breaking new book argues that much of the contemporary focus on the North Atlantic and Pacific as the defining sites of the global political economy directs our attention away from the extraordinary political dynamism of another macro-region and the ways in which the foundations of liberal order are being subverted and reworked, as part of a long historical tradition of doing so. To understand how the world is changing -and what the future of international order and global politics might be, the perspective of a Global Indian Ocean is essential.

Please join the Center on Global Energy Policy and Columbia Global Centers in Nairobi for this exciting and joint webinar that brings together two contributing authors and the editor for the African launch of Beyond Liberal Order: States, Societies and Markets in the Global Indian Ocean. 
Panelists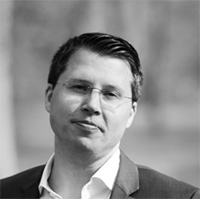 Dr. Harry Verhoeven is a Senior Research Scholar at the Center on Global Energy Policy, focusing on the political economy of climate change, international relations and the linkages between water, energy and food security. His regional focus is on Africa, the Middle East and the Western Indian Ocean.
He is the author of two monographs: Water, Civilisation and Power in Sudan. The Political Economy of Military-Islamist State Building (Cambridge University Press) and Why Comrades Go To War. Liberation Politics and the Outbreak of Africa's Deadliest Conflict (with Philip Roessler, Oxford University Press/Hurst).
He is the editor of two books: Environmental Politics in the Middle East. Local Struggles, Global Connections (Oxford University Press/Hurst) and Beyond Liberal Order: States, Societies and Markets in the Global Indian Ocean (Oxford University Press/Hurst). He has also edited the following special issues: Marx and Lenin in Africa and Asia: Socialism(s) and Socialist Legacies (for Third World Quarterly) and Water Security in Africa in the Age of Global Climate Change (for Daedalus: Journal of the American Academy of Arts & Sciences).
Dr. Verhoeven is a Senior Advisor to the European Institute of Peace. He also founded the Oxford University China-Africa Network in 2009 and remains its Convenor. He is an Associate Member of the Department of Politics & International Relations at the University of Oxford and was a Visiting Scholar at the Department of Politics and International Studies of the University of Cambridge. He has collaborated extensively with key policy actors, including the World Bank, the European Union, various agencies of the United Nations, governments in Africa, Europe, the Middle East and North America and non-governmental organizations. For more than a decade, he has served as an expert witness in various legal cases pertaining to mass atrocities, development-induced displacement and human rights violations in various African states.
Dr. Verhoeven holds a DPhil from the University of Oxford, an MSc from the London School of Economics and Political Science and a BA/MA (Licence) from Gent University.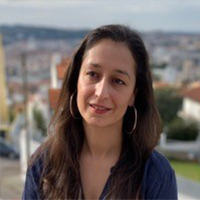 ---
Dr. Shandana Khan Mohmand is a social scientist whose main area of research is inequality and inclusive politics. She leads the IDS Governance research cluster and the IDS Pakistan Hub.
She is the author of Crafty Oligarchs, Savvy Voters: Democracy Under Inequality in Rural Pakistan (2019, Cambridge University Press), and a number of other journal articles and book chapters. She is also on the Editorial Board of the Modern South Asia Series of Oxford University Press (New York); an Associate Fellow at the Institute of Development and Economic Alternatives (IDEAS); and a Fellow at the Mahbub ul Haq Research Centre at the Lahore University of Management Sciences (LUMS).
As a social scientist, her research is focused on the relationship between political participation, inequality and accountability, especially in fragile and conflict-affected contexts. Her research interests include democratization, inclusive politics, local governance, social trust, informal institutions, and the political economy of public policy and service delivery. Her research is interdisciplinary and comparative, and she has contributed to both policy and social science research using varied methodological strategies to investigate these issues in South Asia, the Western Balkans and Sub-Saharan Africa.
Shandana is a lead researcher on a number of research projects, including the ESRC funded 'Sustaining Power: Women's Struggles Against Contemporary Backlash in South Asia' (SuPWR); the ESRC funded Inequality and Governance in Unstable Democracies programme; the Gendered Contentions workstream of the Action for Empowerment and Accountability Programme (A4EA); and the Covid Collective Research Platform. She has also designed and led several professional training programmes to strengthen research communities in Africa, Latin America, and the Western Balkans, which include the Multi-Method Research Course (MMRC)  offered annually in Kenya; the ELLA network in Africa and Latin America on comparative research; and a programme to strengthen research skills in Albanian universities.
Shandana teaches Democracy and Public Policy and Research Design modules for both the MA and doctoral programmes. She is currently supervising the doctoral dissertation of Mireille Widmer that looks at the governance of security in urban Nepal.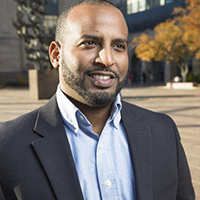 Michael Woldemariam is an associate professor of International Relations at Boston University's Pardee School of Global Studies. He also serves on BU's graduate faculty of Political Science and is a faculty affiliate at the African Studies Center. He previously worked as a research specialist with Princeton University's Innovations for Successful Societies program. He held fellowships at the Woodrow Wilson International Center in Washington, DC and Penn State's Africana Research Center. Woldemariam's teaching and research interests are in African security studies, with a particular focus on armed conflict in the Horn of Africa. Woldemariam's scholarly work has been published in the journals:  Nationalism and Ethnic Politics, Terrorism and Political Violence, Journal of Strategic Studies, and the Journal of Eastern African Studies. His popular essays have appeared in Foreign Affairs, Foreign Policy, and Current History outlets. His first book, Insurgent Fragmentation in the Horn of Africa: Rebellion and Its Discontents, was published by Cambridge University Press in 2018. In addition to his scholarly work, Woldemariam has consulted with a wide variety of international organizations, primarily on politics, governance, and security in the Greater Horn of Africa region.
Professor Woldemariam's areas of expertise include comparative politics, international security, African politics, the Horn of Africa, political violence and conflict, post-conflict governance and institution building, and identity politics.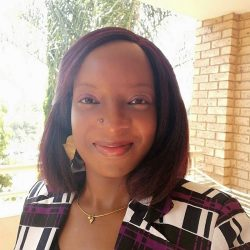 Ms. Faith Mabera is a Senior Researcher at the Institute for Global Dialogue, where she oversees the Foreign Policy Analysis program. She holds a BPolSci International Studies and MA in International Relations (cum laude) from the University of Pretoria. Her research interests include the Responsibility to Protect (R2P), African diplomacy, foreign policy analysis, African peace and security issues, norms dynamics in international relations, and global governance. She is also a regular commentator on South African media covering foreign policy issues, geopolitical trends, and international politics pertinent to South Africa and Africa. She is also the co-editor of the book Africa-China Cooperation Towards an African Policy on China? (Palgrave, 2020).
Host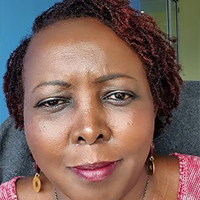 Dr. Murugi Ndirangu joined the newly-constituted Columbia Global Centers | Nairobi in January 2017.
Dr. Ndirangu spearheads the Center's education, research, and public programming activities by providing strategic and administrative leadership to the Center and serves as a liaison to academic divisions, professional schools, and administrative units of Columbia University and both regional and local partners. As a researcher and educationalist, Dr. Ndirangu is passionate about improving the quality of higher education in the region and seeks to advance research activities to advance the quality of life and enhance economic development in the region.

After graduating with a B.Ed-Education and Master in Education-Psychology from Kenyatta University in Kenya, Dr. Ndirangu completed her Doctor of Philosophy in Nutrition and Food Systems from the University of Southern Mississippi in Hattiesburg, Mississippi in the U.S. In her early career, Dr. Ndirangu joined Columbia University's Earth's Institute as a post-doctoral fellow working in the Millennium Villages Project (MVP) on research and implementation of food, nutrition and HIV interventions.

With over seventeen years of experience in HIV/AIDS-food and nutrition security, health initiatives and higher education. Dr. Ndirangu has extensively conducted research, particularly in resource-challenged rural and urban settings in Kenya, West Africa, and low-income neighborhoods in the Lower Mississippi Delta regions of the United States.

Dr. Ndirangu has authored and co-authored diverse peer-reviewed and technical publication records on nutrition and food science. Up until 2018, Murugi was the East African Coordinator for the African Nutritional Sciences Research Consortium and is currently part of Kenya's National Commission for Science, Technology, and Innovation (NACOSTI) inter-Agency Committee on research and Innovation to national development.