Past Event
College Admission in the United States- Student Life and Well-Being in the USA– How to Cope and Build Connections
December 1, 2021
8:00 AM - 9:00 AM
The United States of America (USA) is one of the international students' most appealing study destinations. Hundreds of thousands of international students are admitted to U.S. educational institutions each year, including African students. Navigating the U.S. college and graduate school admissions process as an international student, on the other hand, necessitates some preparation and planning. The variety of colleges in the United States gives students some flexibility and choice to find the right field of study. However, with so many requirements and deadlines, the admissions process can quickly become challenging. Prospective students and their families face new concerns and questions regarding the application process, financial aid, and what the next semester-and beyond-entails. Therefore, international students should learn the best ways to prepare their materials and requirements.
This webinar, which draws on the experiences of various speakers, is intended to help local African students who wish to apply to colleges and universities in the United States. Students and their families will get an in-depth look at the admissions process and key requirements concerning preparing for life in the United States.
This webinar has been delivered as a 3-part series: 
Part 1: An overview of admission and education in the United States for Undergraduate Studies, financial aid, and scholarships. 
Part 2: Master Level Studies and How to Transition to a Professional Career.
Part 3:Student life and well-being in the United States - how to cope, build connections, and learn about the social and cultural aspects of life in the United States?
Moderator Bios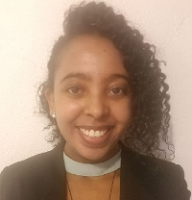 Etsegenet is a graduate social work student at Columbia University (CU). Etsegenet was born and raised in Addis Ababa, Ethiopia. She hold a bachelor's degree in law from Addis Ababa University in Ethiopia, and a master's degree in international human rights law from Lund University in Sweden. Back home, Etsegenet worked as a licensed practicing lawyer. Etsegenet worked with the Asylum Seekers Assistant Project (ASAP) as a community support worker. Prior to joining ASAP, Etsegenet has worked at Catholic Legal Immigration Network as a paralegal, and as a program Coordinator at Nonprofit Village in Maryland. Etsegenet also interned with the African Faith and Justice Network, and Volunteered with the Washington Lawyers' Committee for Civil Rights and Urban Affairs in Washington D.C.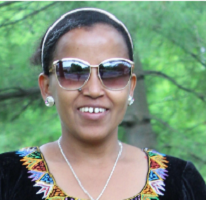 Hana Bekele is originally from Ethiopia. Hana lost her sight at the age of 8 due to an eye disease called glaucoma. She has experienced a lot of ups of downs due to her blindness to reach the position that she is in today. Despite all the challenges she was able to score a high grade on the national exam and joined Addis Ababa University and earned a bachelor's degree in the field of Sociology in 2015. Hana also got a diploma in English language teaching and a certificate in basic computer skills.
Before she came to the United States in August 2018, Hana was working as the general manager of a disability network organization called Ethiopian National Disability Action Network for 5 years. She also has more than 3 years working experience as a full and part-time teacher of basic computer skill training for visually impaired/blind students who she trained to be independent by working on the computer and introducing them to technology.
Moreover, she volunteered in organizations working on disability advocacy and with the disabled. Particularly, she served as the vice president of the board on two associations, the Ethiopian Women with Disability National Association and the Equal Opportunity Association for Women with Disability Living with HIV. Hana helped these associations by giving advice, writing grant proposals, and mobilizing funds to strengthen their organizational capacity. She also represented the voice of women with disabilities to be heard in higher level meetings and policy agenda.
Even though there have been socially constructed barriers which could make her education impossible since her childhood, Hana is always optimistic about life and try to look for better opportunities that can help me to upgrade her personal and professional development. Accordingly, she was selected to participate in competitive programs such as the Mandela Washington Fellowship for Young African Leaders Initiative which took place in the United States in 2015, at Tulane University in New Orleans. She also attended leadership training in the East Africa Regional Leadership Center in Nairobi, Kenya. Hana also traveled to Belgium, Brussels to share her life experience in a disability movie screening event at the European Parliament.
In 2018, Hana got a full scholarship from Open Society Foundation Civil Society Leadership Award program to study Master of Social Work in the Brown School at Washington University in St. Louis. She graduated in May 2020.
Hanna was motivated to study the field of social work because it relates to her passion to focus on enhancing social well-being and help meet the basic human needs of all people, with particular attention to the needs and empowerment of people who are vulnerable, oppressed, and living in poverty
Speakerr Bios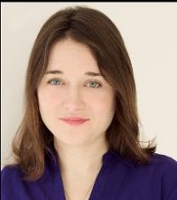 Dr. Alexandra Lane completed her bachelor's degree at Columbia University, Masters at Stanford, Ph.D. in Counseling Psychology at the University of Miami and her clinical psychology internship at the Johns Hopkins University Counseling Center. She completed her undergraduate degree at Barnard College and is happy to return to the Morningside campus to work with students.  
She has experience working with adults across the lifespan, with a particular interest in emerging adulthood. She works from a relational psychodynamic lens to help students improve their understanding of themselves and navigate relationships in the midst of their transition to adulthood. Her research has focused on cultural adjustment in immigrants and refugees, and the intersection between emotional experience and cultural expectations. She has led bereavement groups, as well as women's groups and groups for graduate students completing their dissertations. Her background lends itself to helping facilitate the adjustment of first-generation students, international students, and individuals who find themselves in the midst of impactful life changes.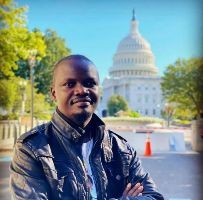 Felix Otieno Oketch is an advocate of the High Court of Kenya. He graduated from Kenyatta University in 2013 where he earned his Bachelor of Laws Degree (LLB). He later joined the Kenya School of Law for his Post Graduate Diploma where he became the second best overall student. He later joined Columbia Law School in New York for his masters in law where he majored in Corporate law. Felix is currently a lecturer at Kenyatta University School of Law, Senior Legal Counsel Siaya County Assembly and the Managing Partner of Felix Oketch & Co.Advocates.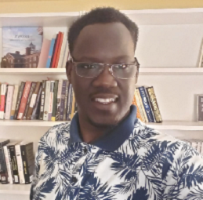 Dawood Mayom is pursuing an M.A. in Social Work from Columbia University School of Social Work, New York, 2020-2022, Concentration: Policy Practice, International Social Welfare and Services for Immigrants and Refugees. Currently, he is a Matching Grant MSW Intern, Resettlement, Asylum and Integration Program, at International Rescue Committee, H.Q. Office in New York. 
Dawood is a human rights and social justice advocate. He is a professional social worker dedicated to continuing his education and advancing human dignity, social justice, peace, and inclusiveness. Dawood has gained academic and professional skills and experience in social work, human rights, and public policy. In Egypt, Dawood served for ten years in different roles as a social worker, team leader, and program coordinator for Psycho-Social Services and Training Institute in Cairo (PSTIC), Terre des Hommes. He was a caseworker supervisor for unaccompanied minors and separated children; he also worked with youth struggling with violence and community issues, focusing mainly on child protection, mental health and educational issues. As program coordinator, Dawood was also responsible for protection issues related to refugees in Cairo, including working on legal and protection problems with other partners.
As a professional social worker, his areas of expertise focus mainly on project management and implementation of social services and programs, including case management, mentorship and education, protection issues for vulnerable refugee populations like women, girls, children, disabled and LGBTQ people. As a social worker scholar, his main research interests include social justice, education for refugees, youth mental health, poverty, and evidence-based research. His other area of interest is international social welfare scholarships focusing on international migrants and refugees, indigenous people, victims of natural disasters, and the social consequences of climate change with more focus on nations of the Global South.