Past Event
Ishtar Diaries Podcast Series
March 21, 2021 - June 29, 2021
12:00 PM - 8:00 PM
Event time is displayed in your time zone.
The Ishtar Diaries is a podcast that intersects scholarship of the ancient world with contemporary art, social and political conditions and personal experiences. It revolves around Ishtar, a major ancient goddess of the region, who allows us to reimagine the arts of civilization as aspects of her all-encompassing nature and attributes, inscribed into the historical and archaeological record as if a diary. But these diaries are in a state of continuous becoming. Each time we engaged with them, we have come to redefine ourselves through them, reshape them, remember and forget some of their parts, and add new memories to them. These accumulating narratives are the biographies or diaries that we aim to explore in this podcast. Through this journey, we hope to challenge the colonial and patriarchal narratives and interpretations forced onto this heritage, to contribute to its preservation, to place it in the backdrop of original and often ethereal music produced by contemporary female musicians from the region, and to demonstrate that the ancient past is relevant beyond the realm of academia.
With thanks to the Media Center for Art History, Columbia University
Episodes will be released bi-weekly.  
This podcast is under the terms of the Creative Commons Attribution-NonCommercial-NoDerivatives 4.0 International License, which permits not for profit distribution and reproduction of this podcast (such as educational classroom and personal uses), provided the original creator and source are credited. The license does not allow alterations of the underlying work beyond that permitted by fair use without additional permission from the creator.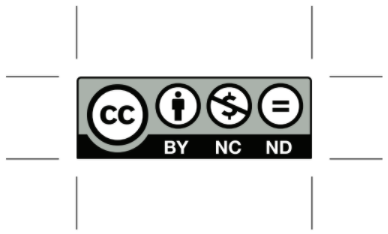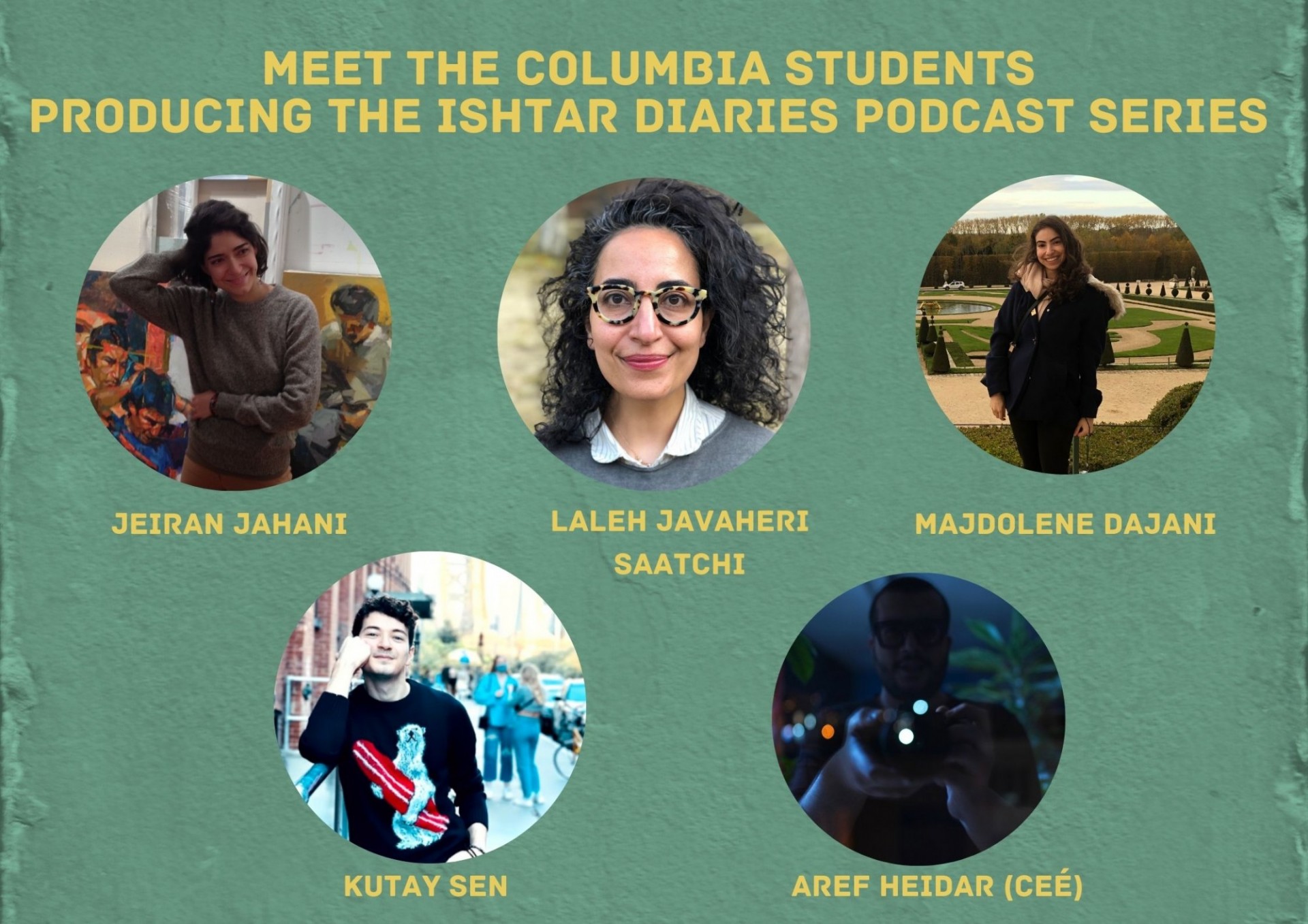 Produced by graduate students at Columbia University:
Majdolene Dajani received her BA in both Anthropology and Classics from UC Santa Barbara and earned her MA in Art History and Archaeology from Columbia University. Her research interests include the reuse of ancient iconography in Western Asia as well as the protection of cultural heritage. She has contributed content to this podcast.
Jeiran Jahani is a second year PhD student at the department of Art History and Archaeology at Columbia University. Her research interests include the Elamite and Mesopotamian representations of flora and fauna during the 4rd and 3rd millennium BC, intellectual history of the ancient Near East, and questions on the continuity of the ancient cultural traditions into the Islamic period. Jeiran has directed, produced and contributed content to this podcast.
Laleh Javaheri-Saatchi is a second year Masters student in the department of Art History and Archaeology at Columbia University. Her area of interest is the study of ancient forms of bodily ornamentation in the Near East and she is presently researching Achaemenid jewelry for her Masters Thesis. She has contributed content to this podcast.
Kutay Şen is a second year PhD student at the department of Art History and Archaeology at Columbia University. His research interests comprise archaeology and visual culture of the ancient Near East as well as the historical consciousness and memory in Mesopotamia and Anatolia. He holds an MA in History in which he studied the interconnections of text and image in the Anatolian hieroglyphic script. He has also been a member of the Boğaziçi University's archaeological research project in Tarsus Gözlükule, Turkey since 2015 as student assistant and trench supervisor. He has contributed content to this podcast.
Aref Heidar (Ceé) is an independent musician, sound designer and sound producer of music and films, based in Iran. He has been involved in all aspects of sound in this podcast. As the music consultant, he has contributed to the musical curation and vision in each episode. He has also been in charge of audio post production and soundscape design, including original audio recording for ambient sounds and musical elements.
Saphe Shamoun is a second year PhD student in the department of Anthropology at Columbia University. He is interested in the questions of: political possibilities and imaginaries, and mainly works with Syrians in 'exile' that took part in the 2011 uprising. Saphe is also one of the co-founders of the Laylit dance party, and a New York-based DJ who specializes in curating a range of musical genres including: Arabic tarab, Dabkeh dance music, electronic shaabi, Arabic funk and disco and Turkish psychedelic. He used to host the WNYU radio show "Unfortunately it was Paradise." As the music consultant, he has developed the musical vision and contributed to the musical curation in this podcast.
Ishtar Diaries Introduction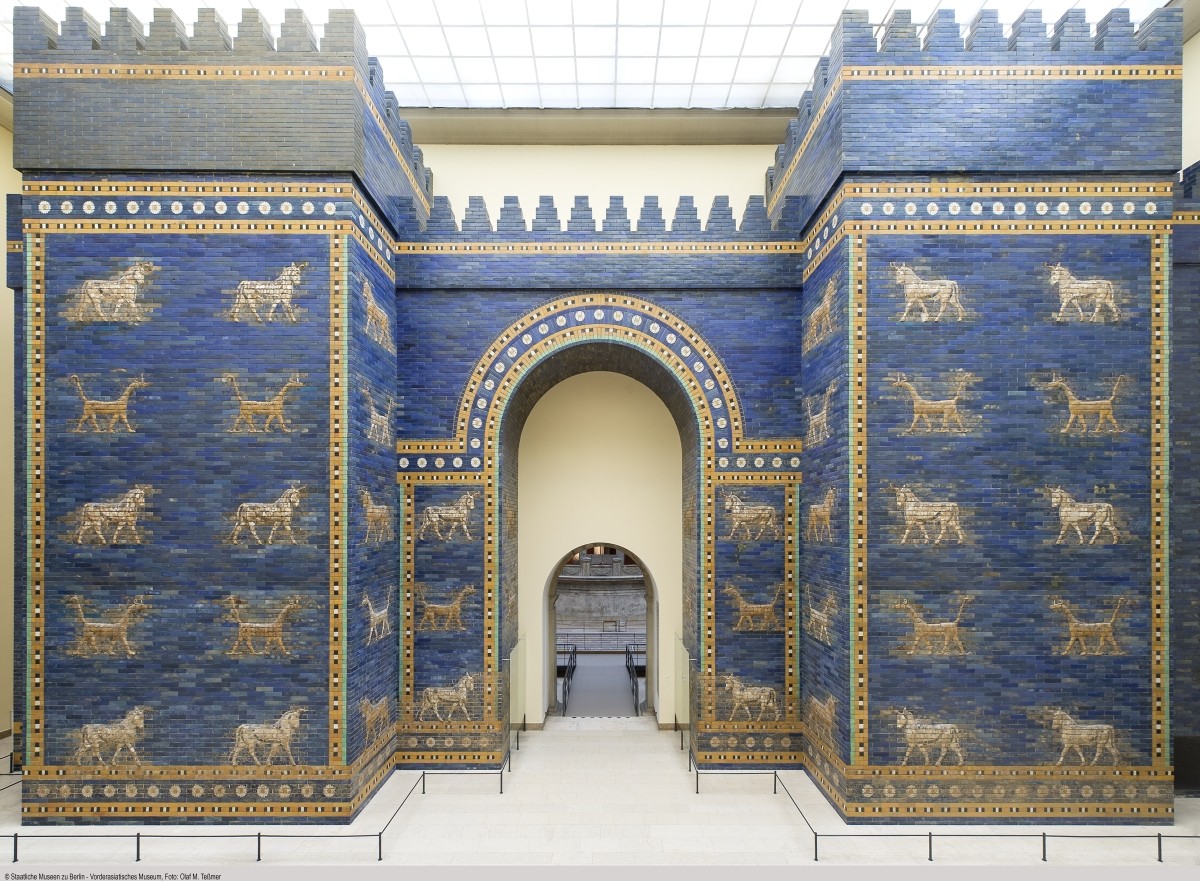 Image: Ishtar Gate. VA Bab 01408-VA, VA Bab 01456, VA Bab 07661: © Staatliche Museen zu Berlin-Vorderasiatisches Museum, Foto: Olaf M. Teßmer 
In this episode, Ipek Cem Taha, the founding director of Columbia Global Centers at Istanbul, and Zainab Bahrani, the Edith Porada professor of Art History and Archaeology at Columbia University, talk about how the idea of the podcast was sparked by a conversation between them in the early days of the Covid pandemic in March 2020. 
Zainab Bahrani is the Edith Porada Professor of Art History and Archaeology at Columbia University. She specializes in Ancient Western Asian and East Mediterranean art and archaeology as well as art theory, historiography, and philosophies of representation. In addition to these subjects, professor Bahrani has also written on the destruction of Iraqi cultural heritage and was a Senior Advisor to Iraq's Ministry of Culture in 2004. Monument preservation and conservation is also a focus of her work and she currently directs the survey project Mapping Mesopotamian Monuments.
Ipek Cem Taha holds an MBA from Columbia Graduate School of Business and an MIA from the School of International and Public Affairs. Her career comprises a wide range of civic responsibilities and participation. She has spearheaded the establishment of many NGOs in Turkey such as URAK (International Competitiveness Research Institute), KAGIDER (Women Entrepreneurs Association) and SAHA to support contemporary art projects in Turkey. She is the co-founder of Cem Papandreou Peace Award initiated in 2016 to promote significant contributions to local and international peace, in honor of the pioneers of the Greek - Turkish rapprochement. Cem Taha has also worked in the mainstream media as a columnist in many Turkish newspapers and has produced 'Global Leaders,' on NTV between 2005-2010 where she interviewed people of international renown. Cem Taha is also the founding director of the Columbia Global Center in Istanbul since 2011. 
Music:
Badiaa Bouhrizi and Blundetto - Mana'a (remix)
ISRC: DE-Q12-14-22803
Taken from Sawtuha (Arabic for her voice). Copyright Jakarta Records and Heavenly Sweetness/Pura Vida Sounds, 2014.
Used with arrangement and permission from rights holders. 
Badiaa Bouhrizi, also known by her stage name Neysatu, is a singer-songwriter and composer from the alternative music scene in Tunisia. She began her performing career at age seven as a soloist in a local choir, subsequently joining the Tahar Haddad choir, which performs classical styles of Arabic music such as muwashshahat and ma'luf. Later she moved to Paris to study musicology. Eventually, she began composing in a minimalist style influenced by the Amazigh Berber music of northwest Tunisia while singing in fuṣḥá (Modern Standard Arabic). Her style is self-described as a "new sound of Northern Africa," a mixture of local traditions, classical Arabic music, jazz, funk, neo-soul, electronica, and reggae. She has collaborated with musicians of many different nationalities and genres, including the London-based Afrobeat fusion group Awalé. 
As well as being a program planner on Radio Nova, where he does his best to give airtime to others' music, Max Guiget is also out on his own under the pseudonym Blundetto, immersed in records, instruments and machines. Having graduated in the space of two albums from a promising tinkerer to a recognised artist, Blundetto hasn't changed a thing about his way of working. Constantly collaborating with musicians from a variety of genres, he has created an organic mix of contemporary Western music, soulful reggae, Latin and hip hop vibes, ethio jazz and Arabic music to name a few.  
Audio post-production: Aref Heidar (Ceé)
In praise of Ishtar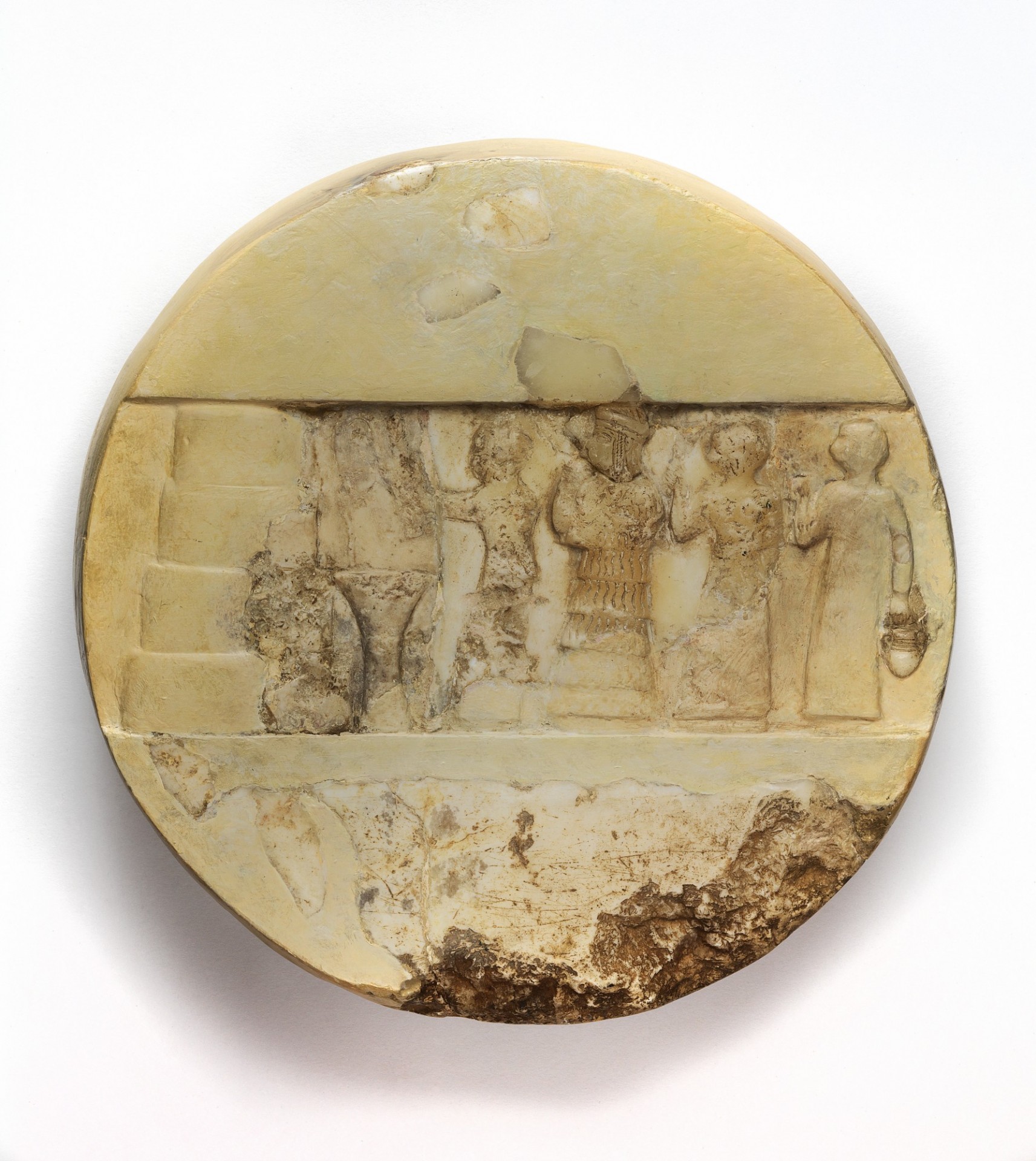 Image: Disk of Enheduanna, daughter of Sargon of Kish. 2350-2300 BC. Calcite. Diameter 25cm, thickness 7cm. Ur, Iraq. Museum of the University of Pennsylvania, Courtesy of the Penn Museum, object no. B16665. 
In this episode titled In Praise of Ishtar, we invite the renowned Iraqi-American poet Dunya Mikhail to read excerpts from the "Exaltation of Inana", a hymn dedicated to the great Mesopotamian goddess Inana/Ishtar and composed by the priestess Enheduanna, daughter of King Sargon and high-priestess to the moon god Nanna. The hymn is dated to the 3rd millennium BC and makes Enheduanna the first known poet in history. Dunya Mikhail shares her own poetry and in this exchange of rhymes, ancient and new, we create a bridge between the first poet and a modern one, two women with shared heritage as well as shared experiences such as loss of home and exile. We invite our listeners to revel in the poetry but to also explore, guided by the lyrical voice of Ms. Mikhail, themes of war and alienation or the female voice, all in praise of Ishtar. 
Dunya Mikhail is an Iraqi-American poet and the author of several books of poetry, among them The Iraqi Nights, Diary of a Wave Outside the Sea, winner of the 2010 Arab American Book Award for Poetry, and The War Works Hard. She is also the author of a non-fiction book, The Beekeeper, an account of enslavement of women by ISIS. Her honors include a Guggenheim fellowship, the Kresge Artist Fellowship and the United Nations Human Rights Award for Freedom of Writing. She currently lives in Michigan, where she teaches Arabic at Oakland University. 
Music: 
Fatima Al Qadiri
Tracks:
Qasida - Sunset Fever 1
Ada and Souleiman
Body Double
Qasida - Sunset Fever 2
Yelwa Procession
Music written by Fatima Al Qadiri, taken from Atlantics OST. ℗ Copyright Control and Films Du Bal & © Milan Records, 2019.
Used with arrangement and permission from rights holders. 
Fatima Al Qadiri is a Kuwaiti music producer and artist, currently residing in Los Angeles. She has released music as a solo artist on Hyperdub, Tri Angle, UNO NYC and Fade to Mind, and as a member of the group Future Brown on Warp. Al Qadiri is also a member of the Gulf-based collective GCC, whose work has been exhibited at MoMA PS1, Fridericianum, Berlin Bienniale and Sharjah Art Foundation. Her writing has appeared in Bidoun, Frieze and DIS. In 2019 Al Qadiri scored the debut feature film by Mati Diop, 'Atlantics'. The film won the Grand Prix at Cannes Film Festival in 2019, while Al Qadiri also received a Cesar nomination for Best Original Score. In the first half of 2021, as well as working on further soundtrack work, Al Qadiri releases her third album on Hyperdub titled Medieval Femme which expands on ideas instilled from Atlantics to capture a dreamlike setting, shaded with colour and subtle friction. Inspired by the state of melancholic longing exemplified in the classical poems of Arab women, the theme of the album is the line between desire and desolation, questioning two seemingly opposite states and rejoicing in celestial sorrow.
The Persian poem featured in the soundscape of this episode, "Dar Peykarehyi az Sang" (In A Body of Stone) was written by Sheida Dayani in 2013 in Amed, also known as Diyarbakir, Turkey, inspired by the marble statue of 'Tigris and Euphrates' by the Turkish sculptor Babek Sobhi. The poem has been published in Tajrobeh, 9, no.142, Shahriva 1398, p.147.  
Sheida Dayani is currently a Preceptor in Persian at Harvard University, where she teaches Persian language and literature and Iranian theatre. Starting September 2021, Sheida will be a Postdoctoral Research Associate at Princeton University. Her monograph, Making History with Theatre in Modern Iran: Juggling Revolutionaries by Edinburgh University Press is forthcoming in 2022. Sheida is a published poet and translator in Persian and English.
Audio post-production: Aref Heidar (Ceé)  
Inana, Lady of Uruk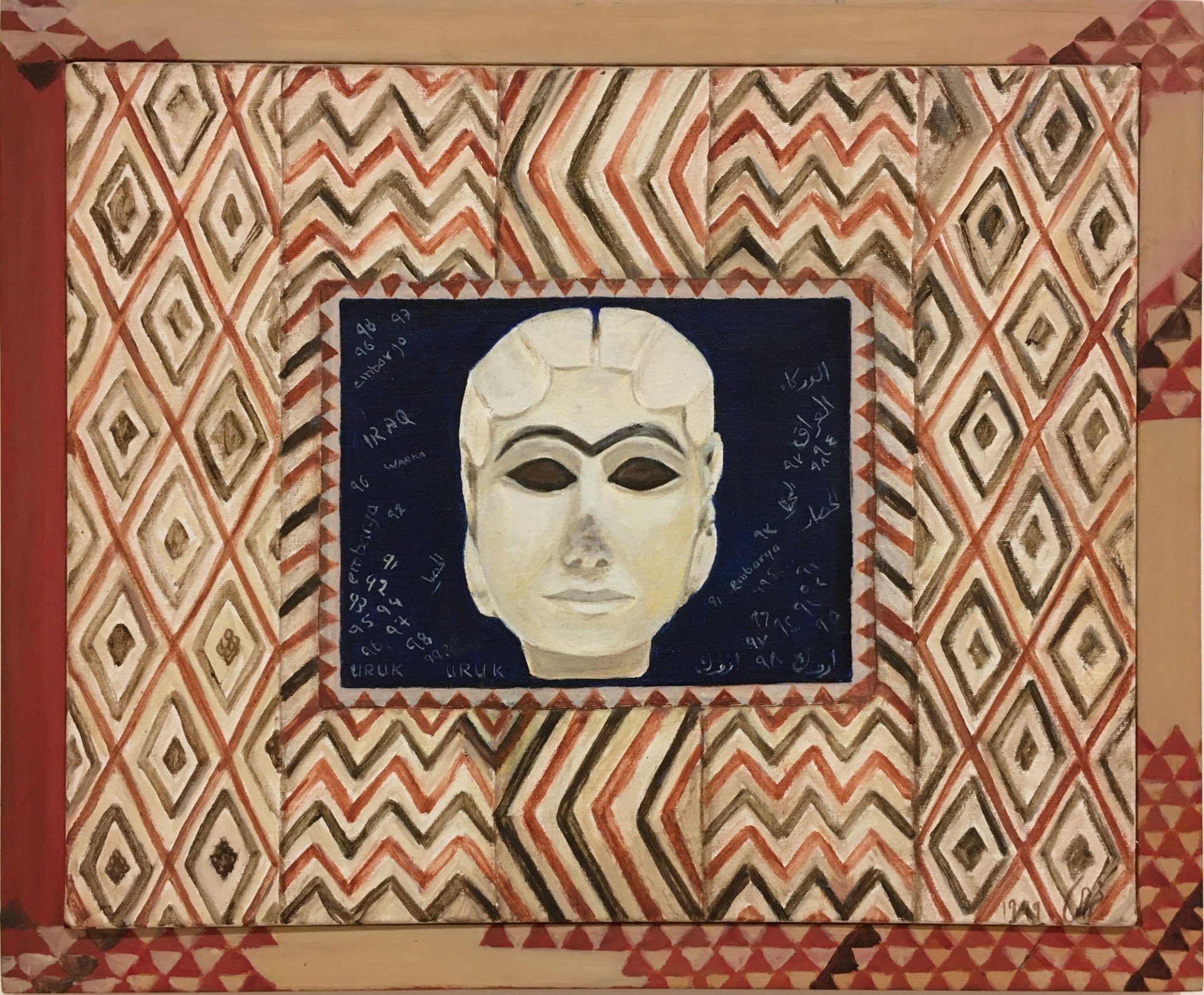 Nuha al-Radi, Queen of Uruk, 1999: Private collection, New York 
A marble head of a woman excavated from the ancient city of Uruk is an important piece of Sumerian sculpture that is considered to be the oldest representation of the goddess Inana, Ishtar's predecessor and counterpart. The history of this object extends from the fourth millennium BC to the present day, as it has tremendous significance for Iraqi heritage and continues to inspire contemporary artists. In an interview, professor Zainab Bahrani shares her perspective on its looting from the National Museum of Iraq in Baghdad, its return, and the aftermath of the 2003 US invasion of Iraq. 
Music: 
Deena Abdelwahed - Walk on nothing to see here
ISRC : FRT091700002 ℗ & © InFiné, 2017
From Klabb (iF3055)
Used with arrangement and permission by InFiné. Published by InFiné.
Tunisian Producer and DJ, Deena Abdelwahed arrived in France at the age of 26 after having made her arms on the Tunis stage and participated in the Arabstazy Collective. Only novelty and daring count for a place in her DJ sets, made her at the forefront of subcultures. Cited as one of best acts in Sonar Festival 2017 by NY Times, or more recently, her mix for FACT magazine was picked as best of August Mixes by Pitchfork Magazine. She was booked by numerous clubs and festivals all around the world like Berghain club, La Concerte club, Mutek Festival in Mexico, Unsound Festival, Mutabor club during RBMA Moscow… to name a few. As a producer, she won the open call for radio creation by CTM Festival in Berlin and performed "All Hail Mother Internet" Live for 2016's edition. Her first EP "Klabb", released in early 2017 on InFiné, was met with critical acclaim from the blogosphere and electronic media. That same year, she co-produced the track «An Itch» from Fever Ray's second album «Plunge». Deena's first album 'Khonnar' was released in November 2018 and she tours KHONNAR LIVE until today. In January 2020, she released a new EP entitled Dhakar and the music video of «Insanity» is finally available on YouTube!
Audio post-production: Aref Heidar (Ceé) 
Celestial Signs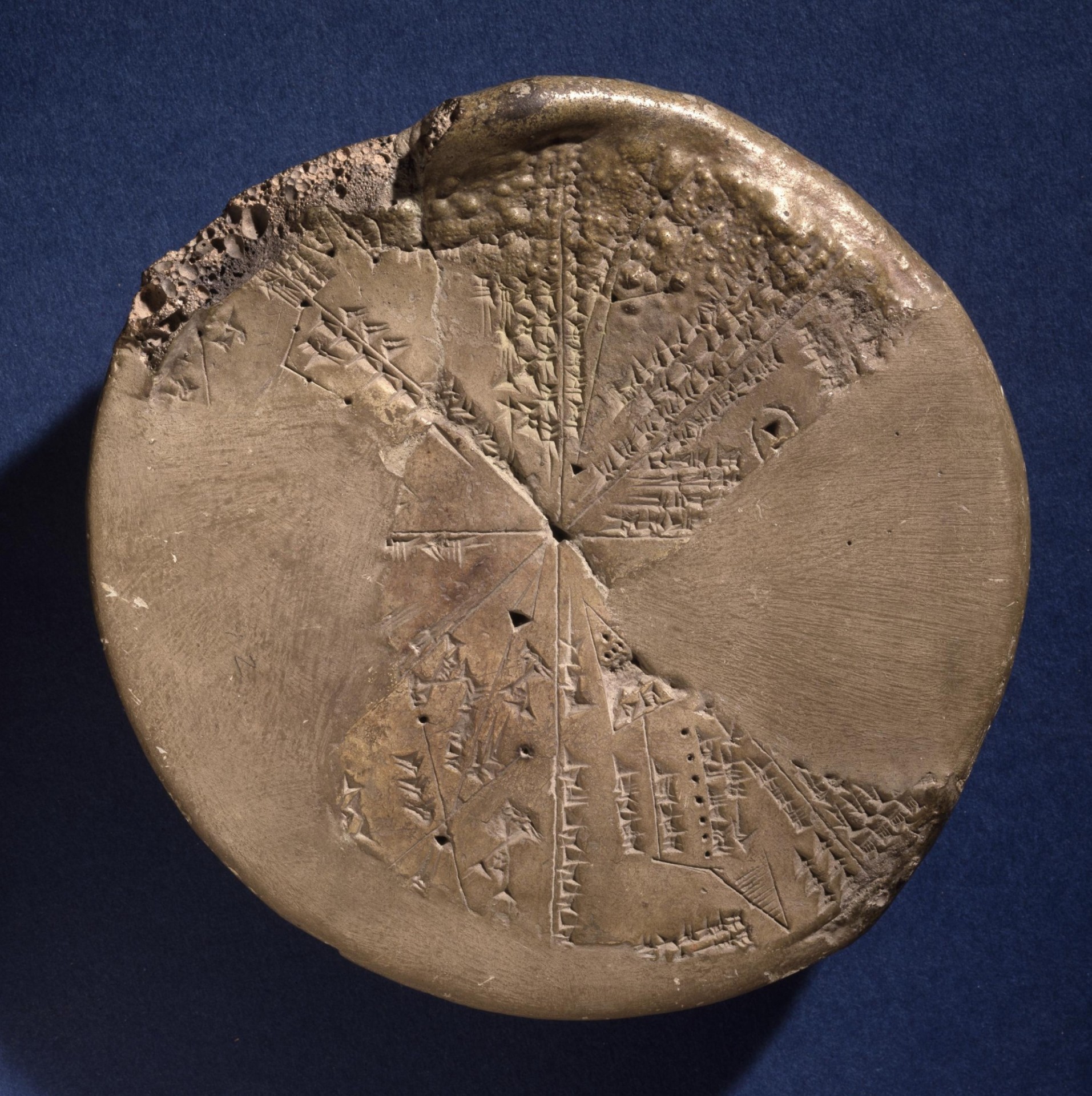 A circular clay tablet with depictions of constellations and astrological calculations. Neo-Assyrian. Baked clay. Diameter 14.1cm, thickness 3.2cm. Library of Ashurbanipal at Nineveh. British Museum K.8538. © The Trustees of the British Museum.
What did the Babylonian sciences look like, and how did they read and interpret natural phenomena? What paradigms were at the basis of their predictive sciences? What role did the cuneiform script play in their philosophy of science? These are some of the questions that we will explore in a conversation with professor Marc Van de Mieroop. We discuss rational astronomy and irrational astrology, and whether these distinctions can be extended back in time by thousands of years when Babylonians practiced those sciences. We also engage with broader topics on how science has been redefined in different ways throughout history, our changing expectations from science, and our conceptions of rationality vs irrationality or logical vs illogical. 
Marc Van de Mieroop is a professor at the History Department at Columbia University, and specializes in the history of the ancient Near East from the beginning of writing to the age of Alexander of Macedon. He has also taught at the University of Oxford and Yale University, and is currently the Director of Columbia's Center for the Ancient Mediterranean and Founding Editor of the Journal of Ancient Near Eastern History. His writings span a wide range of topics from political, socio-economic and intellectual aspects of the ancient Near East, ancient Egypt and methods of historical study. 
Music:
Bergsonist
Tracks: 
Amazon Snake Charming - Middle Ouest (Optimo Music, 2020)
ISRC: DEU671902312
Interlude - #bad9de (self released Ep, 2020)
Used with arrangement and permission from rights holders.
Bergsonist (Selwa Abd), originally from Morocco, is a New York-based multidisciplinary artist and musician. Under the guise of Bergsonist (derived from Deleuze's Bergsonism), she uses a variety of media to investigate social resonance through divergent conceptual aesthetics (minimalism, music concrete to name a few). Through her work, she explores notions of identity, memory, and social politics. Her most recent body of work is the sonic autobiography "Middle Ouest," a full length album released via Optimo Music.  
Audio post-production: Aref Heidar (Ceé) 
Ishtar Adorned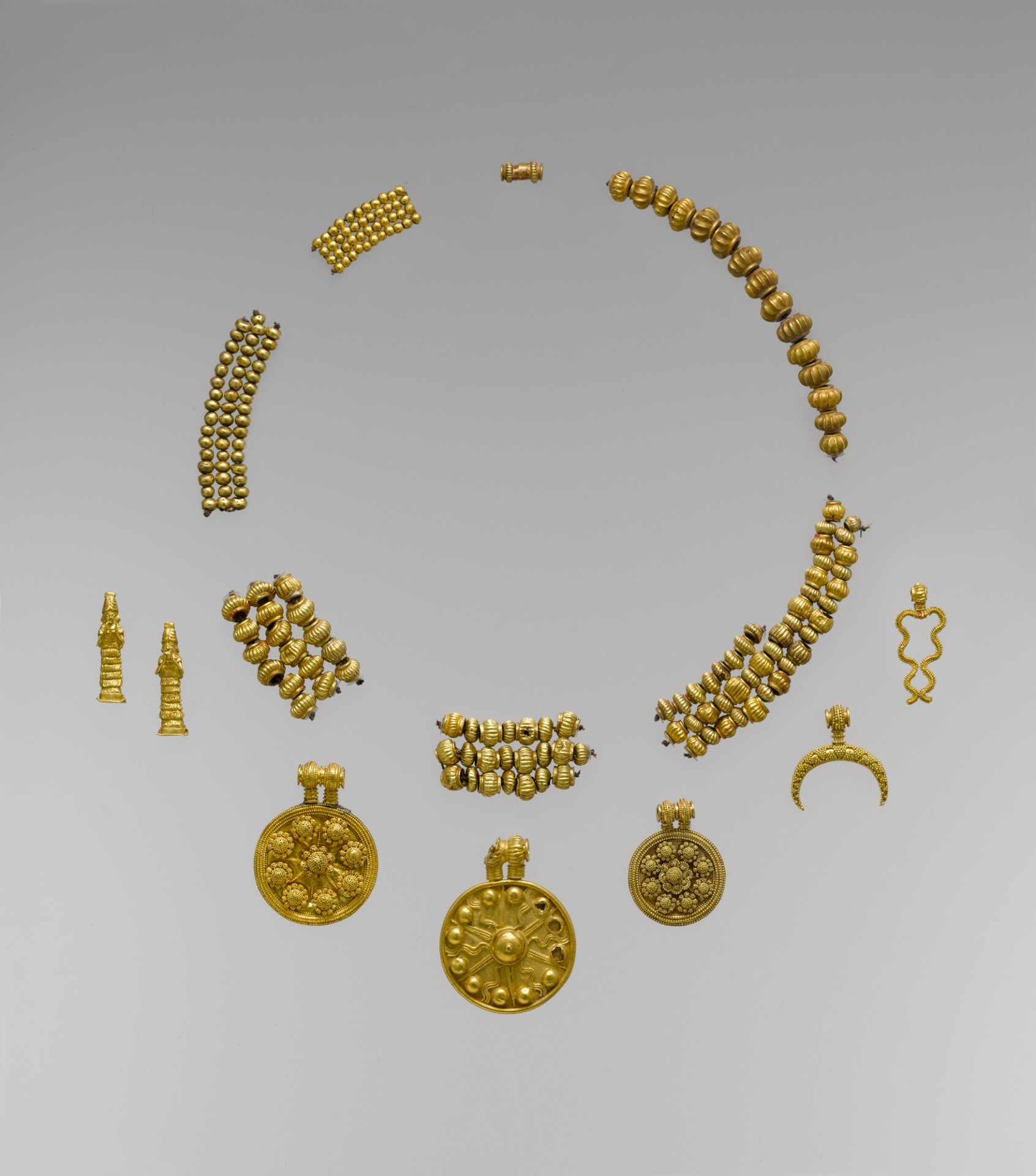 Necklace pendants and beads. 18th–17th century BC. Gold. Diameter of largest medallion 3.6cm. Provenance unknown, said to be from Dilbat, Iraq. 47.1a-h. The Metropolitan Museum of Art, New York, Fletcher, Fund 1947.
In this episode we invite the Curator in Charge of the Department of Ancient Near Eastern Art at the Metropolitan Museum, Dr. Kim Benzel, to speak to us of ancient jewelry and how jewelry, in its shapes, materials, motifs and making is imbued with far more than the eye beholds. Dr. Kim Benzel who is an expert of ancient Near Eastern jewelry, and herself a maker having studied goldsmithing techniques, will speak to us of the multi-faceted nature of ancient jewelry making, and how these objects of superficial beauty can encapsulate other-worldly power, often transformed into objects of reverence themselves. We invite our listeners to join us for a fascinating exploration of the many meanings of ancient jewelry, with an expert who equally sheds light on complex techniques of making. In the exquisite objects we explore, another facet of the goddess Inana/Ishtar is revealed, as we discuss jewelry pieces fit for a goddess.
Kim Benzel is Curator in Charge of the Department of Ancient Near Eastern Art at the Metropolitan Museum of Art. She holds a PhD in art history and archaeology from Columbia University, where her research focused on the grand funerary jewelry ensemble of an elite Mesopotamian woman of the 3rd millennium BC. She has studied ancient goldsmithing at the Kulicke-Stark Academy in New York. Dr. Benzel has participated in several archaeological excavations, primarily at sites in Syria. She teaches the ancient Near East sections of the Barnard College introductory survey of art history, as well as the ancient Near East portion of the curatorial studies course offered by the Institute of Fine Arts at New York University. Passionate about jewelry, she is a foremost expert on ancient Near Eastern bodily ornamentation.
Music: 
Badiaa Bouhrizi (Neysatu)
Tracks: كما قال ابي (as my father said) - self-released (2011)
Pokemon - self-released (2011); also to appear in Kahrumusiqa album coming out on Akuphone (2021) 
Used with arrangement and permission from rights holders.
Audio post-production: Aref Heidar (Ceé)
The Looting and Illicit Trafficking of Antiquities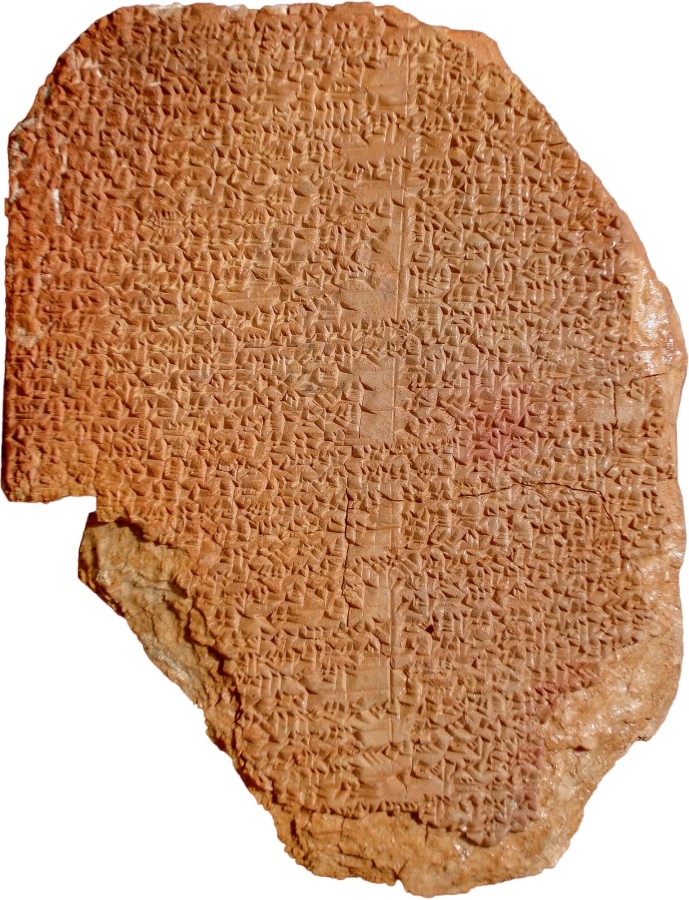 The Gilgamesh Dream Tablet. Provenance unknown, Iraq. Courtesy of the U.S. Attorney's Office for the Eastern District of New York.
The looting and illicit trafficking of antiquities is an issue that has gained considerable attention especially over the last few years due to the impact of several armed conflicts on the tangible cultural heritage of several countries in Western Asia. An interview with professor Erin Thompson provides some insight into the various aspects and complexities of this topic including the sale of looted artifacts in legal art markets, law enforcement, repatriation, and fakes.
Erin L. Thompson is a professor of art crime at John Jay College (CUNY) who studies a multitude of topics associated with art, crime, and cultural heritage. She has discussed and published work on the looting of antiquities, theft, the art of Guantánamo Bay detainees, and digital reproductions of cultural heritage. Her forthcoming book is titled Smashing Statues: On the Rise and Fall of America's Public Monuments. 
Music: 
Artists: Bergsonist, Deena Abdelwahed
Tracks: 
Bergsonist - Affiliation   
DEU : 671704777 / Optimo Music, 2019
Taken from Heat EP
Bergsonist - BioTerrorism
Taken from ق self-released EP, 2020
Used with arrangement and permission from rights holders.
Deena Abdelwahed - Ah'na Hakkeka
ISRC : FRT091900118 / ℗ & © InFiné, 2019
Taken from ذكر (Dhakar) (iF2078)
Deena Abdelwahed - Klabb V2
ISRC : FRT091700004 / ℗ & © InFiné, 2017
Taken from Klabb (iF3055)
Used with arrangement and permission by InFiné.
Published by InFiné.
Audio post production: Aref Heidar (Ceé)
In the Lands of Ištar-Šaušga: Stories of Exploring Cilicia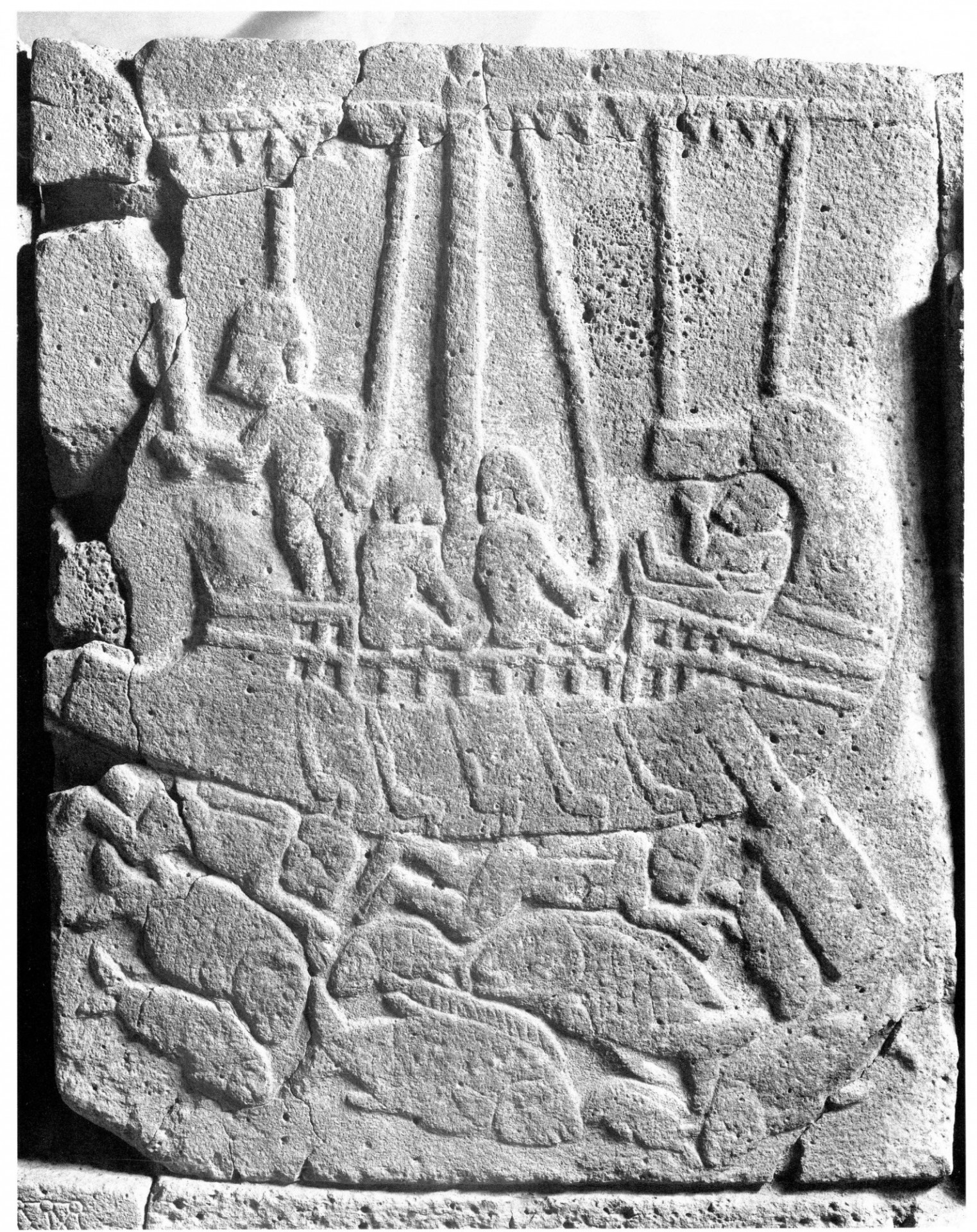 Ship Relief from Karatepe-Aslantaş. Çambel and Özyar, Karatepe Aslantaş: Azatiwataya: Die Bildwerke. Meinz am Rhein: Philipp von Zabern, 2003. Plates 96-7.
In this episode, we are following the trail of Ishtar from Southern Mesopotamia into the ancient Land of Cilicia. In the Mound of Tarsus and the hill-top citadel of Azatiwataya, we will talk about riveting ancient objects which bear traces of Ishtar as well as the illustrious women archaeologists who discovered and worked on them. We will talk about the contributions of Hetty Goldman, Machteld J. Mellink and Halet Çambel, whose lives intersected in these two sites, to the development of archaeology in Turkey. Within an archaeological and cultural landscape through which Ishtar travelled, we hope to narrate stories of women in ancient and contemporary times together.
Aslı Özyar is a professor of Anatolian and Mesopotamian art and archaeology at the Department of History at Boğaziçi University, Istanbul. Professor Özyar's academic writing and teaching is extensive, comprising but not limited to archaeology of the pre-classical Anatolia and larger Eastern Mediterranean, Hittite studies, writing and imagery in the ancient Near East. Since 2000, she has been the project and excavation director of Boğaziçi University's archaeological research project in Tarsus-Gözlükule, Turkey; and since 2015 the director of The Halet Çambel and Nail Çakırhan Research Center for Archaeology, Vernacular Architecture and History.
Music:
Maki Makkuk and Sun Glitters
Tracks:
Exodus (Sun Glitters prod)
Spaces
Taken from the self released EP فضاء (Spaces in Arabic), 2014 / © and ℗ Sun Glitters.
Used with arrangement and permission from rights holders. 
Majdal Nijim aka Makimakkuk is a Palestinian artist with versatile musical capabilities and a tact for conveying deep sentiments with her rich voice. Her solo music projects started in 2007, and she released a sublime EP with producer Sun Glitters titled Fada' in 2014. As a singer, she engages multiple styles such as trip-hop, folk, Afrobeat, experimental and hip-hop. She has DJed in various festivals, and performed at her own live Boiler Room set in Ramallah in 2018. She was part of the Goethe Institut Musikraum initiative in which different musicians based in various cities from Tunis to Baghdad transformed their homes into performance spaces. She holds university degrees in journalism and sociology, and her music is influenced by her engagement with topics such as women's rights, sexuality, freedom of movement and thought and sociopolitical issues in Palestine and elsewhere.  
Sun Glitters is the electronic project of Luxembourg musician Victor Ferreira. With a long list of worldwide collaborations, engulfing visuals that supplement his live performances and a seemingly endless string of acclaimed EPs, self-released tracks and remixes, Sun Glitters has quickly left a mark on the electronic music scene. He combines an ocean of lush melodies, pitch-shifted vocal samples, digi-diva choirs, warm bass pulses, and ambient soundscapes into a blisteringly beautiful sound. His audio/visual projects push the creative boundaries and easily merge the roles of a music producer, video director, and graphic design artist.
Audio post production: Aref Heidar (Ceé)