Alumni Gather to Celebrate Formation of Columbia Alumni Association of Chile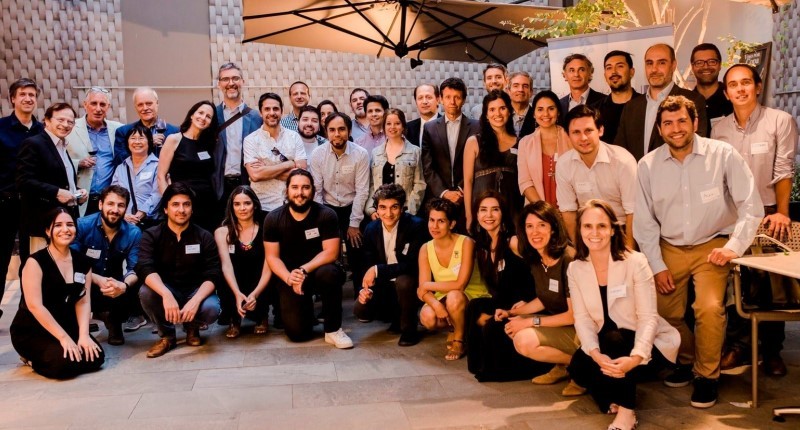 At the beginning of December, more than 40 Columbia alumni representing eight schools gathered in the courtyard of Hotel Cumbres Lastarria in Santiago to celebrate the formalization of the Columbia Alumni Association of Chile, which is now a legally recognized entity in the country.
"I think that the great novelty in this association that has just been formed, and that we are formally launching today in this meeting, is that we have managed to integrate, under the great umbrella of the Columbia Alumni Club of Chile, the possibility that the alumni of the different schools can also be assembled into subgroups that we have called 'branches.' A prime example of this is the Columbia Business School [CBS] branch, which is generally very active in all the countries where it exists, and which is already in the process of organizing itself internally," Manuel Blanco (LLM'96), partner at Aninat Abogados, and who worked to write the statutes as secretary of the newly formed club, said in an address to event attendees.
"This is not minor," he added. "In other countries, many times the alumni clubs are organized separately, without much interaction between them, losing in many cases the synergy of belonging, ultimately, to a single organization. I congratulate the CBS team for accepting this collaborative challenge."
The event – which included Columbian graduates from the late 1960s to more recent times, and which was also addressed by Columbia Alumni Association of Chile president Graciela Ibáñez (JRN'08), CBS Alumni Chile Club president Jorge Domínguez, and Foro Columbia co-founder Andrés Alegría (SIPA'19) - was an opportunity for attendees to meet fellow alumni and get updates on personal and professional projects, learn about upcoming activities and catch up with friends before the southern hemisphere summer kicks into gear.
Blanco thanked everyone, including the Santiago Center, who had spent years working to give life to the Columbia Alumni Club in Chile, organizing various events with perseverance. He credited this work with laying the foundation for the formalization of Columbia Alumni Association of Chile, and he called on all Chilean Columbia alumni to join the newly formed association, saying: "The more we are, the more visibility we will have."
The mission of the Columbia Alumni Association (CAA) is to allow the members of the University's worldwide alumni community to strengthen their bonds of fellowship; to sustain the connection between them and the University; to act as a means through which they can contribute their collective knowledge and perspective to the life of the University; and to develop from their ranks effective and responsive leadership.
Use this link to see the photo album of the event.