Amman Center Stories: Pauline Chery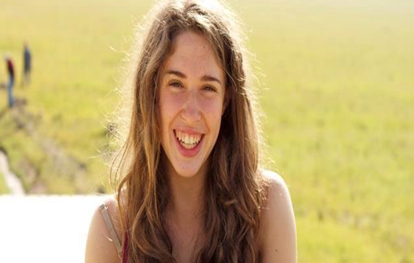 Pauline visited Jordan on March 8-18, 2018 as part of the class, Social Work with Refugees and Displaced Persons: Global and Jordan Experience, led by Professor Mashura Akilova in the Columbia School of Social Work.
---
The purpose of the trip was to deepen our understanding of social work practices in the context of forced displacement, using Jordan as a case study, to understand the needs and responses across a wide range of sectors including: health, mental health, education, employment, housing, and livelihoods. Jordan, a country which, as of February 28, 2018, has received and registered 658,716 Syrians, 66,413 Iraqis, 10,424 Yemenis, 4,089 Sudanese (UNHCR, 2018), and over 2 million Palestinian refugees (UNRWA, 2018) is uniquely positioned to serve as a case study for this topic of inquiry.
Our travels in Jordan helped me gain a better understanding of the complex realities of the Jordanian labor market, as well as the needs and aspirations of refugees themselves. There is already quite a bit of published research regarding the impact of the Jordan Compact, as a "paradigm shifting document", but our meetings with various humanitarian agencies also highlighted the problematic nature of the document, drawing attention to a number of sectors that are closed off to refugees and other foreign workers, the limited number of work permits issued since the signing of the Compact, the gender gap that continues to grow, and the exclusionary nature of the Compact as it applies to non-Syrian refugees.
We met with close to 20 different organizations working across a variety of sectors. Of all the organizations we met with, Questscope stands out. Questscope's work in Jordan was first brought to our attention during a UNICEF-led Education Sector Meeting, in which a Questscope employee walked members of the sector through their Non-Formal Education (NFE) Program, operational across 121 centers in Jordan. The NFE Program is centered on a participatory learning methodology, and specifically targets displaced children who have dropped out of the school. Ultimately the NFE program seeks to create an environment where youth can feel safe and respected, foster a trusting relationship between facilitators and youth to enable personal growth, and facilitate dialogue and activities in which youth can engage in meaningful ways. Graduates of the NFE program are eligible to earn a certification of completion, recognized by the Ministry of Education that allows them entry into Vocational Training Centers across the country. Questscope is but one example of many other social services agencies that we met with during the course of our trip, that may not have institutionalized the role of social workers in their programming, but have nevertheless, embraced it's guiding principles and are putting them into action.
It was Vernon Jordan who once said that social workers are "the bridge between people and policy, between noble intentions and desired outcomes" (Jordan, 2013). By this standard of measure, no one can argue that social work isn't a central component of the humanitarian response in Jordan – and I think that in some ways, that was the most unexpected and surprising take-away for me after our trip. After all, "having the professional mandate and capacity to link the structural and the personal can be argued as one of the great strengths of social work" (Nelson et al., 2017). Every single actor we met with recognized the importance of these linkages, and it was really refreshing and unexpected to learn about this.
The Columbia Global Centers network was instrumental. Without their network, we probably would not have been able to meet with at least half of the organizations that we ended up meeting. The wealth of information and insights that we gained after only one week in Jordan is difficult to qualify, but it most certainly would not have been possible without the Amman Center. I would also add that the discrepancy between advocates of the Jordan Compact in academic circles, and the realities presented by actors on the ground (as discussed above) speaks to a more fundamental gap of implementation, pervasive across the humanitarian sector, between knowledge, policy, and guidance on one hand, and context-specific implementation on the other. This last point highlights the important role played by the Amman Center, whose main task is to leverage the resources and knowledge of research circles, in order to better inform context-specific policy and programming.
The task of trying to synthesize and process the wealth of knowledge acquired during our stay in Jordan is not an easy one, yet if there is one take-away from this experience for me, it's that community ownership and trust needs to be at the center of any program, organization, and/or policy. Questscope's Youth Center and Zaatari perfectly captures the importance of capitalizing upon community ownership and trust. I am also convinced that we, as social workers, are uniquely positioned to advocate and uphold this core principle of community ownership, be it at the micro, mezzo or macro level, especially amongst donors actively funding the humanitarian response. This is the knowledge that we as social workers can bring to the table, especially in spaces where social workers have not traditionally had a prominent role, and so in this sense, I found the trip to be very professionally re-affirming.