Around 200 Columbia Alumni Celebrate the Holiday Season at the Beijing Center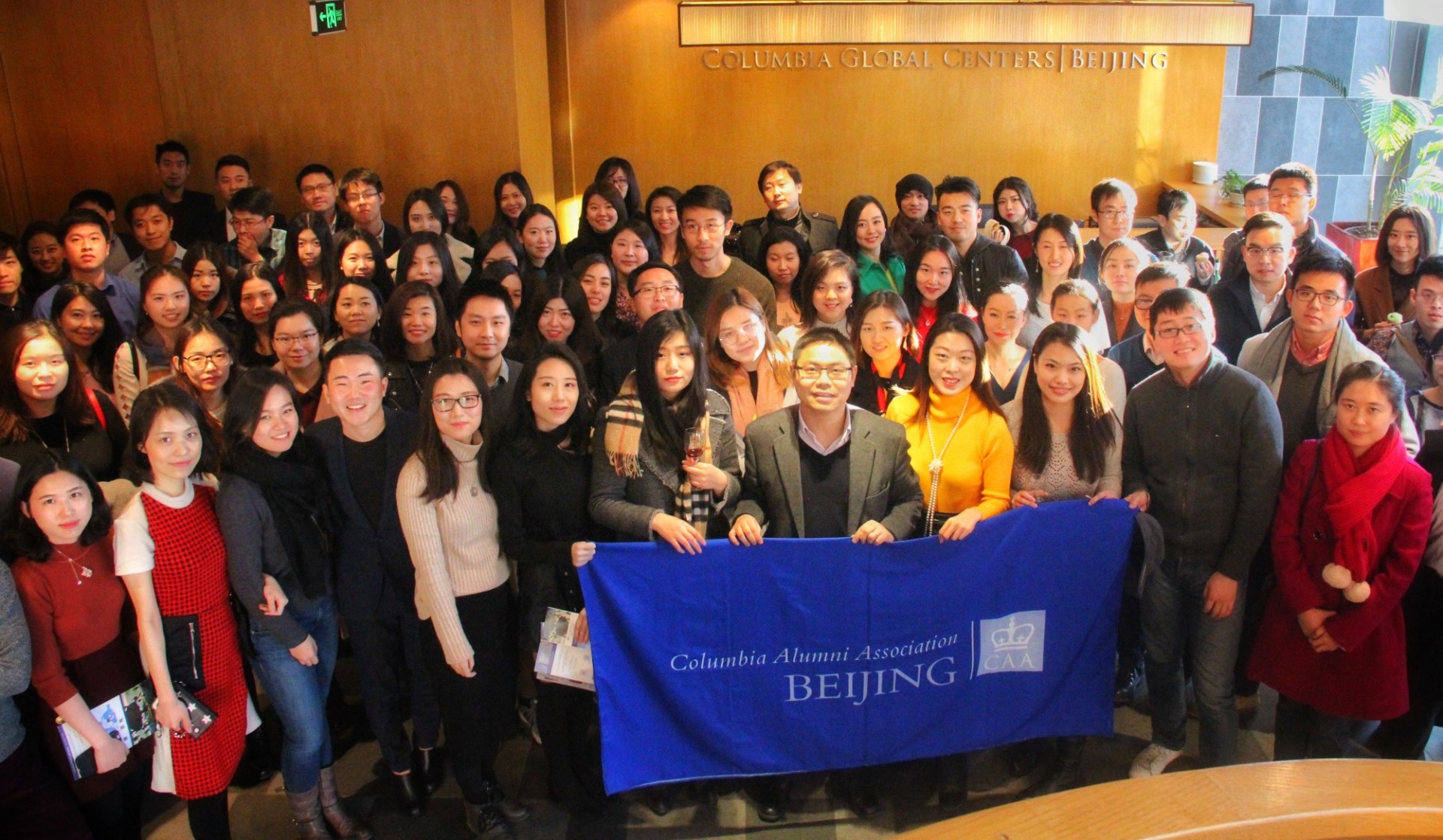 On December 24, around 200 Columbia alumni gathered at Columbia Global Centers | Beijing to celebrate the holiday season. The event, 2017 Columbia Alumni Holiday Reception, was jointly hosted by Columbia Global Centers | Beijing and Columbia Alumni Association of Beijing. Ziyu Zhuang (GSAPP '07), Chief Architect of RSAA GmbH office, and Kevin Li, President of Columbia Alumni Association of Beijing, were invited to join the Reception as special speakers.
Representative of Columbia Global Centers | Beijing first introduced the mission of the Beijing Center. Following President Lee Bollinger's vision, the Beijing Center is a home away from home for all Columbia alumni. As the only official administration of the University in China, the Beijing Center aims to use its resources to help alumni and students achieve their personal and professional goals. In the meantime, the Center welcomes Columbia alumni to visit the Center and to share their insights, experiences, or job/internship opportunities with their juniors.
Kevin delivered opening remarks: "We are very glad to co-host the Alumni Christmas Reception with the Beijing Center during the holiday season. From my opinion, the story of Christmas is about to spread hope and to overcome difficulties, which is pretty similar to our study experiences overseas. We achieved self-development at Columbia, and after graduation, we give back to the society, carrying the spirit of a Columbia lion." Kevin also mentioned that the CAA Beijing is currently looking for volunteers to join the association and to contribute to its aim to serve alumni from all schools of Columbia.
Ziyu delivered his keynote speech titled Typological Evolution VS Narrative Reconstruction in Several Architectural Practice: "People may perceive architecture as something a little faraway. I hope that I can somehow change this perception today." Ziyu presented several projects that he had participated in designing and renewing, explaining how architects use their designs to tell stories. In addition, he also shared his experiences at Columbia: "Many have asked me why I studied abroad. I think this experience shaped my value. The more you see, the more objective and accurate your judgement will be. I hope that I can always see my projects and the world with an unbiased and objective mind. The world is supposed to be very colorful."
The second half of the reception was informal discussion. Alumni from different schools and industries enjoyed talking and networking with each other. In the meantime, they also appreciate the mission of the Beijing Center and hope to seek more opportunities and cooperation with the Center.