Artistic Expression in Contested Terrains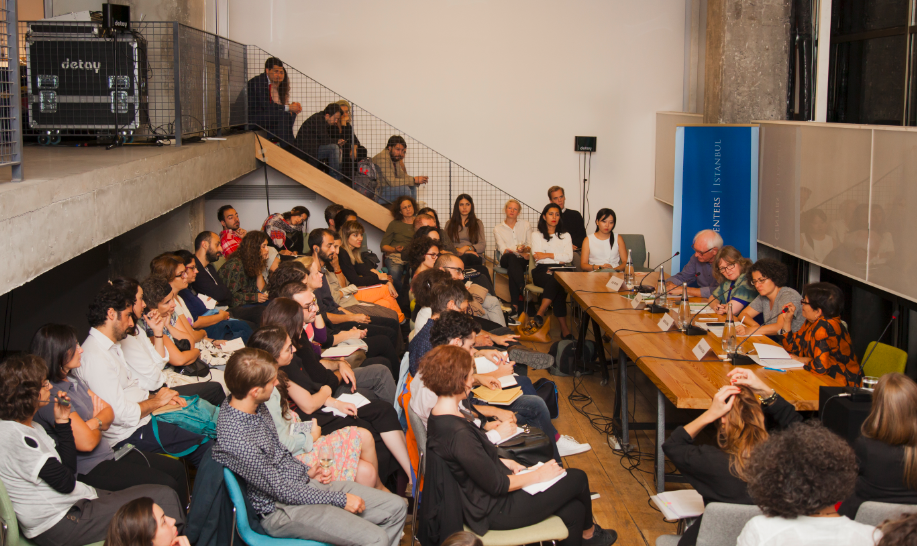 In 2016, Freemuse, an independent organization advocating for artistic freedom of expression, documented 1,028 cases of censorship around the globe. Their report "Art under Threat" details how artists were censored, tortured, jailed and even killed for their creative expressions, and how these violations were often legitimized with claims of defending "traditional values" or "the interest of the state." Still, many cases of violations remain under-reported due to lack of awareness or political pressures in many countries. Even though violations against artistic freedom have taken various forms in different national contexts, censorship in the arts is a global phenomenon involving various state and non-state actors and hence should be addressed through a transnational lens.

Columbia Global Centers | Istanbul and the Consulate General of Sweden, in collaboration with DEPO is organizing a panel with international experts to discuss current obstacles to artistic freedom of expression, different modalities of censorship, and existing and possible forms of struggles against rights violations in a comparative perspective.

Welcome: Karin Strandås - State Secretary and Deputy Culture and Democracy Minister of Sweden, Stockholm

Participants:
Vishakha Desai - Senior Advisor for Global Affairs to the President at Columbia University, Senior Research Scholar and Adjunct Professor at SIPA, and President Emerita of Asia Society, New York
Sara Whyatt - Former Executive Director of PEN International, Independent Consultant on Artistic Freedom of Expression, London
Ole Reitov - Co-Founder and Former Executive Director of Freemuse, Copenhagen
Moderator: Asena Günal - Program Coordinator of DEPO, Siyah Bant, İstanbul
*The event will be followed by a cocktail reception.
**There will be simultaneous translation during the event. 

Panel: Çatışmalı Alanlarda Sanatsal İfade

Sanatsal ifade özgürlüğü savunuculuğu yürüten bağımsız bir örgüt olan Freemuse, 2016 yılında dünya çapında 1.028 adet sansür vakası belgeledi. "Tehdit Altında Sanat" başlıklı raporları, sanatçıların, yaratıcı ve sanatsal eylemleri nedeniyle maruz bırakıldıkları sansür, işkence, hapis cezalarıyla ve hatta öldürülmeleriyle ilgili detayları içermenin yanı sıra, bu ihlallerin çoğu zaman "geleneksel değerler" ya da "devlet çıkarları" gözetildiği iddiasıyla nasıl yasal hale getirildiğini anlatıyor. Öte yandan, çok sayıda ihlal vakası kimi ülkelerdeki ilgisizlik ya da siyasi baskılar nedeniyle raporlanamıyor. Sanatsal özgürlük ihlalleri farklı ulusal bağlamlarda değişik biçimlere bürünse de, sanatta sansür çeşitli devlet ve devlet dışı aktörleri içeren ve ulusötesi bir mercekten bakılması gereken küresel bir olay.

Columbia Global Centers | İstanbul ve İsveç Konsolosluğu, DEPO ile işbirliği içinde, uluslararası uzmanların katılımıyla, sanatsal ifade özgürlüğü önündeki güncel engeller, farklı sansür biçimleri ve hak ihlallerine karşı olası mücadele şekillerini karşılaştırmalı bir perspektifle tartışmak üzere bir panel düzenliyor. 

Açılış: Karin Strandås - İsveç Kültür ve Demokrasi Bakanlığı Müsteşarı ve Bakan Yardımcısı, Stockholm

Katılımcılar:
Vishakha Desai - Columbia Universitesi Küresel İlişkiler Danışmanı; SIPA; Asia Society Fahri Başkanı, New York
Sara Whyatt - Eski Uluslararası PEN Direktörü, Sanatsal İfade Özgürlüğü Alanında Bağımsız Danışman, Londra
Ole Reitov - Freemuse Kurucu Ortagi ve Eski Direktörü, Kopenhag
Moderatör: Asena Günal - DEPO Program Koordinatörü, Siyah Bant, İstanbul
*Etkinliği kokteyl resepsiyonu takip edecektir. 
**Eşzamanlı tercüme yapilacaktir.

Please note that this event will take place at Columbia University's Studio-X location in Salıpazarı.