Balancing Climate Policy and GDP Growth in India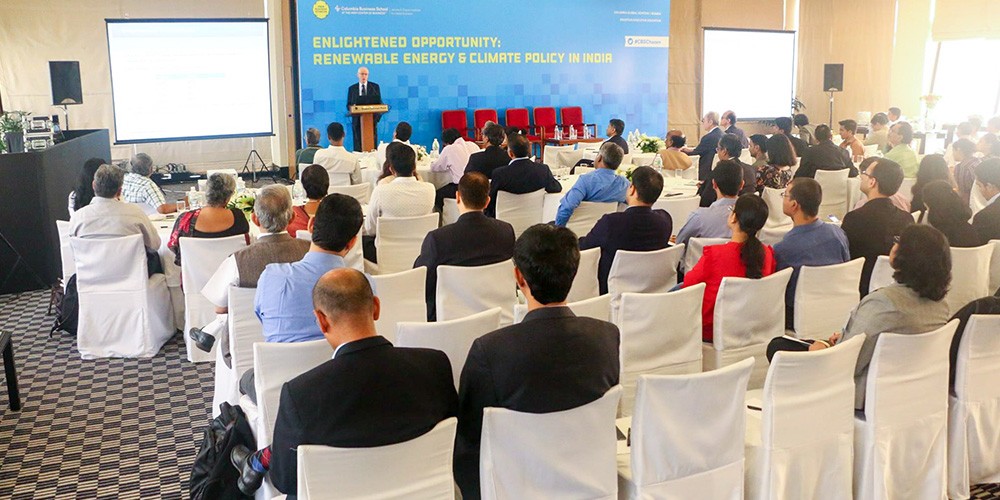 "Of the 250 million families in India, about 50 million families are still not on the grid," said Jairam Ramesh, former Union Minister and Rajya Sabha member, speaking at an event organized by the Chazen Institute's India Business Initiative at Columbia University on January 15 in Mumbai. Per capita electricity consumption in the country is at one-quarter the level it is in China, one-tenth that of Europe and one-thirteenth the level in the United States. "We are not aspiring to European or US levels of consumption, but power generation has to increase very significantly to improve the standard of living," he noted.
The event, entitled Enlightened Opportunity: Renewable Energy and Climate Policy in India, saw Columbia Business School professors Patrick Bolton and Geoffrey Heal share their research and debate with business leaders on how the country could create and finance a world-class renewable energy industry. It was organized in partnership with Columbia Global Centers | Mumbai and Eruditis Executive Education.
If India is to sustain the GDP growth it needs for its growing population, it needs power – regardless of whether it comes from old-fashioned fossil fuels or renewable technologies. Because of fracking, the US is now the world's largest producer of oil and gas, and has the largest reserves. According to Heal, the price of gas in India is roughly three times what it costs in the US, making a clear case for solar and wind energy in India. He added, "We need to think forward in planning energy investments and to base decisions on the future and not the past. This means investing heavily in wind and solar power, moving away from fossil powers for electric power generation."
A fairly low percentage of Indians own homes, however, compared to German citizens whose solutions may entail installing rooftop solar panels. And those who do, "want to preserve the air space above their house for expansion," noted Rahul Shah, CEO, Tata Power Renewable Energy Ltd. While the country does have large tracts of land that could be converted into solar or wind farms, current state-level laws are found to be incompatible. Innovative and locally relevant ways of addressing the global energy crisis are required.
If you'd like to know more, check out the India Business Initiative. You can also watch excerpts from the debate, below: