Beijing Center hosted a close-door symposium on precision medicine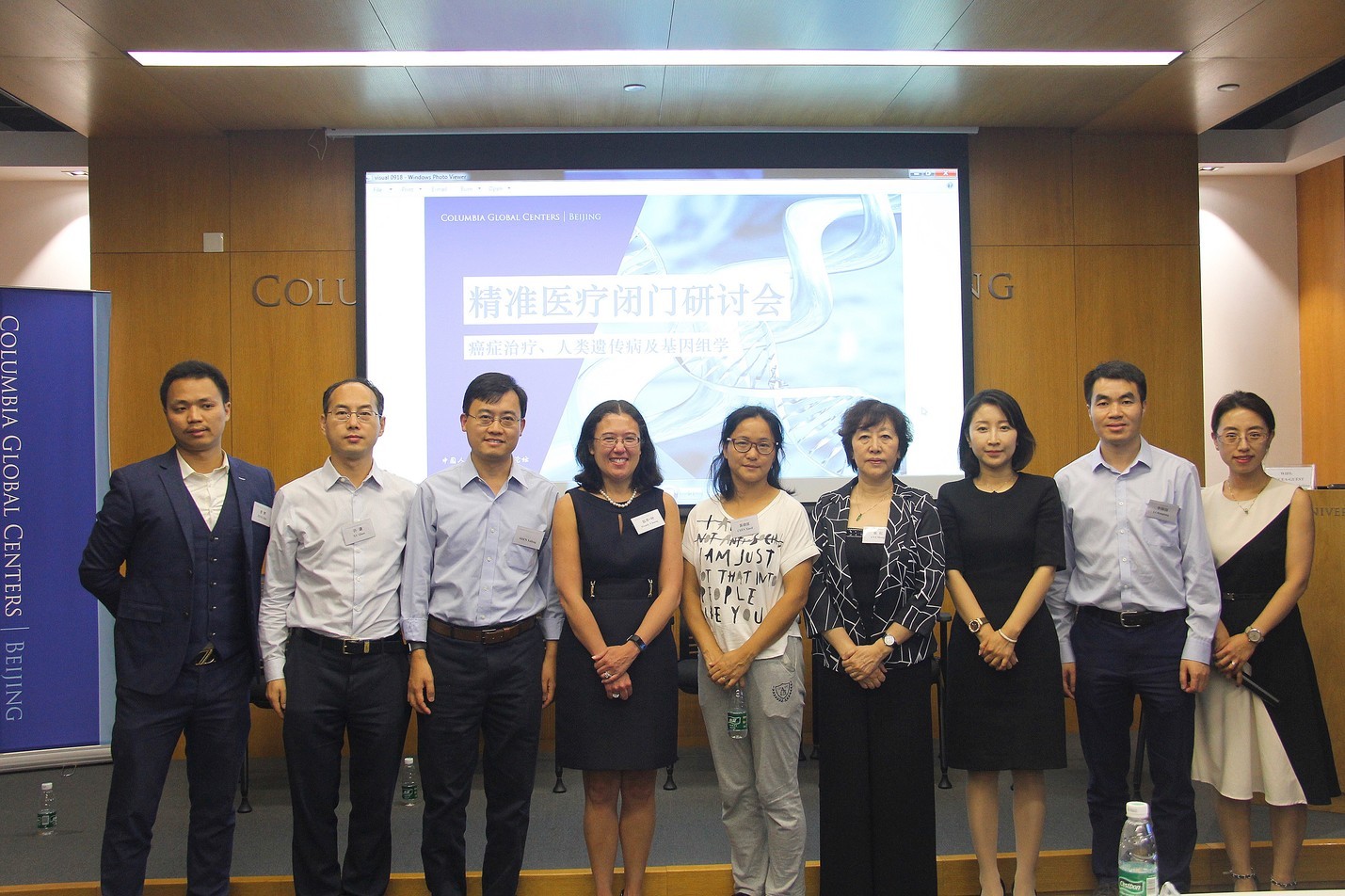 On September 18, Columbia Global Centers | Beijing, in partnership with China AI 30 Forum, hosted a close-door symposium on precision medicine.
Representatives from academic institutions, industry, and investment convened at the Beijing Center to exchange and share the frontier of medical knowledge on cancer treatment, human genetic diseases, and genomics. This symposium aims to encourage more engagement and collaboration in research with domestic experts in neonatology, pediatric surgery, pediatric neurology, pediatric cardiology, cancer treatment, and genomics.
Panelists included Wendy Chung, Kennedy Family Professor of Pediatrics and Medicine at Columbia University; SHEN Yufeng, Assistant Professor of Systems Biology and Biomedical Informatics at Columbia University; CHEN Xiaoli, Researcher at China's Capital Institute of Pediatrics; XU Huji, Executive Vice Dean of Tsinghua University School of Clinical Medicine and Vice President of Beijing Tsinghua Changgung Hospital; and CUI Hong, Chief of Pediatrics, Beijing Friendship Hospital.
In the first round table discussion, five panelists presented their research findings in treatment of human inherited diseases and introduced their future direction and strategy.
Invited industry representatives included:
LIU Xin, Beijing Institute of Genomics, Chinese Academy of Sciences 
ZHU Weiguo, Deputy Chief Physician in Internal Medicine and Executive Deputy Director of Information Management Division, Peking Union Medical College Hospital
WANG Shuqiang, Deputy Director of the Consultant Department, Economic Reference, The Development Research Center of the State Council
CAO Zongfu, Chief of Bioinformatics Division, Research Center at the National Health and Family Planning Commission of PRC
XU Qian, Partner and General Manager of Beijing, Detong Capital
LIU Xiao, Executive Director, Taikang Healthcare Investment Holdings
LI Ruiqiang, CEO of Novogene
SHI Guomin, General Manager, HG Capital Healthcare Fund
JIANG Weina, Deputy General Manager, Health Work
XIAO Zhi, Managing Director, SDIC Fund Management
YU Yufei, Research Assistant, Institute of Genetics and Developmental Biology, Chinese Academy of Sciences
LIU Xiaohua, Executive Director, Innovation Investment, Guotai Junan Securities
ZENG Hui, Founder, China AI 30 Forum
In the second round discussion, local industry representatives shared their observations on China's healthcare industry and the growth of genetic data. "Genetic data is growing fast," said LI Ruiqiang. "Ensuring the quality and reliability of genetic data will be important to create commercial value."
"Our researchers at the hospital truly wish to build connections and collaborations with genetic testing companies," said Dr. CHEN Xiaoli. "Together we hope to build China's genetic database and to standardize the process of genetic testing, contributing to our clinical diagnosis."