Beijing Virtual Internship Story: Karen Liu CC '23
Editor's note:
Karen Liu is currently a sophomore at Columbia College. This summer, Karen completed her virtual internship with the Beijing Global Center. Read the full story and find out how this opportunity has helped her prepare for her future career!
September 12, 2020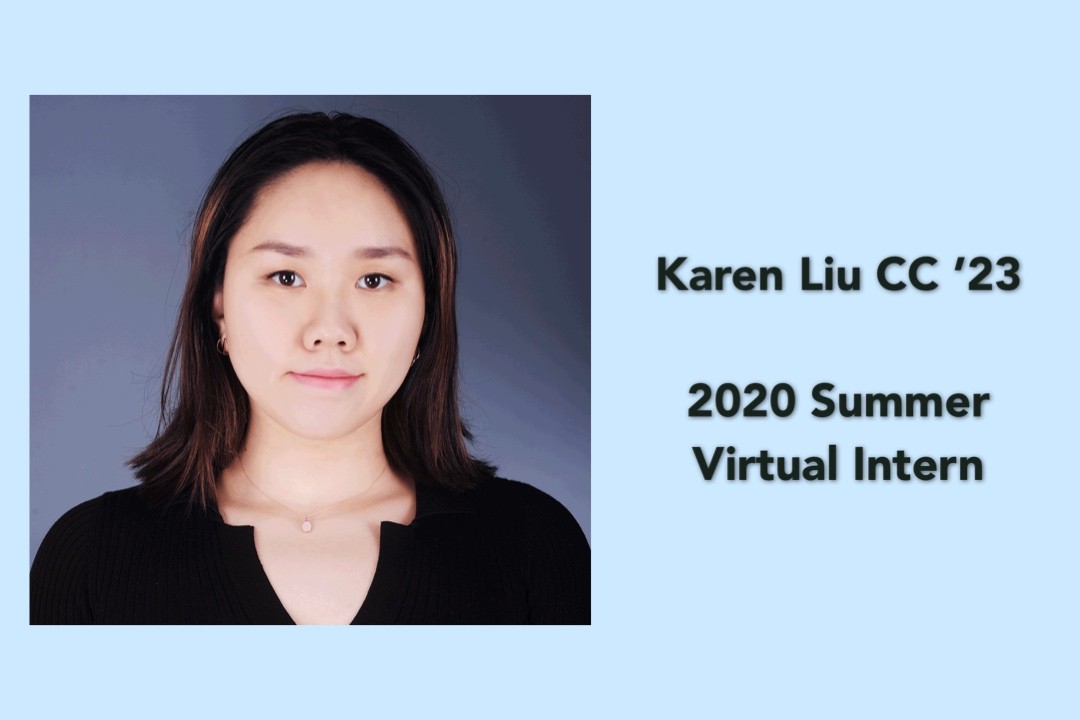 Introduce yourself! Tell us your name, your school at Columbia, and where you are doing your internship.
My name is Karen Liu, I'm a rising sophomore at Columbia College studying sociology, and I'm working at the Columbia Global Center in Beijing.
Why did you choose this internship?
I have a strong passion for cultural exchange, especially in the educational field. I went to school in China until 6th grade, and then I came to the United States for both educational and athletic purposes, so I have experience in cultural exchange. I also went to school in Hong Kong for a year, and the three systems are totally different. It's fun and exciting every time I encounter a new culture and meet new people. Since I'm on a sports team, I hang out with more locals, and can't hang out with only Chinese people, and that's also a great experience because I feel more included. It's hard to adapt to new experiences, especially in an environment you aren't familiar with (like international students have to) and I wanted to incorporate the experience I have into my future career, which is why I chose the Global Center in Beijing.
What are your day-to-day duties as an intern? Walk me through a day in the life.
At the beginning of my internship, I was working on social media analytics and posting to Facebook, Twitter etc. I posted quotes of the week and hosted events, stuff like that. Social media is important because it goes into the annual report, and also because it gives insight into the center and the analytics show us what is working and what isn't - if our events and things are working in the Chinese market, and can help us inform new and improved communications initiatives. 
Right now, my main focus is reviewing the annual report. We have to go through every section and make sure everything is good. Specifically my job is to proofread and choose the best language to ensure that everyone who reads the report knows what we are talking about. Some ideas aren't easily or directly translatable, so it's hard to translate both the Chinese to English and translate the full idea of what was meant. For example, we use different marketing words in China, so when literally translated to English they don't always make much sense - they need to be clarified, because some things are part of Chinese culture and not American. The literal translations aren't always enough, so it's really important we communicate clearly. 
The other thing I'm doing is working on the Center's project proposal drafts. At the same time we do the annual report, which is past events, we do proposals for future events, to get funding for those future events. That funding will eventually come back to students, so it's important that we do it well. 
What are the pros and cons of the virtual aspects of being a virtual intern?
During my internship, both of my mentors at the Beijing Center were pros. We bonded really quickly and they didn't hesitate to show me the ropes and help me learn a lot and make my experience better. They allowed me to work on important stuff, not just menial work. I think virtual is better for me, because it's easier for me to focus over the phone or email than in person. In addition, it allowed me a bit of a more flexible schedule. Even though I keep a pretty strict schedule for myself for the work I do, it's nice to not have someone staring at me when I'm working, and it's a bit more relaxing. 
What have you been loving in quarantine? Books, movies, podcasts, TV, music?
I've been starting to learn how to read tarot cards lately, and watching lots of videos on how to do it and I love it. Every person has a different way to translate the cards, so it can be a really good way to brighten someone's day by reading their cards. I've also been reading a book called A Brief of the Future by Jacques Attali, and he talks about what possible difficulties there could be in a future world and he talks about a pandemic, and I think it's a good way to get insight into how to face future challenges. That's another reason why I wanted to work with the Global Centers, to help them help undergrads best, how to prepare and get the centers prepared for future challenges.
Where would you go if you could go anywhere in the world?
I want to go to New Zealand, because they have really good extreme sports, I would love to go bungee jumping. I would also love to go to the Netherlands, to the tulip gardens. I did a project on them in middle school and have wanted to go since.
What's one tip for someone starting a virtual internship?
Make sure you have a place to concentrate. Doing classes last semester it was really hard to focus on lectures, and it was the same working on this internship. Another thing is to make sure you are staying connected with your mentors - you won't necessarily know a lot about the company or the department and what they're doing, so it's necessary to communicate with people who have more experience and know more about the projects and cultures, because they know what needs to be done and have ideas on how it should be, because you need to make sure you are doing work that lives up to their ideas and expectations.