Building Globally-Conscious Classrooms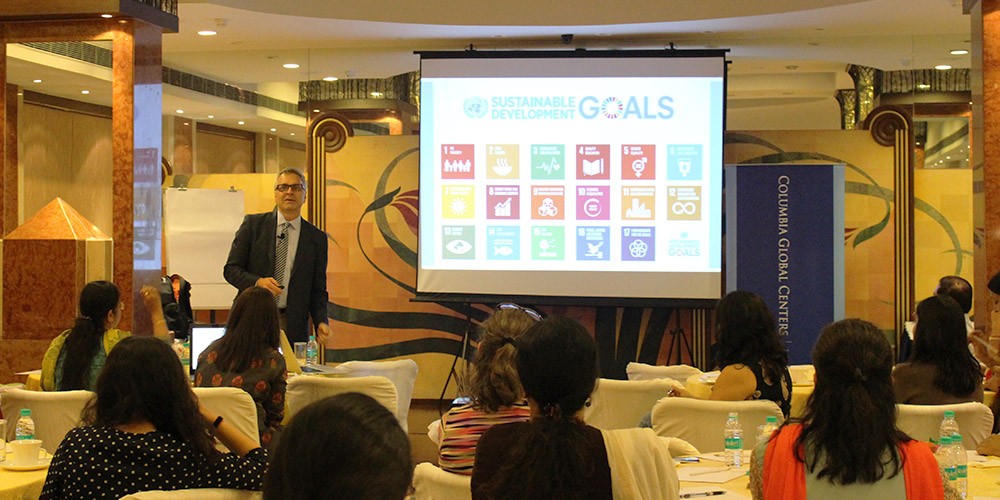 Global citizenship emerged as a buzzword among Mumbai citizens on November 19, 2016, with the metropolis hosting the Global Citizen Festival featuring British rock band, Coldplay. In the afternoon preceding the landmark event, Columbia Global Centers | Mumbai partnered with the festival organizer, The Global Education and Leadership Foundation (tGELF) to organize a workshop to explore ways in which citizenship could be practicably realized in classrooms. The theme after all has great significance for us, as issues of global citizenship resonate closely with the philosophy of the Global Centers network.
The workshop was led by Professor Gaudelli, Associate Professor and Chair of the Department of Arts and Humanities at Teachers College, Columbia University who walked participants through the United Nations' Sustainable Development Goals (SDGs) (2015-30). The SDGs are a set of 17 Global Goals with 169 targets among them that seek to address a host of development challenges from fighting poverty and hunger, to achieving gender equality, good health and quality education.
Professor Gaudelli underlined how teachers played a crucial role in offering their young students a window into the world, and preparing them for a world confronted with new challenges such as climate change, the spread of infectious diseases, terrorism or xenophobia. These challenges have been further compounded by the wide exposure of youngsters to mass media.
The workshop was a practical exploration of what the SDGs meant to participants in their role as educators. In attendance were nearly 30 educators from diverse settings, ranging from community-based educational organisations to principals and teachers from leading international schools. Participants came from Mumbai as well as neighbouring towns such as Vasind, Pune and the industrial town of Atul in Gujarat.
Professor Gaudelli borrowed from the teachings of John Dewey, American philosopher and education reformer to make a case for the importance of education not for acquisition, but for the realization of one's own potential, a learning that stayed in conversations long after his presentation. "Coming to this workshop, I learned of Dewey's stand on the purpose of education. I realized that we are not alone in thinking about this and everything is integrated. The SDGs are supposed to be ambitious and we as educators will try to disseminate these beyond binaries, after attending this workshop," said Namita Goel, a teacher from LEAD School.
The participants broke out into small groups to delve deeper into six SDGs-those on Poverty, Food, Education, Work, Cities, and Peace and Justice. Teachers collaboratively deconstructed what they found surprising, interesting and troubling in each of these goals, before going on to make connections about how these goals applied to their classrooms. The discussions threw up interesting insights about how schools were making classrooms inclusive, educating their students about issues such as food wastage, and inculcating life skills towards sensitising students about a just and equal society.
Professor Gaudelli said he liked that Columbia Global Centers | Mumbai provided a platform for people from diverse sectors to deeply interrogate and come to an understanding of the SDGs. "We had educators and teachers from different cross-sections of society interacting at the workshop. By following such an approach, the Center is upholding the mission of Columbia University."  The Center plans to deepen its engagement with the SDGs and their interpretation and realization in the classroom through such workshops.