Celebrating Maryse Condé, a Writer for Our Times
The Paris Center welcomed acclaimed author Maryse Condé, recipient of the 2018 New Academy Prize in Literature, for a day-long celebration of her work and legacy.
April 19, 2019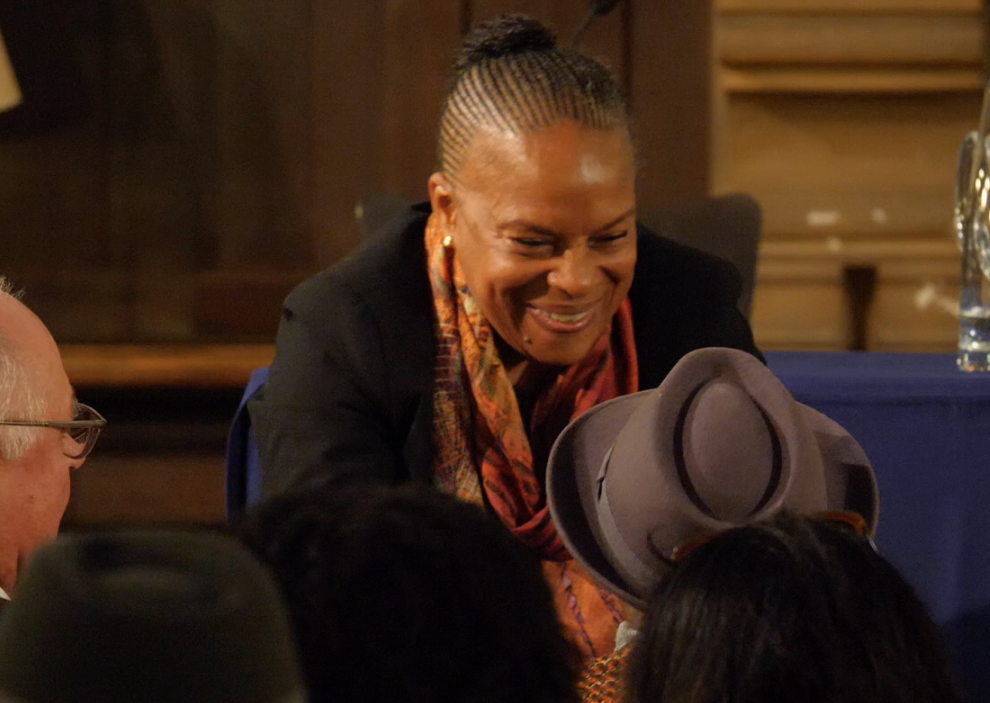 In these times of political, social and environmental upheaval, which have led many to question established identities and values, can we look to literature as a source of solace and inspiration, a guiding light on the uncertain path before us?
The novels and essays of writer Maryse Condé have been and continue to be such a light to countless readers, including the writers, philosophers, professors, students and activists who gathered at the Paris center on March 26th to celebrate her work and legacy.
The conference, organized by Columbia University professors Kaiama L. Glover and Madeleine Dobie, with the support of Paris Senior Programs Manager Loren Wolfe, responded to a desire to celebrate Condé both as the recent recipient of the 2018 New Academy Prize in Literature (the alternative Nobel) and for her legacy as an esteemed member of the Columbia community, where she taught for over a decade and is currently a professor emerita of French. A bilingual event, it also sought to bring Condé's work back into the spotlight and to introduce a new generation of French and American students to her novels and critical essays.
Accordingly, the day began with a private meeting between Maryse Condé and students of the Columbia Undergraduate Programs in Paris who posed a series of questions about Condé's novels and writing process. Two doctoral students – Noni Carter, a writer and instructor at Columbia University, and Xavier Luce, PhD candidate at the Sorbonne, opened the standing-room-only conference with thoughtful reflections on how Condé's work has influenced their own work.
Divided into five panels, the diverse body of speakers hailed from Africa, the Antilles, South America, France and the United States and offered a multitude of perspectives on the different aspects in Condé's works that make her a writer for our times: her complex and uncompromising characters; her ceaseless questioning of race, gender and class; her profound empathy and ability to paint indelible portraits of humanity with all of its terrible contradictions; and, her ability to give voice to populations who have too often been silenced or ignored.
Philosopher Elsa Dorlin, a Fellow of the Institute for Ideas and Imagination, recalled researching archives for her thesis and at the same time reading Moi, Tituba sorcière, one of Condé's most well-known works that revisits the character of the "black witch" of Salem: "The strength of this text, which is clearly the fruit of immense historical research, is that it is another sort of archive, opening up another genealogy of the history of slavery – that of the women."
Maboula Soumaharo, Professor at the University of Tours specializing in Diaspora studies, noted that Condé's work "is not as well known as it should be in the Hexagon…France has a tendency to envision the history of slavery and the African Diaspora via the prism of the United States, as if we were missing an imaginative space that is anchored in French history."
Condé's Columbia colleagues Brent Hayes Edwards, Professor in Comparative Literature, and Gayatri Chakravorty Spivak, University Professor whose groundbreaking body of work was similarly celebrated at the Paris Center last year, discussed Condé's vast body of critical work, her "feminist articulation of Diaspora," and her political activism.
"Maryse Condé does not need a prize to be a hero for our times," said Spivak. "She is a writer, a peace-maker…an activist who shows how one can use books and life experience for social justice."
Each panel was punctuated by readings of letters from people who were unable to attend the celebration, such as authors Edwige Danticat and Fabienne Kanor, as well as President Lee C. Bollinger who wrote that Condé has: "subverted convention and given voice to the overlooked… reframed our approach to French and Francophone literature and made indelible mark with the force of her intellect and her extraordinary generosity."
Christiane Taubira, former Minister of Justice under François Hollande, offered a moving conclusion to the conference. She recalled her first encounter with Maryse Condé as a student in Paris who had always associated literature with "dead authors" and "the posthumous transmission of knowledge." Attending Condé's classes was a revolution for her as she discovered a young, elegant author who resembled her and who spoke to experiences similar to her own.  Taubira, who was the driving force behind the French government's official recognition of slavery as a crime against humanity with the passage of the loi Taubira in 2001, urged the audience continue to explore the works of Maryse Condé because in their "inexhaustible and exacting" portraits of humanity we see the promise of "personal and collective emancipation."
In partnership with the Columbia Institute for Ideas and Imagination, Columbia Maison Française, Department of French and Romance Philology, Columbia University
Watch videos here :