CGC Virtual Internship Story: A Firsthand Account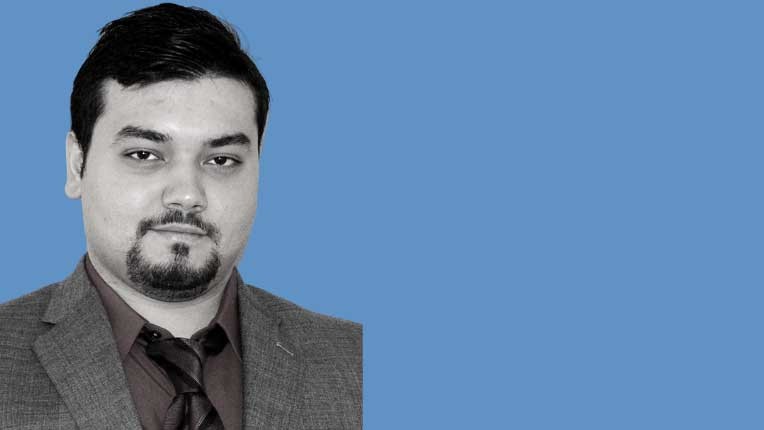 Ovais Shah, a Master's of Science candidate in Applied Analytics at Columbia's School of Professional Studies (SPS), participated in not one but two of the global virtual internships offered by the Santiago Center. This is the story of his experience, as told by Shah himself.
My Internship Experience - A Narrative
This year, I had the great opportunity of doing my internship with the Columbia Global Centers in Santiago. In the past few months, I have engaged with the Universidad de Talca's American Academy of Science and Technology (AAST) and Universidad de Concepción, both based out of Chile, South America.
American Academy of Science and Technology at Universidad de Talca
The AAST in Chile is a joint initiative between the US Government and the Universidad de Talca (UTalca). The academy is a conduit of scientific research and technological collaboration between the US and Chilean researchers, also serving as a meeting point and conference venue for visiting scientists. The academy and its work in Chile help to augment the strong US-Chilean government partnerships centered around cooperation in the realms of science and technology. 
As a digital coaching consultant at the academy, I have been working with post-graduate and graduate students in the Schools of Law, Health Sciences, Agricultural Sciences, Economics, Business Management and Social Sciences. 
As a digital coach, I have been lending my technical expertise in coaching scientists, staff and researchers at the university on communicating complex scientific concepts. I have also provided insights and feedback to these researchers, academics and students on how to employ cutting-edge social media and digital technologies that result in impactful messaging, relatable storytelling and engaging narratives. 
In my time at UTalca and the American Academy of Science and Technology in Chile, I have had the great opportunity to review academic and industry conference presentations and academic theses of graduate PhD and Master's students and also the work of UTalca staff to help them craft compelling, data-driven, empirically and scientifically sound and easy to understand presentation and digital materials. I have also provided technological coaching to the staff. Moreover, I have learned a lot about the beautiful country of Chile, practiced my command of Spanish, and applied the concepts learned in my graduate program at Columbia University. 
Most importantly, my previous professional experience before graduate school at Columbia, plus my graduate coursework in Strategy Analytics, Analytics in an Organizational Context, Storytelling with Data and Research Design, aided me in translating and sharing my learnings.
During my time at UTalca, I have also had the chance to share experiences with Chileans on US norms, culture and business practices. This was a two-way exchange and an enlightening and eye-opening process in which I made many friends and colleagues in another part of the world!
I hope that through the knowledge acquired through my professional endeavors, I have strengthened myself while also helping build the scientific, linguistic and technical capacity of the students I worked with continuously. 
Universidad de Concepción
In addition to working with UTalca, I pursued a second opportunity with the Universidad de Concepción (UdeC) in Chile. The institution considers itself the most traditional and prestigious university in Chile due to its complex and extremely technical research in various areas of knowledge. 
I had the pleasure of working with Rosa Alzamora Mallea at the university and her colleagues in Forestry, Sustainability and Soil Science to explore sustainable agroforestry practices and how new innovative product management approaches can be applied to the forestry sector to produce sustainable forest products like wood, lumber and paper with zero-carbon impact. 
As part of my research, I looked at sustainable forest farming, green forestry practices and novel approaches in silviculture. My research also explored agroforest product design and how product management as a practice, used in the digital realm, can be applied to forestry to create innovative forest products that can not only be capitalized into marketable products but also can be used to maximize carbon sequestration and carbon capture while helping to support the transition to green energy that is occurring worldwide. 
In my research project with UdeC, I researched and brainstormed innovative practices on how the sciences of analytics, economics, forest management and agroforestry can be tied in with sustainability and carbon sequestration and zero emissions approaches and technologies that help improve forest management. 
The results of my research collaboration with the university are being consolidated into academic journal articles. 
At UdeC, I have learned about Chile's groundbreaking work in fighting climate change. I have explored Chilean forests' biodiversity, economic value and environmental importance. Moreover, I have learned that innovative forest management approaches in the US, New Zealand, Australia and Canada can be applied to a South American context.
I am humbled and excited to work with UdeC. Again, my training at Columbia University and coursework in Research Design, Data Science Frameworks and Methods and Strategy Analytics have been immensely useful in my work there.
At both of these internships, I am privileged and thankful for the staff at Columbia Global Centers | Santiago that have helped make this amazing educational and practical experience possible in the last few months. I have learned new ideas, applied my learning acquired in graduate school, and shared my knowledge with the world.
The Global Centers' purpose and mission is to help bring the world to the doorstep of Columbia. This internship was just a live working example of this phenomenon.