Chilean Artist Featured at Columbia's The Forum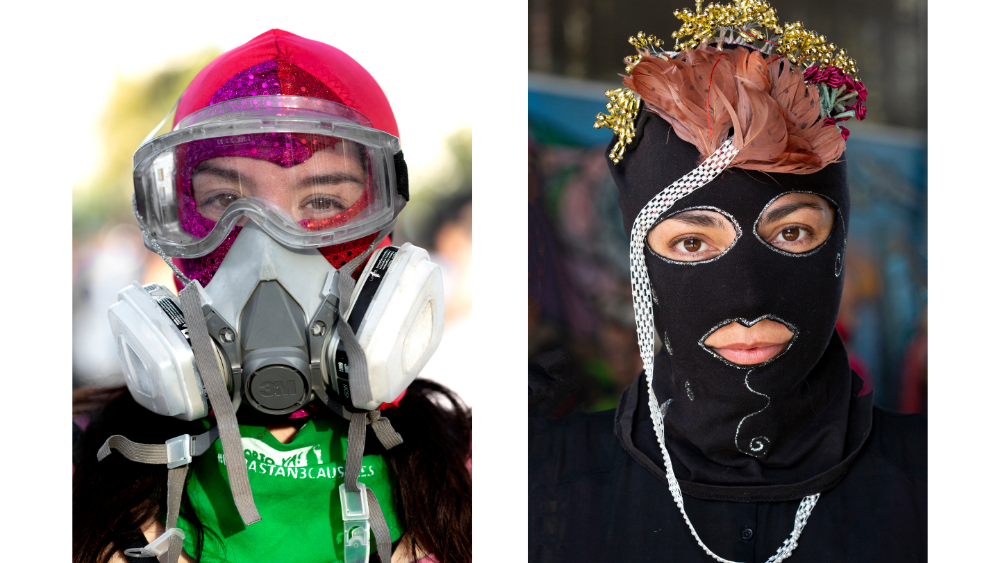 Eugenia Vargas-Pereira, a Chilean photographer and performance artist, has had some of her photos exhibited at The Forum - a multi-use venue which serves as the gateway to Columbia University's developing Manhattanville campus.
The public preview forms part of the exhibition "The Protest and The Recuperation," curated by Betti-Sue Hertz, Director and Chief Curator of the Wallach Art Gallery, which features 10 contemporary artists from around the world. It is a focused survey of artistic perspectives and responses to the global phenomenon of mass protest, as well as recuperative strategies of resistance.
Since The Forum's building remains closed due to the pandemic, the art is being displayed through April 4 in the building's windows and is visible for the public at large on the sidewalks of Broadway and W. 125th Street. Following the exhibition's preview at The Forum, it will be on full display in the Wallach Art Gallery, across the street from The Forum, from June through August.
As part of the launch, The Forum joined with Wallach to present the virtual program "Feminist Aesthetics of Protest in Contemporary Chile." Panelists included Eugenia Vargas-Pereira; Munay, Co-founder and Spokeswoman of the Chilean feminist collective Baila Capucha Baila; and Marcela A. Fuentes, Argentinean performance scholar and artist and Associate Professor at Northwestern University's School of Communication. The event was moderated by María José Contreras, a performance artist and Professor at Universidad Católica's Theater School who is currently a Visiting Scholar at the Hemispheric Institute of Performance and Politics at New York University.
"Over the last decade, Chile has experienced a succession of popular uprisings, including the 2011 student protests, the Tsunami feminista in 2018, and ongoing national demonstrations under the banner of Chile Despertó. In this social climate, a number of artistic and activist collectives and performance street groups have emerged throughout the country. Using dance, theater, performance, and music as their political weapons, these collectives are flooding the streets of Chile to denounce systemic cases of governmental violence and existing patriarchal, colonialist and neoliberal structures," according to a release from The Forum. 
The panel examined the emergence of these collectives and how they are developing a lively protest aesthetic as part of their artistic and activist practices.
"The Protest and The Recuperation" preview includes a selection of 11 pieces from the upcoming full exhibit at the Wallach. The work currently on display includes an artist's video, a sculpture, and nine reproductions of works in the exhibition.