Chilean MBA Students Congregate at Columbia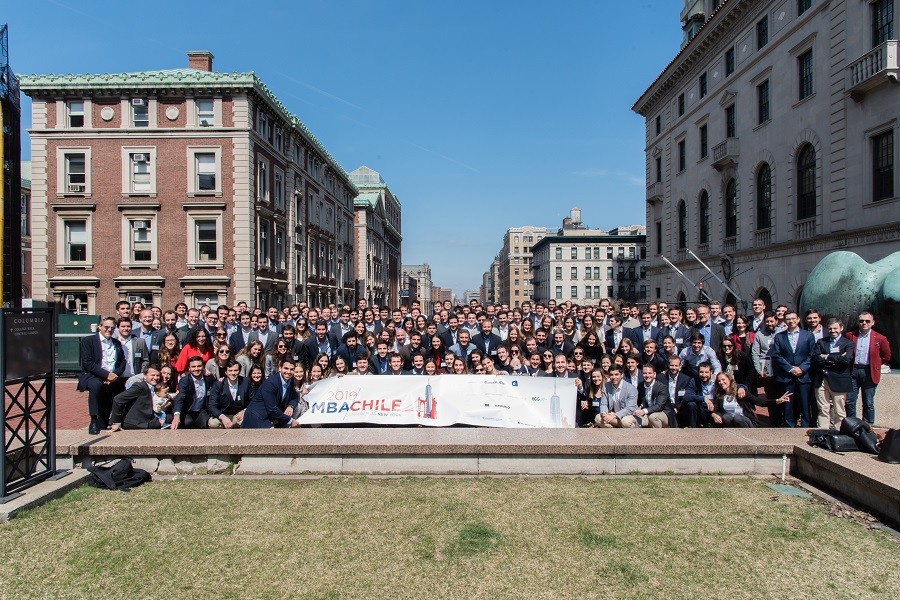 Some 230 Chilean MBA students studying throughout the US gathered in New York on April 5-7 to participate in the eighth annual MBA Chile Conference, which for the first time was held at Columbia University.
The first day consisted of round table meetings and networking at the Americas Society, an organization that seeks to promote education, debate and dialogue in the Americas as well as understanding of the contemporary political, social, and economic issues confronting the region. At that venue, students participated in roundtable discussions on topics related to General Management, Technology, Financial Services and Real Estate.
The second day of meetings took place on Campus and included discussions on the globalized economy, the new role of business, modern social challenges, and the entrepreneurship ecosystem. The first panel included the participation of José de Gregorio, Dean at Universidad de Chile's School of Economy and Business, and Soledad Arellano, Academic Vice-Provost at Universidad Adolfo Ibáñez.
Columbia Global Centers Santiago's Director Karen Poniachik was one of the speakers on the panel covering the challenges of businesses and business leaders. She was joined by Bernardo Larraín, President of the Chilean Federation of Industry (SOFOFA), and Nicolás Ibañez, Director of Drake Enterprises.
The third panel included presentations on immigration by Verónica Cano, sociologist and doctor in international migrations; the need to advance women empowerment and inclusion by Francisca Junemann, President and co-founder of Fundación ChileMujeres; and the struggle to attain economic and social integration by Claudio Castro, Mayor of Santiago's Renca municipality.
Finally, there was a discussion on entrepreneurship which brought together Rodrigo Labbe, CEO of JooyCar; Soledad Ovando, Executive Director of ASECH; Rodrigo Frías, Assistant Manager of Early Entreprenuership at government agency Corfo; and Gonzalo Muñoz, Founder and CEO of TriCilos.
The conference is the only one of its kind, looking to bring together Chilean MBA students in the US for weekend-long networking and discussions on country and region-wide issues, with the end-goal of advancing Chile's development.
Past MBA Chile events have taken place at The University of Chicago (2018), Duke University (2017), University of California, Los Angeles (2016), Kellogg School of Management (2015) and Harvard University (2014).
We would like to recognize the work made by the Columbia Business School students Andrés Pilowsky, Juan José Silva, Juan Pablo Altamirano, Jorge Ramirez, Salomón Diaz, Valentina Pardo, Ronit Ventura, Edgardo Gutierrez, Francisco Diaz and Francisco Montt who organized the conference, positioning Columbia as a leading university for MBA Students.
To see the Pictures Gallery, click here.