Climate Change, Business and Sustainability: Visit to Chile by Columbia Sabin Center's Top Expert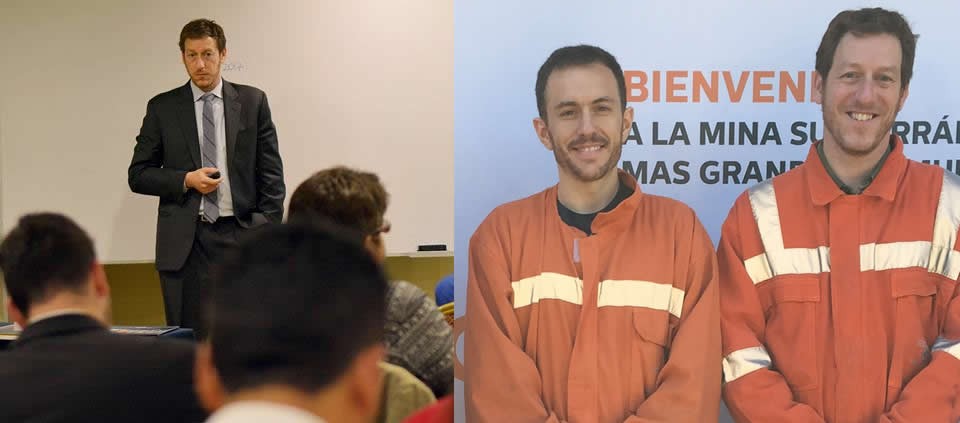 Michael Burger is the executive director of the Sabin Center for Climate Change Law at the Columbia University Law School, which develops legal techniques to fight climate change, trains legal practitioners and provides resources on climate change law and regulation. As a researcher and advocate, Burger focuses on legal strategies to reduce greenhouse gas emissions and promote climate change adaptation through pollution control, resource management, land-use planning and green finance. He visited Santiago in mid-April for a series of lectures, site visits and conversations on sustainability and climate change strategy with government officials, major private and state-run companies, students and scientists.
Chile consistently ranks high among countries to face severe impacts from climate change.
Burger was invited by the Columbia Global Center|Santiago. His activities were organized by the Center in conjunction with Robert Currie, a Columbia Law School alumnus who has worked closely with the Sabin Center and is a lawyer at the Chilean Ministry of the Environment.
Burger's first site-visit was to the underground tunnels of the Codelco El Teniente
copper mine near Rancagua, south of Santiago. He participated in a presentation on the company's Responsible Copper Initiative, which is a newly launched plan to introduce transparency and environmental and social standards into Codelco´s supply chain. State-run Codelco is the world's largest producer of copper.
He then gave a morning lecture at the Santiago Center headquarters entitled, "Climate Change Risks and Opportunities: What the Paris Agreement Means for Business", which was chaired by Carlos Finat, President of the Chilean Association of Renewable Energies (ACERA). In his talk, Burger discussed how current and upcoming regulations on climate change, both at a global level, like the 2017 Paris Agreement, or more locally, may present increased costs, but also create opportunities, for business. Specifically, he noted how these regulations might materially affect business operations and growth potential, the prospects for a societal transition away from fossil fuel-based energy and the physical risks that climate change could pose for companies' facilities and operations.
Burger also was an invited keynote speaker at an internal workshop of the Chilean government's inter-ministerial working group on climate change. In this event, he discussed policy considerations relevant to climate change laws around the world. Burger then participated in a luncheon roundtable with the heads of the sustainability divisions of some of the largest national and international companies in Chile, including CMPC, Anglo-American, Aguas Andinas, and BHP Billiton. This event was hosted by Spencer Stuart, the global executive search firm. He then visited local scientists from the Center for Climate and Resilience Research (CR2).
Burger wrapped up his trip to Chile with a presentation at the Law School of the Universidad de Desarrollo.
The Santiago Center talk was hosted along with AmCham Chile and the Corporate Leaders Group Chile, Líderes Empresariales Contra el Cambio Climático (Business Leaders Against Climate Change)

- Download Presentation here 

- See album here