Columbia Library Collections and Librarians go to Paris in Unprecedented Ways
Columbia Libraries enters a landmark agreement with the Bibliothèque Nationale de France and ships materials from the University to the Columbia Institute for Ideas and Imagination at Reid Hall, the site of the University's Global Center there.
Editor's note:
This article appears in the Reid Hall Annual Report 2018-19.
July 27, 2020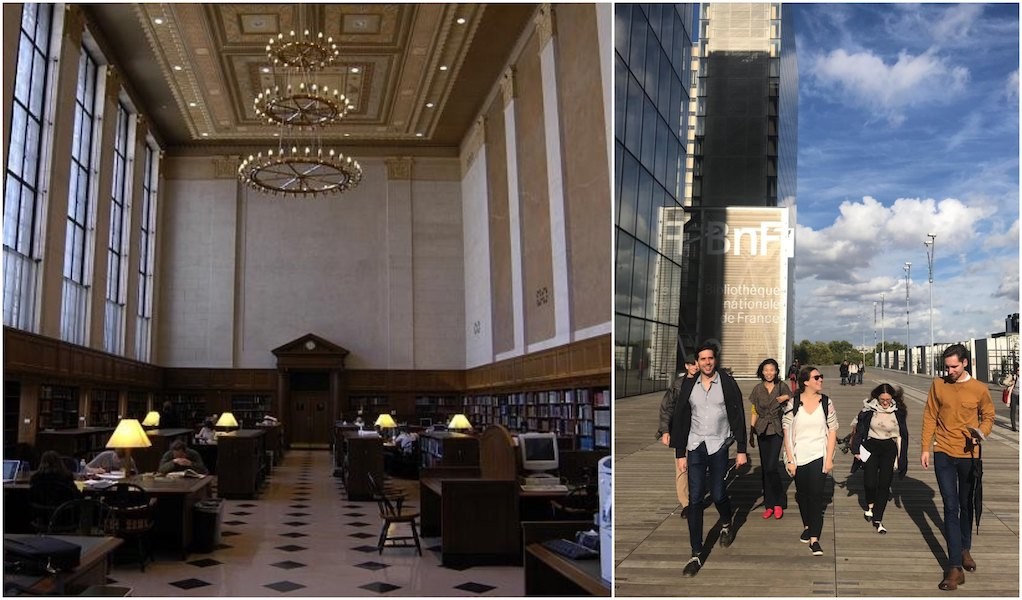 Columbia University's Libraries have always been a haven for global scholars. Before a myriad of results were available at the click of a mouse, a similarly inexhaustible wealth of information could be found in the carefully curated stacks of Butler Library.
In the digital age, Columbia's collections have a home in the world, not just in New York. But over the last five years, they've been traveling even further, both physically and digitally.
For the first time, materials from the Libraries are being shuttled across the Atlantic at the request of Fellows at the Columbia Institute for Ideas and Imagination at Reid Hall, the University's property in Paris and the site of its Global Center there. Librarians on both sides of the ocean are ready to help hunt down materials and send them overseas, connecting New York and Paris through long-distance loans.
At the same time, the Columbia Libraries have entered into a landmark partnership with the Bibliothèque nationale de France (BnF), one of the world's preeminent research libraries and its leading digital library.
The collaboration, a result of the decades-long relationships of Columbia Global Centers Paris Director Paul LeClerc, allows students privileged access to the BnF's collections. And the two renowned libraries—and their librarians—can now coordinate their research efforts, then highlight the findings on the BnF's global platform.
A Global Approach
Foreign cultures, languages, and philosophies have been central to Columbia's Libraries from the beginning. Close to 450 languages are represented in its collections. The University was the first in the U.S. to set up several distinct international and language studies programs, from Indology in the 1870s to Slavonic Languages in 1915 to Iranian in 1959.
"Within this context, the Libraries have been not only a supporter of scholarship and education about world regions but also a prominent driver and leader in this enterprise," said Ann Thornton, the Vice Provost of Information Services and University Librarian for Columbia. "The Libraries' shelves, catalogs, and digital resources and services reflect the fact that Columbia University Libraries have always collected materials from around the world."
And although the stacks remain a place of discovery for scholars from virtually anywhere, the University has also been a trailblazer in making information available on the Internet.
"From the first iteration of Columbia's online catalog in 1984—running on an IBM mainframe and accessible via Telnet—scholars, students, and all learners worldwide have been able to more easily discover Columbia Libraries' holdings," said Thornton. "A multi-million-dollar grant from IBM in the 1980s expanded and enhanced the online catalog, and a large grant from the Andrew W. Mellon Foundation in 1995 seeded the work to create a digital library." 
Today, the Libraries' website receives more than 20 million virtual visits per year. Its online portal provides digitized versions of nearly 500,000 of the most requested rare and unique books, manuscripts, and artifacts. And its digitized collections are included in collaborative online gateways such as the Internet Archive, HathiTrust, Digital Scriptorium, and the Cuneiform Digital Library Initiative.
The Libraries continue to develop their collections for today's scholars, and its staff play "a critical role to play in supporting cross-regional and globally focused research and teaching," Thornton said. They also work to update and expand existing library departments, even if that means completely reorganizing the way they work. 
Updating Reid Hall's Libraries
Reid Hall recently received such a makeover.
It all started with LeClerc's desire to update the library space at Reid Hall and improve access to Columbia's main libraries for students. He met with Thornton, who was just taking on her new position with the University, to discuss just how to do that.   
"We were eager to think about a partnership with the Libraries that would enable scholarship to flourish at Reid Hall," she said. "I was very keen on that too because I see the work of librarians and scholars, creators and students as very intertwined. The work that we do as librarians informs the kind of scholarship that takes place, based on the kinds of materials that we collect. And the new ideas they come up with informs what we collect. It's mutually reinforcing and mutually beneficial."
To that end, LeClerc asked Thornton to send a collegiate librarian to Reid Hall to assess its historic library. Thornton didn't hesitate, assigning Western European Humanities Librarian Meredith Levin to the difficult task.
"It's such a hardship to have to go to Paris," she joked, noting that she is set to visit Reid Hall for the 16th time in January.
"My very first trip there was about five years ago," she continued. "Paul wanted me to look at the library at Reid Hall, which was this small reading room, and to think about how we might refresh the collection and make the space more functional."
That ultimately meant a complete overhaul, from getting new lighting and furniture to expanding the collections to bringing on dedicated staff based both at Reid Hall and Columbia's main campus. Columbia College alumnus Alan Kanzer, a member of the Paris Global Center's Advisory Board who has contributed to many worthy initiatives at the University, generously financed the entire restoration, and a Parisian designer was hired to oversee the process.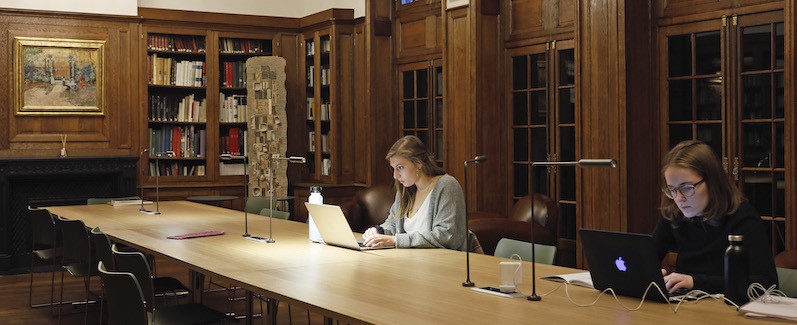 Serving the Information Needs of Fellow at the Columbia Institute for Ideas and Imagination
Giving Fellows better access to the "whole landscape" of Columbia's collections was another important aspect of the modernization, Levin said.
The first "class" of 15 Fellows at the Institute arrived in Paris in early September 2018. But long before that, Thornton had agreed that the Columbia Libraries would be the libraries of record for the Institute. Levin helped set up a system allowing Institute Fellows to request books housed on the main campus in New York and have them shipped to Reid Hall. Whether it's a volume sitting in the stacks or in off-site storage, a librarian at Columbia will find it and get it to the scholar or artist in need.
"Their wish is our command," Levin said. "'No' is not really an answer when it comes to their research needs. And I think that's probably the best part of the fellowship for our faculty, but also for the non-Columbia artists and the writers who just can't believe that all of these resources are at their disposal."
More than 600 volumes crisscrossed the Atlantic during the 2018-2019 academic year. But Levin said she expects to "blow past that number" by the end of the first semester of this year.
"What's so fun is that we can't predict what the Fellows will need," she explained. "Each cohort has different projects, different research interests. And this year they've been extremely enthusiastic about requesting materials."
Although she continues to have a hands-on role, Levin said she often calls on others for assistance.
"We have a Fellow who's a nuclear physicist and he has questions that are beyond my own areas," she said. "It's great to be able to rely on some of my colleagues and people are really excited to work with these Fellows and to hear about the projects."
A Partnership with the BnF
Another one of LeClerc's initiatives was to forge a bond between Columbia's Libraries and the BnF, one of the world's preeminent research libraries and its leading digital library.
LeClerc, the former President and CEO of the New York Public Library, has been a researcher at the BnF since 1972 and was appointed by France's Minister of Culture to serve on the BnF's Conseil scientifique, its senior-policy committee. When Laurence Engel became President of the BnF in 2016, he introduced her to Thornton and others at the Columbia Libraries.
"He sought to help connect her to other library leaders who would have a shared interest in the kinds of projects that they're fostering at the BnF," Thornton said. 
The introduction led to a bi-lateral agreement between the BnF and Columbia, and a host of collaborations between the two libraries.
For instance, they both serve important roles supporting the Institute for Ideas and Imagination. The Columbia Libraries are the libraries of record for the Institute. But after she visited it, Engel proposed that there be a special relationship between the BnF and the Institute, as well. Now, the BnF serves as a crucial resource for the artists, writers and Columbia faculty in the program.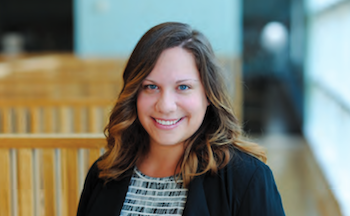 "They have been extremely supportive of the Institute in giving readers cards to all of our Fellows and by providing the kind of customized research support that we're certainly used to in an American context, but it's not always possible in a European national library," Levin explained. "When I was visiting in early October, we went with the Fellows for a visit. They took us on a two-hour tour of the entire facility and walked them through the process of using materials there. They could not have been kinder and more welcoming."
Engel also visited New York. She toured Butler with Thornton and her staff, with an eye toward its special collections. They discussed forming a partnership that would allow the institutions to work together on significant projects, and that led to an academic memorandum of understanding outlining an alliance between the two organizations—the first of its kind.
"The objective is fairly broad, so it allows us to collaborate really closely…on all kinds of common areas of interest," Thornton noted. Projects may involve emerging library practices like web archiving, preservation and linked data, which collects and links related data that was not previously connected, or cultural or historical topics.
Sean Quimby, Director of the Rare Book and Manuscript Library, is currently working on a project that is a result of the new alliance. It will highlight historic U.S.-French relations, resulting in some 18th-century documents being digitized for the first time.
The BnF is "working with a number of prominent American libraries to create a digital portal that showcases documents and books and other materials relating to the French presence in the Americas," according to Quimby.
As the start of the project, he sifted through everything from early manuscripts to French colonial comics. Now its parameters have been honed, and it will be a collection of materials that shed light on the French influence in North America.
To that end, Quimby has unearthed a letter written by then Secretary of State Thomas Jefferson relating to what became known as the Citizen Genêt Affair.
"There was an incident in 1793 where a French diplomat had been discharged to the Americas to try to encourage military support against the British and the Spanish," he explained. "It was in violation of a treaty that the American government had with the British, and a source of concern to the still very young government."
Genêt's rogue behavior prompted Jefferson to write to Gouverneur Morris, one of America's founding fathers who was stationed in Paris at the time. Jefferson penned a letter outlining Genêt's offences and "desiring his recall." He sent it, plus a dossier of evidence against Genêt, to Morris with the hope that he would have some sway with the French government. 
Those documents are part of Columbia's collection, and have never been digitized before. But, because of this project, they will be on display on the BnF's website later this year. Anyone will be able to read Jefferson's words and see his neat, elaborate script.
"We have an opportunity here to highlight this particular remarkable incident and like French-American relations," Quimby said. "And we can make it available to a bigger audience for the first time."