Columbia Nursing students share their internship experience in Shandong, China at the Beijing Center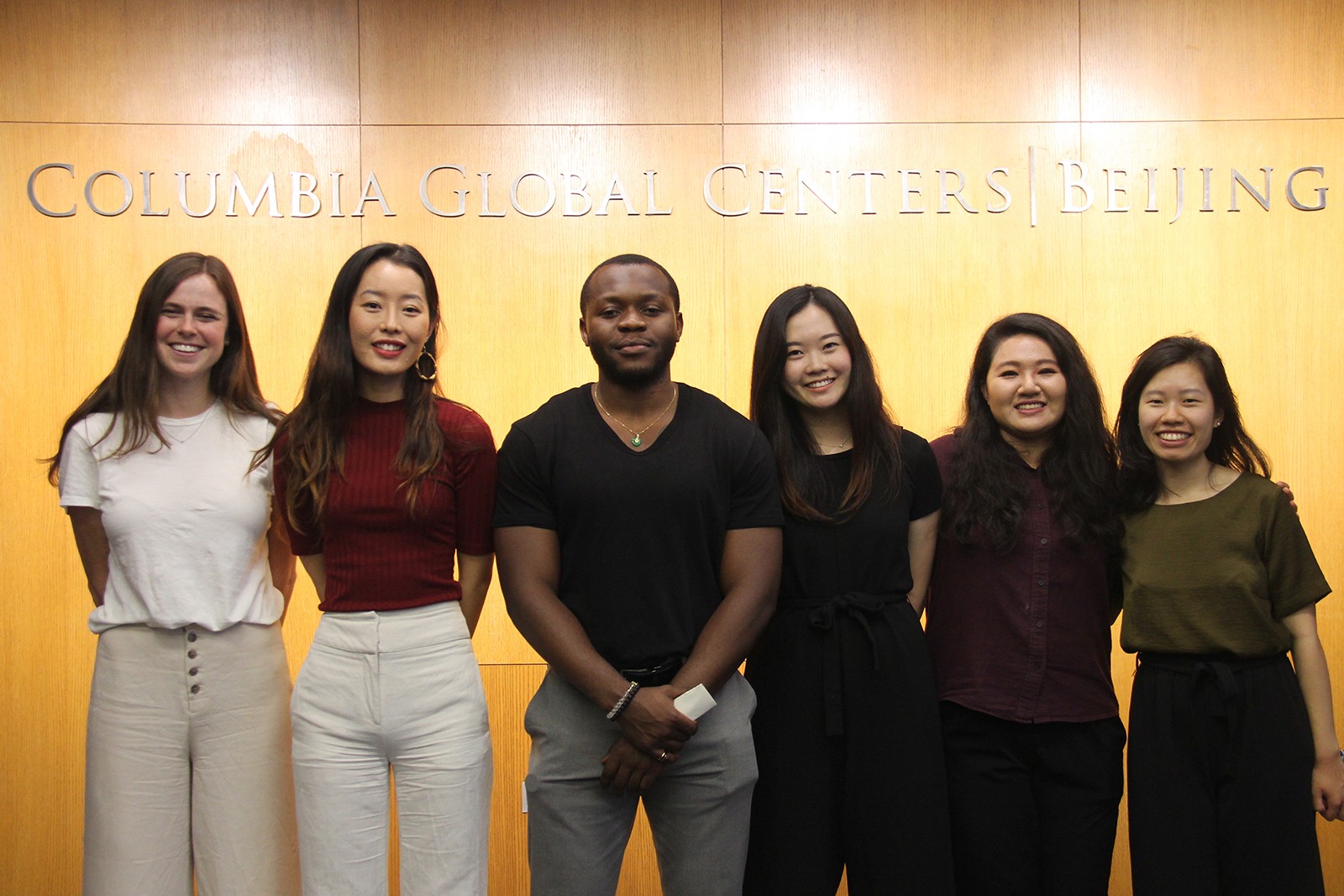 Working with the Office of Global Initiatives at Columbia Nursing, on May 16, Columbia Global Centers | Beijing hosted six students from the School for a special presentation and sharing event on "The Nursing Experience in America and China through the Eyes of Student Nurses".
Christie Kwon, Kevin Djatcha, Youngsu Lim, Nina Schussler, Qian Kun Tan, and Wendy Wu are in the Master Direct Entry (MDE) program, a full-time accelerated nursing program that offers basic competence in professional nursing and generalized master's coursework. During the past six weeks, they have completed their final clinical practicum at The Affiliated Hospital of Shandong University of Traditional Chinese Medicine, which is also the School's first global practicum in China under its Office of Global Initiatives.
"We want to create global nurses who have a sense of global citizenship and a responsibility to act," said Jennifer Dohrn, DNP, director of the Office of Global Initiatives and its WHO Collaborating Center. "A breadth of knowledge and experience will lead them to a commitment to what I call 'health justice'."
The Office of Global Initiatives at Columbia Nursing is a resource on global health and related issues for nurses and other health care providers, policymakers, and the public. By collaborating with key nursing leaders in the United States and around the world, the Office is dedicated to promoting advanced education and scholarly interchange among nurses involved in global health. Under the heavy demand of healthcare resources in China, the Office also expects to further explore cooperation with Chinese counterparts, in both practical area and research area. 
Six students presented the education program and professional experience at Columbia and internship experience in China to the participants, many of whom are professionals from local hospitals. Yue BAO, representative from The Affiliated Hospital of Shandong University of TCM, also attended the event. She wishes the students the very best for their future and is looking forward to more collaborations with Columbia Nursing.
In March, Columbia Nursing launched its first clinical nursing internship program in China with the Affiliated Hospital of Shandong University of TCM. The Office of Global Initiatives welcomes institutes to join and build a bridge between China and the U.S. to promote academic communication and cooperation in education, clinical practice, research, policy, and leadership.