Columbia University Opens Global Center in Nairobi, Kenya
University officially inaugurates seventh international hub for expanded academic partnerships, and student and alumni affairs.
January 14, 2013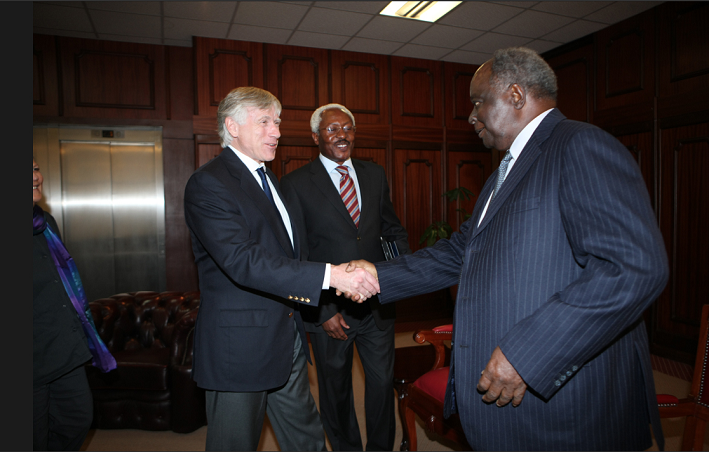 University officially inaugurates seventh international hub for expanded academic partnerships, and student and alumni affairs.
NAIROBI, January 14, 2013 — In an ongoing strategy to broaden Columbia's already extensive global presence and perspective, University President Lee C. Bollinger joined with alumni, supporters, faculty, Kenyan leaders and a delegation of international visitors to open a Columbia Global Center in Nairobi, Kenya — the University's first in Africa.
His Excellency Mwai Kibaki, President of the Republic of Kenya; His Excellency Haile Mariam Desalegn, Prime Minister of Ethiopia; His Excellency Salva Kiir Mayardit, President of South Sudan; Margaret Kamar, Minister of Higher Education, Kenya; and His Honorable Ahmed Ali Silay, Vice Minister, Ministry of Foreign Affairs, Djibouti, attended the event.
"Each opening of a Columbia Global Center holds great promise, not only for new academic partnerships in the host nation and region, but also for the continuing reinvention of Columbia's home campuses in New York City, where our scholarly mission demands a global presence," said Bollinger. "Kenya's embrace of higher education underscores that the core values of great universities — including a belief in the power of dialogue to reveal truth — stand also at the center of Kenyan society."
His Excellency Mwai Kibaki praised the Center's potential in his opening address.
"We highly welcome the establishment of the Columbia Global Center | Africa in Nairobi," said the President, "and are confident that the Center will contribute positively to the achievement of Kenya's Vision 20130, particularly through the dissemination of objective and research based advice to the Government and relevant stakeholder."
Columbia Global Centers promote and facilitate international collaborations, research projects, academic programming and study abroad, enhancing the University's historic commitment to global scholarship and problem-solving. In addition to Nairobi, Columbia's network of such centers that have opened or have been announced includes Amman, Beijing, Istanbul, Mumbai, Paris, Santiago and Rio de Janeiro.
The dedication featured panel discussions on the Impacts of the Press and Media on Democracy in the Region, Pathways to Sustainable Development in Africa, and Health – Now and Future, that followed welcoming remarks by President Bollinger, the Center's director Belay Ejigu Begashaw, a former minister of agriculture in Ethiopia and director of the Millennium Development Goals Center for East and Southern Africa, and Safwan M. Masri, Columbia's vice president for global centers.
Featured panelists included Julie Gichuru, host of Citizen TV; David Makali, political commentator, journalist and director of Media Institute; Wangui Mbatia, member of the Kenyan People's Parliament; Jeffrey D. Sachs, director of Columbia's Earth Institute; Lee Goldman, dean of Columbia's Faculties of Health Science and Medicine; Wafaa El-Sadr, director of ICAP and Global Health; Nelly Mugo, senior scientist at Kenyatta National Hospital and University of Nairobi; among others.
Columbia Global Centers encourage new relationships across schools, institutes, and academic departments at the University. Some of the research and scholarly initiatives are regionally focused while others involve multiple centers engaged in truly global conversations. The centers also support a significant expansion of opportunities for Columbia students to do hands-on research and service-learning abroad, particularly those who may not want to spend a full semester or academic year off-campus.
Some universities in the United States have built branch campuses and degree-granting schools abroad. Columbia is taking a different path. The Columbia Global Centers provide flexible regional hubs for a wide range of activities and resources intended to enhance the quality of research and learning at the University. They are built on the belief that establishing an interactive network of partnerships across geographic boundaries and collaborations across traditional academic disciplines can help address complex challenges by bringing together scholars, students, public officials, private enterprise and innovators from many fields.
The Center is located in a modern, 14,000 square foot building with videoconferencing facilities and a library. It employs over 40 staff members, many of whom are employed by the Millennium Villages Project.
"The research and teaching at the Columbia Global Center in Nairobi will help to address global problems by providing perspectives and evidence from Africa," said Begashaw, "while also supporting African policy makers, governments, civil society, and regional institutions in developing solutions specific to this continent's greatest challenges, including the fight against poverty."