Columbia's School of Social Work Expert Highlights International Experiences on Childhood Policies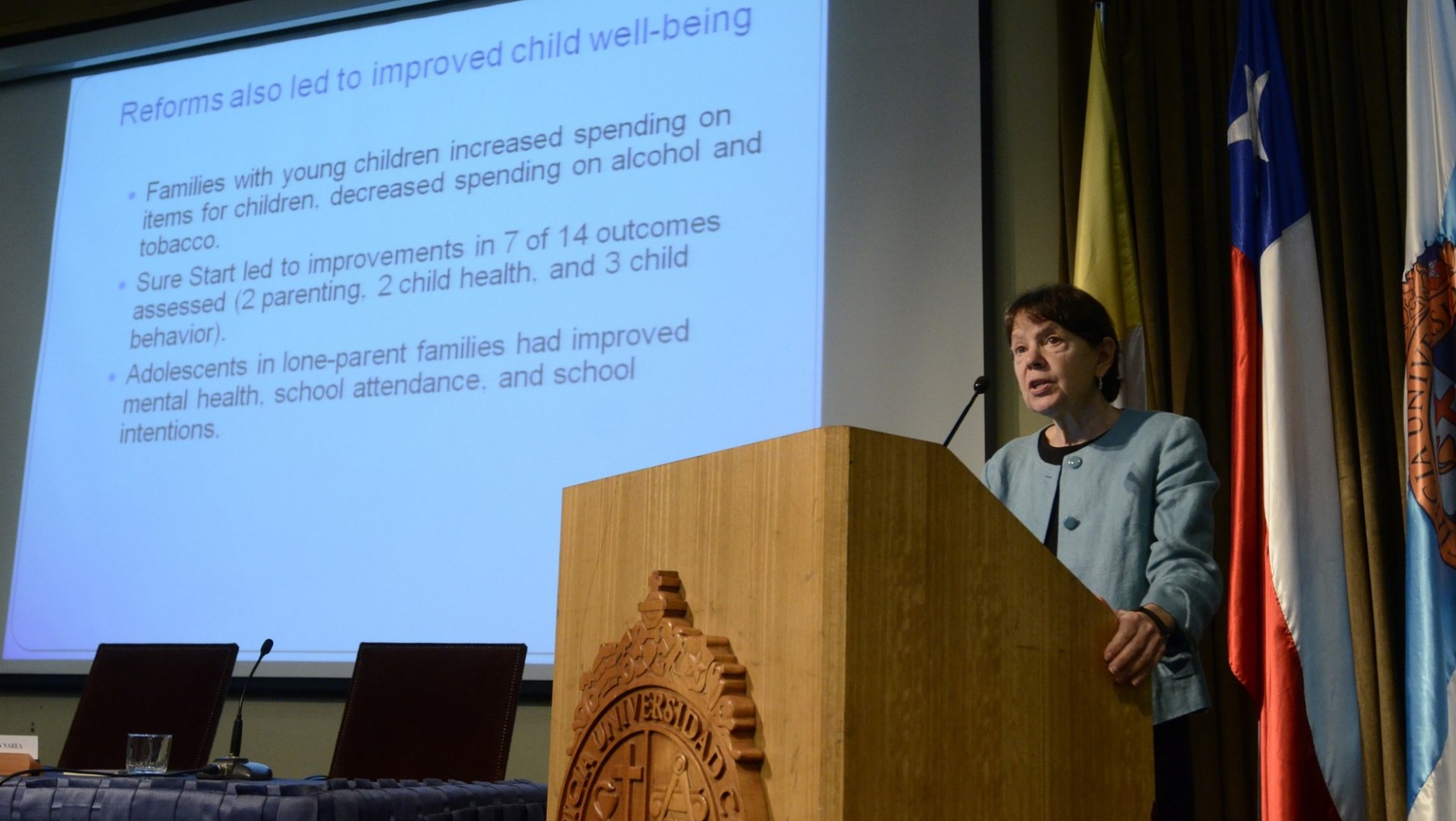 When Britain's Prime Minister Tony Blair declared war on poverty in a 1999 speech, there were 3.4 million children living in absolute poverty in the country. Ten years later, that number had fallen by 1.8 million, a reduction of more than 50%. How was it that the British government could transform this commitment into a series of effective public policies? This was the central theme addressed by US economist  Jane Waldfogel, who participated in the international seminar "Public policies in family and childhood. Lessons from international experience", held during November in Santiago, and organized by the Universidad Católica's Educational Justice Center and the Public Policy Center.
According to the economist, who is the Compton Foundation Centennial Professor for the Prevention of Children and Youth Problems at the Columbia University School of Social Work, and co-Director of the Columbia Population Research Center, the anti-poverty strategy in England promoted by Blair's government considered multi-sectorial measures to strengthen childhood and the family, including: the promotion of social benefits around work; increased income for families with children through social benefits and new children's trust funds; and investment in early childhood, through increased postnatal payment, higher maternity grants for low-income families and universal pre-school for 3 and 4 year olds.
"One of the great lessons of the British case is that child poverty can be significantly reduced, starting with the establishment of a commitment. There is great value in setting goals and bringing together political commitments to achieve them", said Waldfogel.
There was a conversation panel following the keynote speech  with the participation of Sebastián Villarreal, social services undersecretary at the Ministry of Social Development; Marigen Narea, researcher at the UC Educational Justice Center; and Patricia Núñez, early childhood development official at Unicef. The panel reviewed the evidence presented by the economist as well as the initiatives in Chile for childhood protection, including the National Childhood Agrement.
During her visit to Santiago, Dr. Waldfogel also presented at the Fundación Educacional Oportunidad, where she reviewed the results of her research carried out in different parts of the world, and she spoke about current challenges and future issues in policies regarding early childhood. Alumni from the Teachers College of Columbia and members of other NGOs participated in the activity.
To see the Pictures Gallery click here.