Columbia's Uhlemann Addresses Microbiology Conference in Southern Chile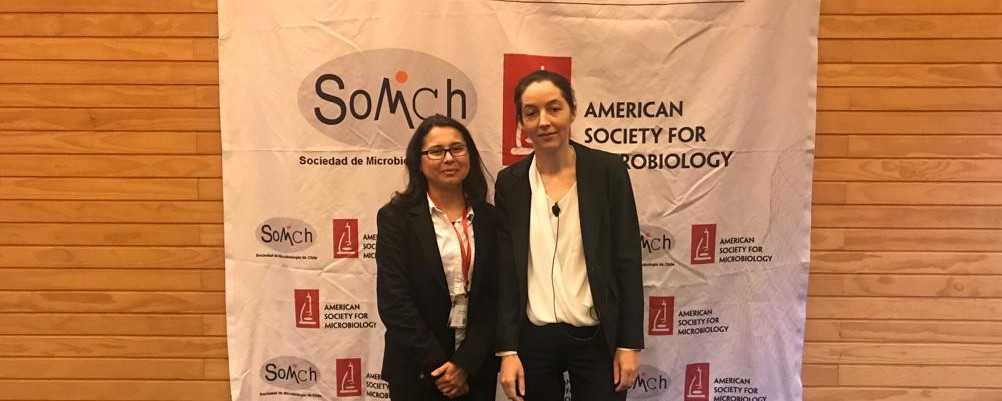 Dr. Anne-Catrin Uhlemann, Assistant Professor of Medicine at Columbia University's Division of Infectious Diseases in the College of Physicians and Surgeons, gave a plenary address during the Chilean Society for Microbiology's (Somich) XLI Annual Meeting, held in Puerto Varas, in southern Chile at the beginning of November.
Uhlemann presented her work on microbial genome evolution and how to use genomics and genetics to identify resistance and characterize it. During the event she was able to meet with other scientists in beginning international cooperation and research, building on the long-standing collaboration focused on respiratory infections between Dr. Susan Bueno, associate professor at the Department of Molecular Genetics and Microbiology at Universidad Católica's (UC) School of Biological Sciences, and Dr. Alice Prince, Professor of Pediatrics at Columbia's College of Physicians and Surgeons, which began in 2011.
"With Dr. Prince we have been working on pneumonia and the host factor involved in the outcome of the disease, how the host factor influences the ability to clear bacterial infections or generate an increased inflammation of the lungs," says Bueno. "My team is basing its work on bacterial infections, and the idea is to collaborate with Anne-Catrin regarding all the things we are doing in this field, both in gastrointestinal and lung diseases."
For her part, UC's Bueno also presented at the Somich conference, reviewing her work on infectious pneumonia and the work being performed on a methodology to identify the molecules that can predict the severity of the disease, and in identifying those that are developing a more serious disease, specifically for viral infections.
With Bueno, while in Chile Uhlemann also participated in a symposium and met students from the School of Biological Sciences, the Millennium Institute on Immunology and Immunotherapy at UC. "In this symposium I presented our biome work and drug resistance in patients with liver transplants, as well as how what we think microbiota becomes established in the gut and what potential microbiota can be leveraged therapeutically to overcome resistance," she notes.
The two doctors also discussed having Chilean students visit Columbia for exchange programs.