Combining philanthropy and entrepreneurship: an approach to help the youth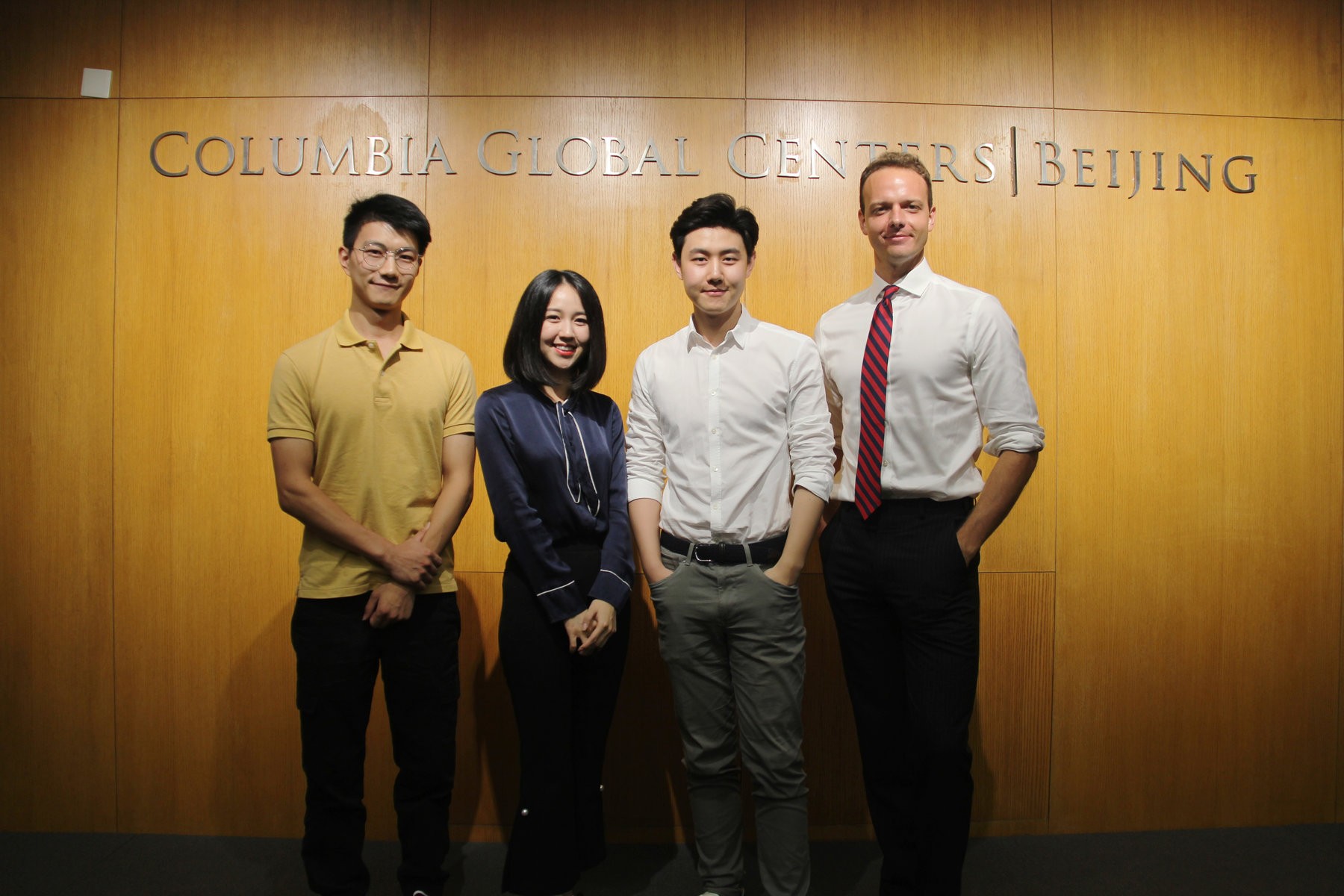 Enterprises can play an important role in public welfare programs, four panelists expressed their views as such when discussing the relationship between philanthropy and entrepreneurship at the seventh discussion of the Entrepreneurship Panel Series at Columbia Global Centers | Beijing on August 31.
The Center invited Jingjing Gina LONG SSW '19, President of Kindforce Education Support Center and Founder of One Dollar Project; Xingyu WANG, Co-founder of Beyond the City; Nicholas Manske, a previous US diplomat and now President and Co-founder of Alariss; and Kehan Roderick DONG, Associate at Y-Combinator China and Founder of The Code of Love, to join the discussion.
For Long, who combined tourism with public programs to make philanthropy sustainable, the objective of the entrepreneurial philanthropists is to fix social problems, but in a different way. "Instead of writing a check and giving it to charities, we want to give money more intelligently," said Long. Kindforce, as a social innovation organization, has inspired thousands of urban students to participate in voluntary education works and the project supported over nine hundred rural children, according to the project founder. 
Different from Long, Wang took rural children to cities to broaden their horizons. He discovered that many students in poverty-stricken areas quit school for work, only to receive low wages. Graduated from prominent universities, Wang wanted to help children there to realize the importance of education. "I choose to invest time and resource on prospective students because I believe they will be the key in solving village issues," said Wang.
Companies can also play a role in public welfare programs, said Manske, who views enterprises as important units to fix social problems. Dong echoed that big companies could provide strong momentum to social undertakings.
For companies themselves, devoting to charity will also bring an advertising effect on their own business. "Bosses will endorse social programs that are popular among customers and staff," said Dong. 
More than 50 people attended the panel discussion and 88,000 watched online through the Center's livestream platform.
The Entrepreneurship Panel Series launched by the Beijing Center has initiated several discussions in Beijing, Shanghai, and Shenzhen, engaging Columbia entrepreneurs from a wide-ranging sectors, including business, fintech, technology, social work, and sustainability. The Series will continue to create a dynamic platform for entrepreneurs and look forward to more collaboration with leading professionals and corporations.