The Core and its Modern Significance in a Global Context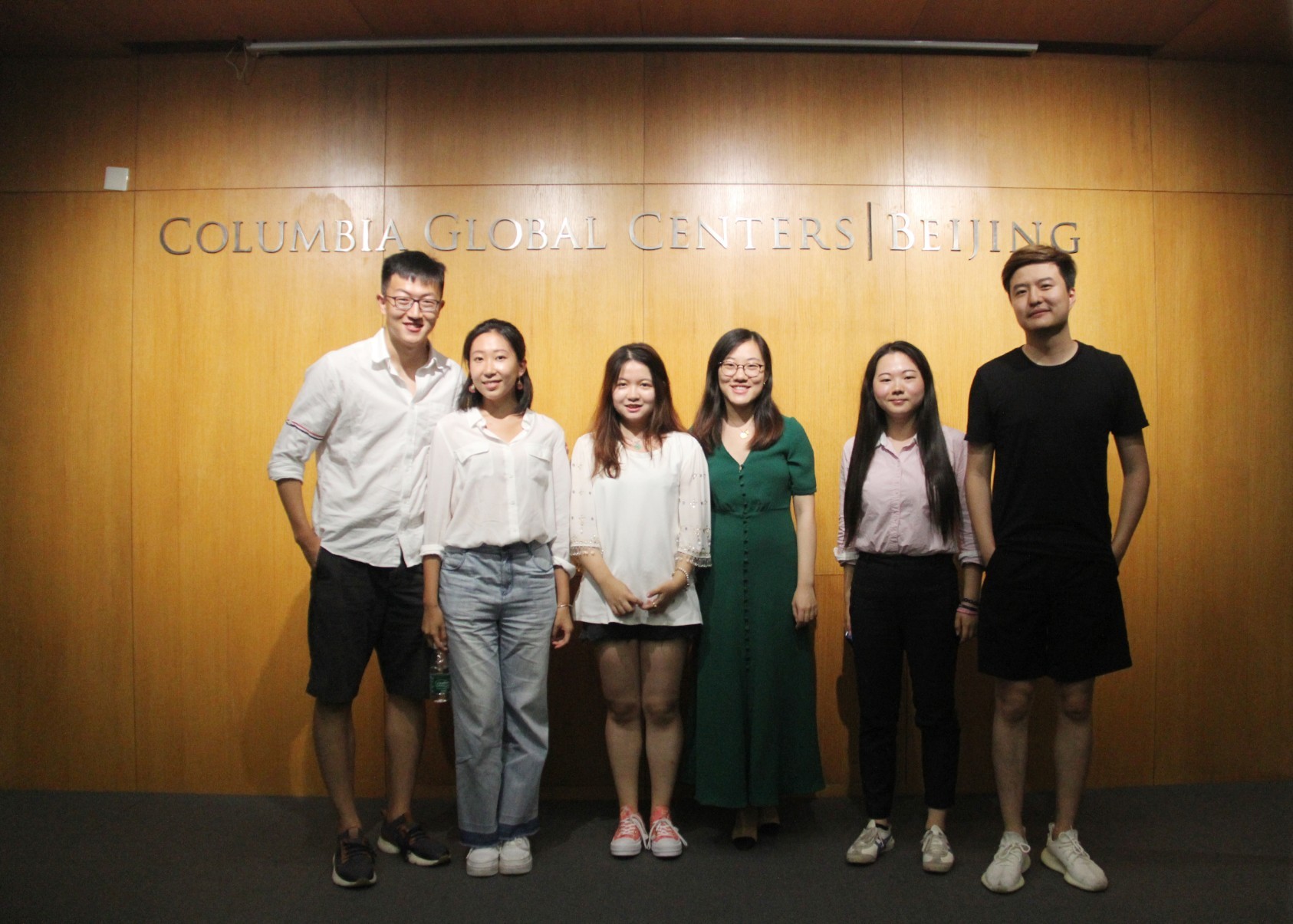 Over a hundred years, under the irresistible tide of globalization, Columbia's Core Curriculum has gone through constant innovation to embrace the multiplicity of world civilization.
In 2019, in light of the 100th anniversary of the Core, the Beijing Center hosted the eleventh event of the Center's Education Panel Series on August 4th, discussing how the Core takes us beyond the classroom and how it seeks to address the problems of the present time.
Joining the discussion were six Columbia undergraduate students from China, including Jiachen FENG, Yameng ZHANG, Charlotte PU, Juzhi ZHENG, Alex YANG, and Lengyi ZHANG.
The panel mainly focused on the uniqueness of the Core with a concentration on the understanding of Eastern and Western civilization, its teaching mode, and its application to the academic and personal development.
''When it comes to education, there is a misunderstanding that it implies a spoon-feeding relationship between educators and students. Nevertheless, the concept that Core Curriculum fosters is that, education actually implies equal communications and critical thinking," said Pu.
During the discussion, students first spoke about their understandings on the Eastern and Western culture based on what they learnt from the Core, among which Zheng stressed that universal value was indeed embedded in various cultures. "My greatest feeling is that, based on the Western tradition, the Global Core goes beyond the so-called western label and pays equal attention to non-western works with a more open mind, thereby weakening the awareness of the binary opposition between the East and the West." said Zheng regarding this very topic.
Students also agreed that the small seminar adopted by the Core encourages in-depth discussions and welcomes different opinions with an open mind. Lengyi ZHANG recalled, "During such a collision of thoughts, we will develop a habit of reflecting on our own ideas in a state of embracing changes and self-renewal. Having graduated from Columbia, I still benefit a lot from such a habit." Feng resonated on this point by noting that such experience offers equipped students for their well-rounded personal development in the future.
Furthermore, attention was also drawn to the impact of the Core on student's academic and personal growth. According to Feng, Yang, Yameng ZHANG, and Lengyi ZHANG, the Core not only serves as an inspiration for their academic investigations, but also for their lives. Knowledge conveyed through the Core contributed to their attitudes towards life, their fascination towards academics, their value system and self-concept, completing them as eligible learners at Columbia as well as intellectual individuals.
"The Core helped me alleviate my anxiety during my freshmen year and balance my attitudes towards life. It made me realize that there are many different choices in life." Feng added.