Data and the Mumbai Film Industry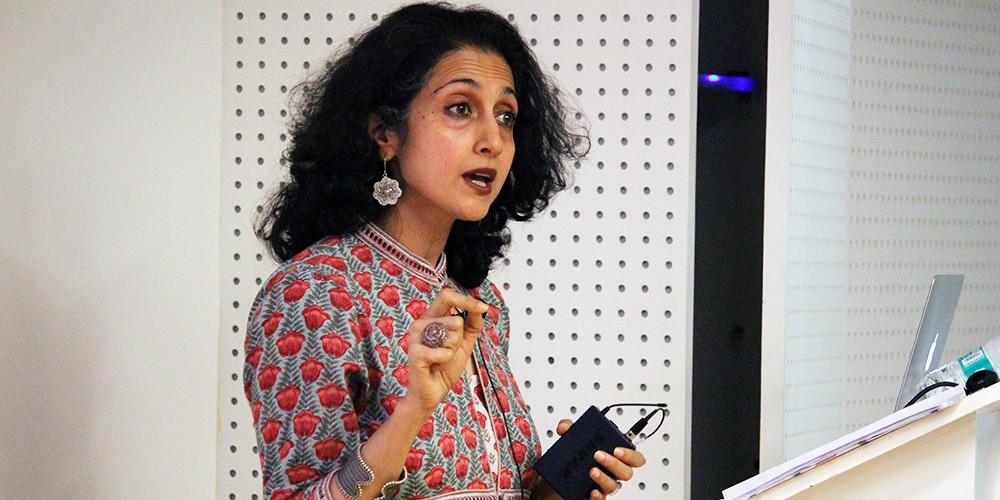 Columbia Global Centers | Mumbai organized a public lecture in May by Tejaswini Ganti, Associate Professor, New York University. Based on over two decades of expansive study of media industries and commercial Hindi film production in Mumbai, her talk demonstrated the value of embracing the element of uncertainty and critically examining claims on market data to arrive at a more holistic understanding of the industry. The lecture was organized as part of the Center's Mumbai as a City of Knowledge initiative.
Mumbai, as the site of the Hindi film industry, offers an opportunity to expand global understanding of media production centers, beyond North America and Western Europe. Ganti posited that as a result of its unique history and characteristics, the Hindi film industry challenges and expands accepted Western understandings of an economically-viable media industry. She discovered that while both Hollywood and Bollywood are, in a broad sense, commercially driven film industries, they differ significantly in their organization and functioning and so require diverse frames of analysis. "While the Hindi film industry is a commercially driven, blockbuster-oriented industry, its structures of financing and distribution, sites of power, organization of labor, and overall work culture have been quite distinct from media industries located in the United States," Ganti noted.
Ganti found that in the Hindi film industry there was an inverse relation between the commercial success of a film and its perceived critical value or prestige among filmmakers. She explained that since "the biggest box office successes tend not to win the Oscars over there or the National Awards here, producers needed to create alternative regimes of value as a way to manage their own status and social positions in the field." These alternate regimes of value shape the actual production of films. Building on the notions of perceived value, Ganti argued that gross box office receipts of a film should not be conflated with its public popularity, as is the norm in the Hindi film industry.
According to her, speculative practices permeate industry filmmaking.  Due to lack of verifiable data, it is difficult to track the revenues of a film. An environment prevails in which agents, at different points of the circulation of a film, have incentive to misrepresent or inflate the film's earnings. Yet, as Ganti demonstrates, incomplete or ambiguous data is not necessarily an impediment to the industry's progress since it allows industry practitioners to appear more successful and helps them attract capital and talent to continue their practice.
Making a case for the importance of the unknowable, Ganti contended that the space for complexity, contradiction and incommensurability seemed to be shrinking in an era where big data was trying to predict people's behavior by bracketing them into neat categories. She emphasized that the inability to predict outcomes fuels creativity, and an unexpected hit or new kinds of filmmaking help break rank to enrich media industries and corresponding scholarly production. Ganti concluded her lecture by stating that scholarly enterprises were predicated on the idea that knowledge was incomplete and a commitment to the possibility of being surprised keeps the door open to framing new questions and developing new research agendas.
During the lecture, she also shared her ongoing research in Mumbai where she is researching Hollywood films being dubbed into Hindi. Her study views film dubbing processes as active sites of cultural production that complicate nation-bound understandings of film industries. Through this framework, her research seeks to examine questions of socio-economic change, ideas of legitimate language, social imaginaries of difference and ideas of belonging in contemporary India.