Digital Information, Mapping Tools, and Planning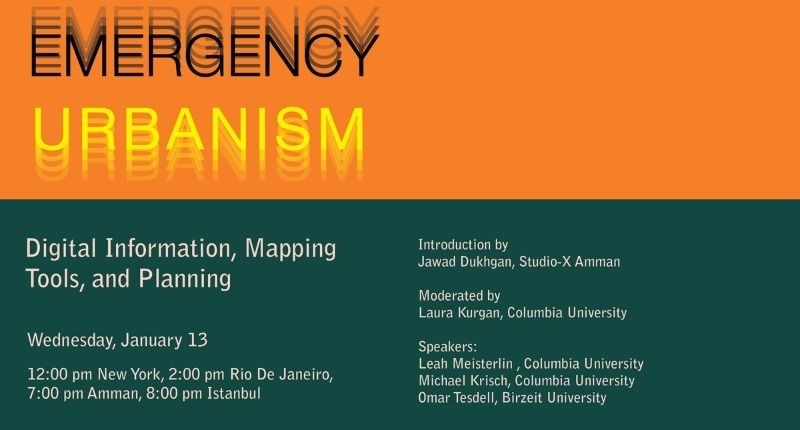 On Wednesday, January 13th, 2021, Columbia Global Centers | Amman, Columbia Global Centers | Istanbul, and Columbia Global Centers | Rio de Janeiro hosted the third and final webinar in the Emergency Urbanism: Infrastructure and Cities webinar series titled 'Digital Information, Mapping Tools, and Planning'. The panel discussed the role of technology used today in helping municipalities and governments identify the neighborhoods most vulnerable to viruses and emergencies in general. They also discussed how digital infrastructure and information are utilized in response to managing issues in the COVID-19 pandemic, what tools are used, and how effective they are.
The first panelist to present was Leah Meisterlin, Urbanist, GIS methodologist, and Assistant Professor in Urban Planning as GSAPP at Columbia University. Her presentation explored three examples of international infrastructures planned before emergency, tested by emergency, and changed in emergency. The first example explored how NYC Mayor's office utilized data drills and scenario planning to ensure that digital infrastructure would work during emergencies. The second example explored how Georgia's Department of Public Health created maps to document COVID cases per county and study the concentration of cases over time. The final example discussed how social norms have changed during the pandemic, such as the allowance of public surveillance for the sake of the public good. 
Michael Krisch presented next. Michael is the Deputy Director at the Brown Institute at Columbia University. His presentation was titled 'Rethinking News Deserts' and addressed news deserts, which are rural and urban communities with limited access to the sort of credible and comprehensive news and information that feeds democracy at the grassroots level. The Brown Institute has been in the process of mapping local news sources to understand how their text is written and how technology can identify locations using machine learning. He shared about the progress they have made using the BERT Model and their current prototypes, which have been used to study local news coverage and diversity and inclusion interests during the pandemic. 
The final presenter was Omar Tesdell, Assistant Professor in the Department of Geography at Birzeit University. He discussed his work in Palestine on agro-biodiversity and how the use of mapping and local knowledge has been used to study and rebuild relationships between plant life and people to better adapt to climate crises. Utilizing case studies of rainfed agro-ecosystems, his team studied the modes of persistence of land through crisis over 100 years. Their research included digitizing historical sources, pictures of plants, maps, and Orientalist writings of Palestine. Additionally, his team was able to co-publish the first Arabic guide to wild food plants in Palestine.
The presentations were followed by a Q&A session and discussion led by Moderator Laura Kurgan, Professor of Architecture and Preservation at GSAPP at Columbia University. To hear the full discussion, click here!