Emergency Urbanism and Preventive Infrastructure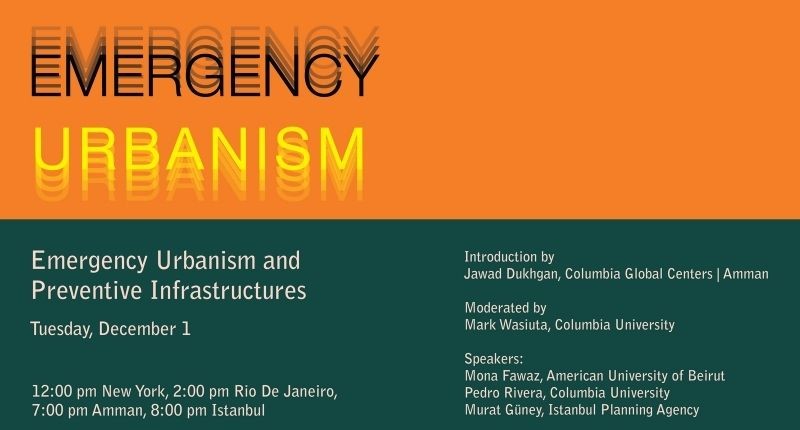 On Tuesday, December 1st, 2020, Columbia Global Centers | Amman, Columbia Global Centers | Istanbul, and Columbia Global Centers | Rio de Janeiro hosted the first webinar in the Emergency Urbanism: Infrastructure and Cities webinar series. This discussion, which addressed Emergency Urbanism and Preventive Infrastructures featured moderator Mark Wasiuta, Co-Director of the Critical, Curatorial and Conceptual Practices in Architecture program at Columbia University, and panelists Mona Fawaz, Professor of Urban Planning and Studies in the Department of Architecture and Design at the American University of Beirut, Murat Güney, Researcher and the Coordinator for International Cooperation at the Istanbul Planning Agency, and Pedro Rivera, Architect and Adjunct Assistant Professor at Columbia University.
The webinar began with an introduction by Jawad Dukhgan, Associate Director at Studio-X Amman. He discussed how communities, cities, and nations have been confronted with a myriad of urban challenges such as inequality, urban density, lack of adequate physical and social infrastructure, access to affordable housing, and environmental health risks. The COVID-19 pandemic has further exacerbated these conditions. Moderator Mark Wasiuta then discussed his research titled Controlled Syntax that examines the intersection of computation, algorithms, and city management. 
The purpose of this webinar was to explore how cities have responded to emergencies and investigate the intervention required to mitigate the effects of them on existing inequalities. Each presenter had an opportunity to share their research in relation to a specific city and how the crises they have experienced have exposed vulnerabilities, including underlying inequalities.
Professor Mona Fawaz first discussed the Beirut port explosion of August 2020 and how, although it caused devastating damage and loss of life, Lebanon was already sinking into financial collapse prior to the explosion. She shared maps on vacancies in the city, both within the scope of the explosion blast, as well as outside of it. The maps depict a narrative that people had been leaving the city prior to the crisis as a result of dysfunctional markets that had been encouraged by Lebanese public policies through the exemption of vacancies from any taxes, both municipal and property. Land, she argued, has turned into an investment and has become devoid of social value and thus harmed vulnerable city inhabitants.
Murat Güney then discussed the 2020 earthquakes that took place outside of Izmir, Turkey. Despite over 20 years of investments in preparing for these events, areas that the government assesses are disaster risk areas do not align with external assessments of vulnerable areas. Instead of adequately preparing vulnerable areas, the government has taken control of territory where land prices are high for their own capital gain. Since the government has the power to designate lands as disaster zones, the public cannot object. Since future earthquakes risk devastating these neglected areas, the Istanbul Planning Agency has begun focusing on identifying what buildings will likely collapse first so that they can prioritize intervention to mitigate the threat.
Finally, Professor Pedro Rivera discussed how social organizations in Brazil have reconfigured their work during the COVID-19 pandemic. Daily emergencies such as poverty, violence, and inequality have been ignored by the government, thus leading to the emergence of organizations that have developed technology based on deep knowledge of the territories and people to provide adequate social services. Through his research, Professor Rivera interviewed leaders of various movements and found that their holistic approach to covering a large range of issues within their communities in an integrated way has allowed them to reach people they were unable to before and gain a better understanding of their territory and people.
The event concluded with a Q&A session led by Mark Wasiuta, where he allowed the presenters to further elaborate on their research on topics such as conditions of stabilization and destabilization, types of vulnerabilities exploited by COVID, relating singular emergencies to broader issues, and how to bring emergency thinking into emergency urbanism theory. Questions from the audience were also posed.
To hear the full webinar, click here!