Emergency Urbanism: Infrastructure and Cities (A Webinar Series)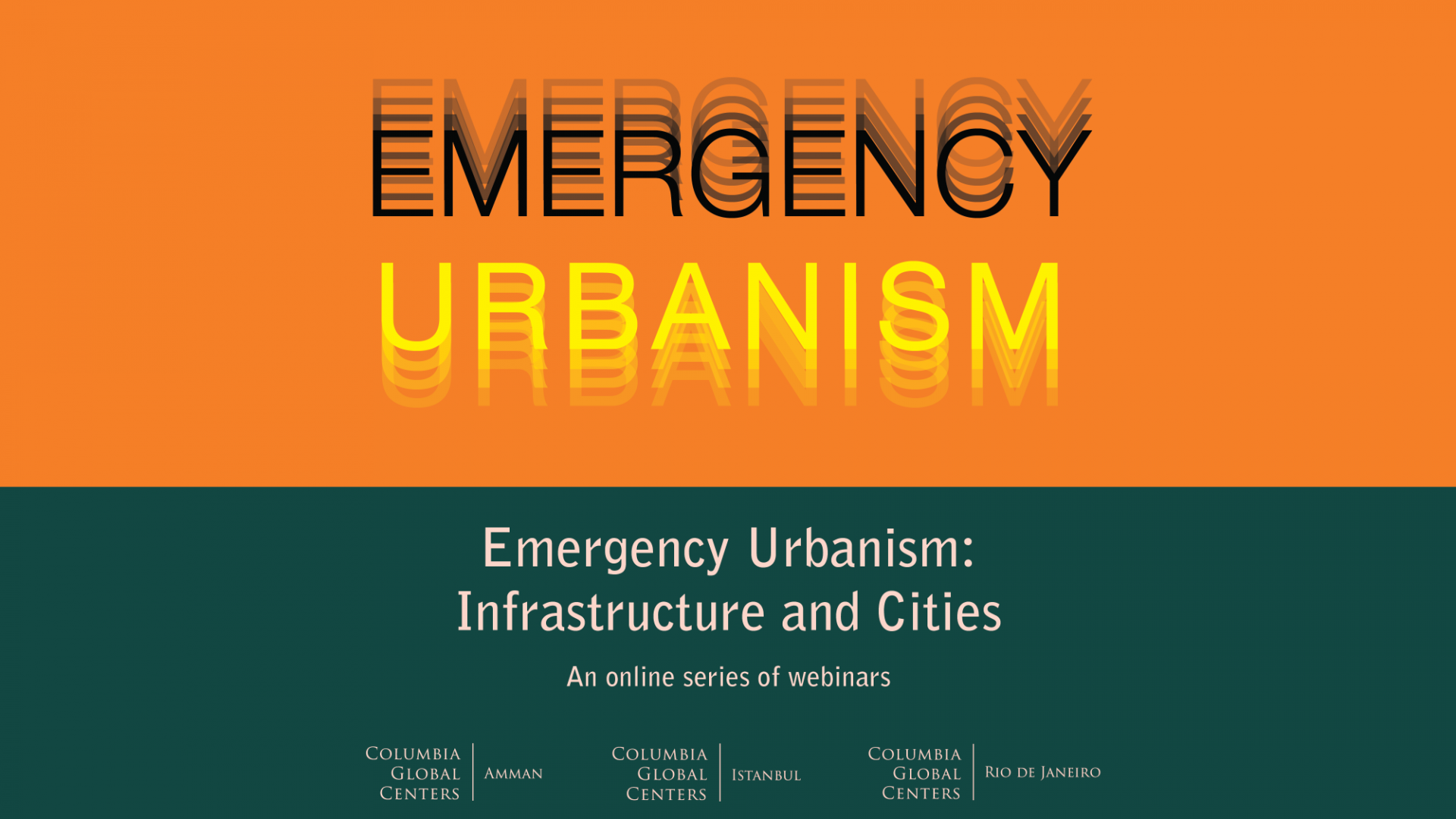 Emergency Urbanism and Preventive Infrastructures
Tuesday, December 1 (7:00 pm Amman, 8:00 pm Istanbul, 2:00 pm Rio De Janeiro)
Communities, cities, and nations have been confronted with a myriad of urban challenges: inequality, urban density, lack of adequate physical and social infrastructure, access to affordable housing, environmental health risks, and more. The COVID-19 pandemic has further exposed and aggravated these challenges. Measures to contain the virus is disrupting public life, altering social coherence, and affecting the built environment.
The Emergency Urbanism and Preventive Infrastructure webinar will explore how cities have responded to environmental disasters and disease outbreaks and investigate the interventions required to mitigate the effects of such emergencies. The panelists will provide insight into the preventive systems that are installed, required, and used in emergency anticipation and response.
Introduction by: Jawad Dukhgan, Associate Director, Studio-X Amman
Moderated by: Mark Wasiuta, Co-Director of the Critical, Curatorial and Conceptual Practices in Architecture program, Columbia University
Speakers:
Mona Fawaz, Professor of Urban Planning and Studies in the Department of Architecture and Design, American University of Beirut
Murat Güney, Researcher and the Coordinator for international cooperation, Istanbul Planning Agency
Pedro Rivera, Architect, Adjunct Assistant Professor, Columbia University
Pandemic and Re-Shaping The Urban Landscape: Hyper Localization and 15 Minute Cities
Wednesday, December 16 (11:00 am New York, 1:00 pm Rio de Janeiro, 6:00 pm Amman, 7:00 pm Istanbul)
Public health measures to mitigate community transmission of COVID-19 have generated a new impetus for re-thinking our urban landscape. These measures overhauled cities' mobility cultures, limiting human movement to a distance of 15 minutes from one's home. The creation of a 'city of villages' is gaining momentum around the world, shaping future designs of cityscapes in a post pandemic world. This webinar addresses how the pandemic reintroduces Carlos Moreno's notion of "la ville du quart d'heure" in which daily urban necessities are within a 15-minute reach on foot or by bike. It brings together experts to discuss how the urban environment is being repurposed as well as the subsequent impact on community, creativity and city life. Panelists will also investigate commuters' reaction to emergencies and pandemics by exposing changes in people's behaviour when living in 15 minutes' cities. 
Introduction by: Merve İspahani, Academic Programs Coordinator, Columbia Global Centers | Istanbul
Moderated by: Müge Yorganci, Istanbul Planning Agency
Speakers:
Hayrettin Günç, NATCO, Global Designing Cities Iniative, Program Manager
Hazem Zureiqat, Partner at Engicon, Transport Consultant and Advocate, Jordan
Juan Francisco Saldarriaga Chaux, Senior Data & Design Researcher, Brown Institute, Columbia University
Lorenzo Kihlgren Grandi, Lecturer in City Diplomacy at Sciences Po and École Polytechnique, Paris
Digital Information, Mapping Tools, and Planning
Wednesday, January 13 (7:00 pm Amman, 8:00 pm Istanbul, 2:00 pm Rio de Janeiro)
The panel discussion will explore the role of technology that are used today to help municipalities and governments identify the neighbourhoods most vulnerable to viruses. Technology, such as urban planning tools and mapping techniques, expose issues detrimental to communities like the lack of access to essential services and its correlation to higher infection rates. The panellists will investigate how digital infrastructure and information  is utilized in response to managing pandemics and emergencies. They will discuss the engagement of citizens in shaping their built environment, highlighting the tools used by them to access services, and the effectiveness of such tools.
Speakers:
Michael Krisch, Deputy Director, Brown Institute, Columbia University
Leah Meisterlin, Urbanist, GIS methodologist, and Assistant Professor in Urban Planning, GSAPP, Columbia University
Omar Tesdell, Assistant Professor, Department of Geography, Birzeit University

Introduction by Jawad Dukhghan, Associate Director, Studio-X Amman

Moderated by Laura Kurgan, Professor of Architecture and Preservation, GSAPP, Columbia University