Experts Shared Perspectives on Promoting a Sustainable Supply Chain at Sustainability Policy and Business Practice Forum
On May 8, Columbia Global Centers | Beijing, Columbia University's Earth Institute, and The Sustainability Consortium, in partnership with the Walmart Foundation and the China Environmental United Certification Center (CEC), hosted a high-level forum titled "Sustainability Policy and Business Practice Forum" to discuss Chinese enterprises' experiences and strategies in sustainable development, focusing on the supply chain. 
June 09, 2015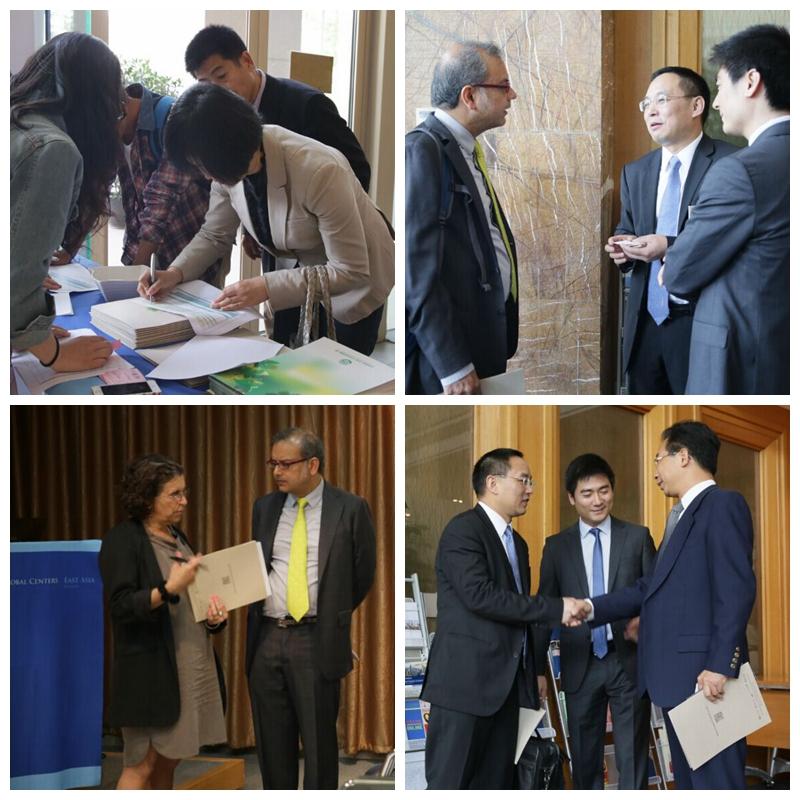 In recent years, China has been focused on accelerating its economic development through the four pillars of "Industrialization, Informatization, Urbanization, and Agricultural Modernization." In March 2015, the pillar of "Greenization" was officially added to this development framework in order to reflect the importance of environmental sustainability to China's goals of economic progress. With advanced policy development, sustainability can stimulate huge economic opportunities, investment, and consumer demand. It is in this context that the forum discussed how green supply chains provide a unique opportunity to bolster Chinese enterprise and create a positive and lasting impact on sustainability in China.
Morning session was open to the public which attracted over 90 audience members. Moderated by the Center's Director Joan Kaufman, the morning session started with a keynote speech by Mr. Zhang Dawei, Vice Chairman of China Center for International Economic Exchanges (CCIEE), one of China's prominent think tanks, which is currently working with the Earth Institute to design a sustainability measurement and metrics system and evaluation framework adapted to specifically to China's unique economic development situation. During his speech, Zhang shared his perspectives on optimizing government management to promote a sustainable supply chain and gave an answer to what sustainability policy and metrics means for a green supply chain. Zhang noted that Chinese government fulfills the commitments to the international society, and sustainable development, especially environmental conservation, has become a basic state policy of China. The reformation and the establishment of new environmental performance indicator system and management model is an important task for achieving sustainable development.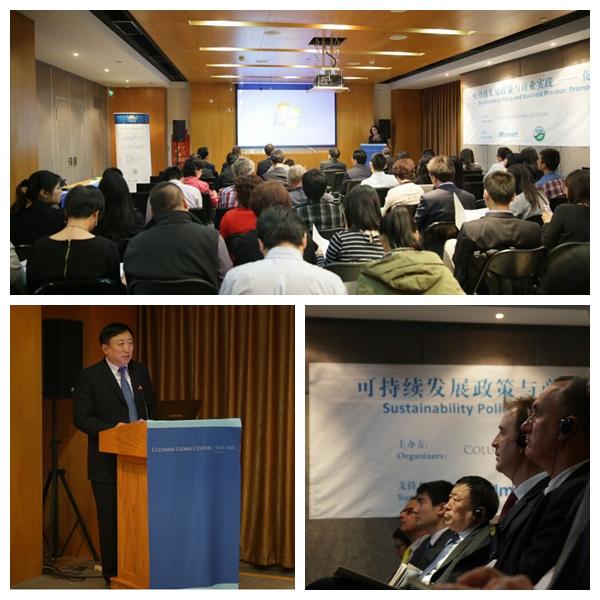 Satyajit Bose, Lecturer in the Discipline of Economics from Earth Institute, Columbia University, delivered a speech on the sustainable supply chains for the long term investors to discuss financial benefits of investing sustainability and corporate responsibility in general from economist perspective. He noted that the socially responsible investors become extremely important not dominant but growing very fast. He pointed out that a study shows that the investments in sustainable supply chain rewarded by financial outperformance.
Guo Dong, Lecturer in Discipline and Postdoctoral Research Scholar at the Earth Institute, presented the findings from a recent project that the Earth Institute and Columbia Global Centers | East Asia have conducted with The Sustainability Consortium (TSC) evaluating TSC's work in China, which aims to improve the systems and tools for assessing product sustainability. He shared lessons learned for promoting a sustainable supply chain in China, specifically relating to establishing partnerships, engaging local stakeholders, and building capacity for Chinese suppliers.
Other speakers in the morning session included Euan Murray, Chief Operating Officer of The Sustainability Consortium (TSC), introducing TSC's global approach of sustainability; Guy Robertson, Vice President of Walmart Global Sourcing, sharing Walmart's experience on developing a sustainable supply chain; Li Tao, Director of GCGI&VC Government/Smart City/China Institute of Electronic Government of IBM, introducing IBM's experiences on sustainability and smart cities; Zhou Weidong, Managing Director of Greater China of TSC, talking about TSC China's Sustainable Supply Chain Capacity Building Program; and Ma Jun, the Director of Institute of Public and Environment Affairs, speaking on the real-time disclosure and enterprises' green choice.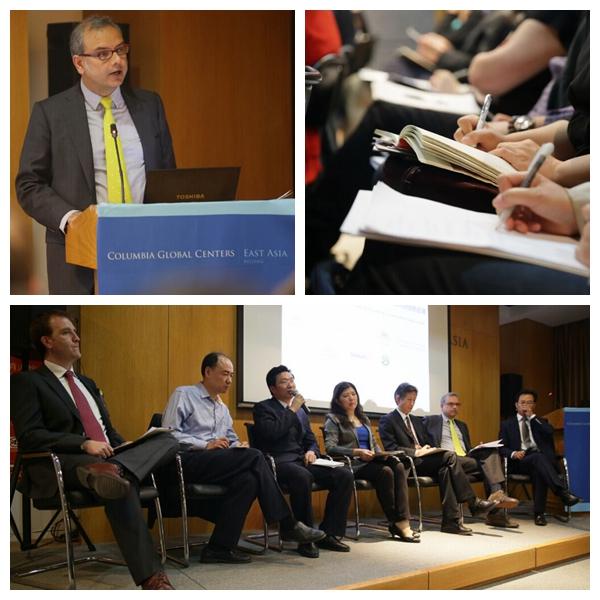 The presentations were followed by a panel discussion of six panelists sharing their organizations' achievement on sustainable development and future work plan, and their suggestions on how the multilateral cooperation can promote a sustainable future, moderated by Zhou Weidong. Speakers included Satyajit Bose, Zhang Huanbo, Research Associate of CCIEE, Euan Murray, Chief Operating Officer of TSC, Li Rusong, China Programme Director of Carbon Disclosure Project, Ma Jun, Director, Institute of Public and Environment Affairs, and Zhang Xiaodan, General Manager of China Environmental United Certification Center (CEC). It was commonly agreed that there is a necessity and significance to build transparency and mutual trust, and to integrate efforts with NGO, government, and research institutions with a focus on actions and shared wisdom.
The following afternoon session was a close-door roundtable among 40 experts and stakeholders, focusing on two themes - Sustainability Policy and Standards, and Good Practices in Business Sustainability. Jiang Nanqing, National Officer of United Nations Environment Programme (UNEP) moderated the first afternoon session, where Zhou Guomei, Deputy Director General and senior research fellow at the China-ASEAN Environmental Cooperation Centre of Ministry of Environmental Protection of China, Liu Xiangdong, Research Associate of CCIEE, Zhang Xiaodan, General Manager of China Environmental United Certification Center, and Mu Lingling, General Manager of Tianjin Green Supply Chain Service Center exchanged their perspectives on the collaboration network for the Asia-Pacific green supply chain, sustainability management and measurement, feasibility study of product sustainability measurement and reporting system in china, and the exploration in applying green supply chain management to promote comprehensive greening.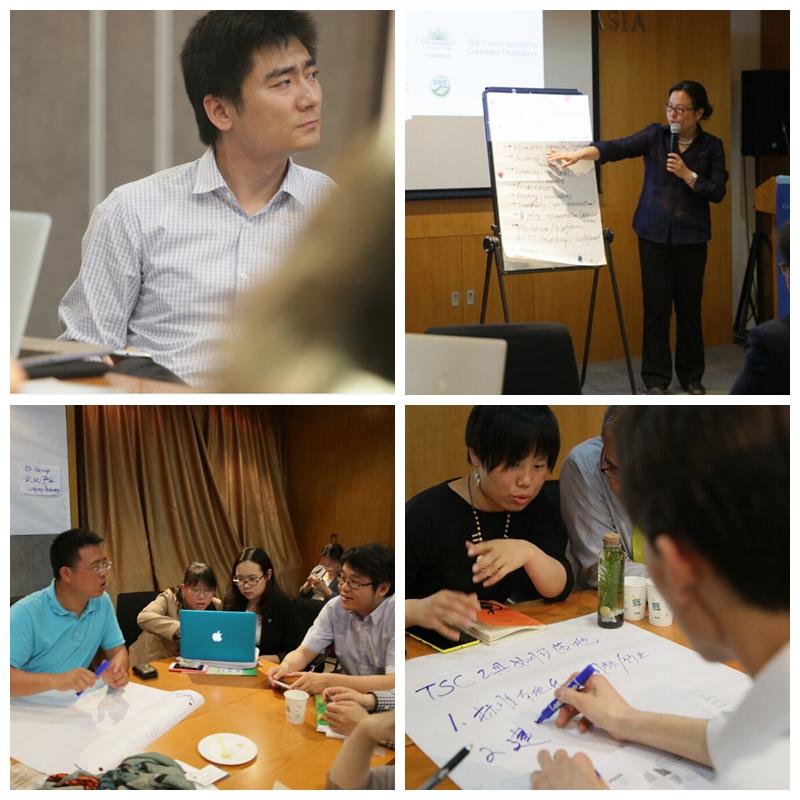 The second afternoon session focused on good practice in business sustainability, inviting both international and domestic companies to talk about their sustainable products and operation and how they advance sustainability in the supply chain. Speakers included Brian Liu, Senior Sustainability Manager at Walmart Global Sourcing, Jian Boyu, Staff Engineer of Corporate Standard & Environmental at Lenovo China, and Zhang Xingguo, Marketing Director of Department of Supply Chain and Sustainable Development at UL.
During the final action plan group discussion session, participants were divided into three groups to discuss the issues and actions of green industry from a business point of view, the localization of toolkits of sustainable supply chain, and government's policy, measurement, and mechanism.
(Contributed by Eyra Xiong)