The Fifth Columbia Entrepreneurship Panel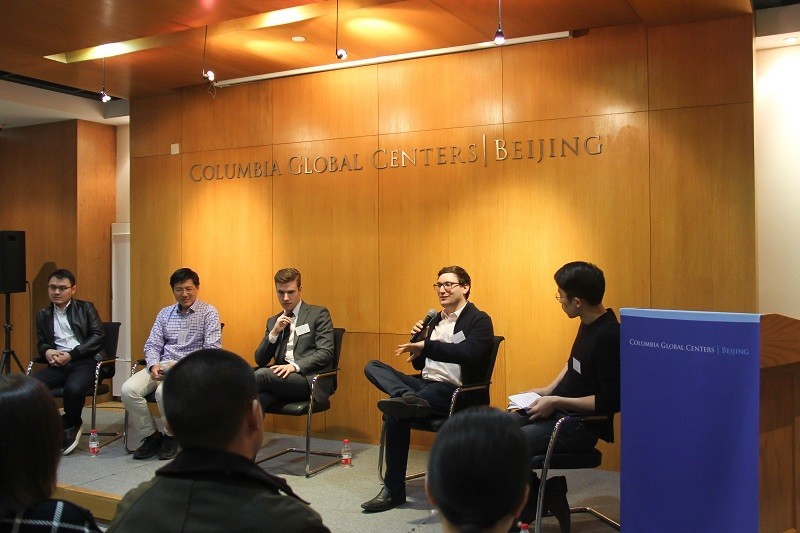 On March 24, Columbia Global Centers | Beijing hosted the Fifth Columbia Entrepreneurship Panel, inviting four Columbia College graduates who are also entrepreneurs to share their initiatives and management experiences. Panelists included Gavin Newton-Tanzer CC '11, Co-founder and President of Sunrise International; David Tan CC '98, Co-founder of Roboterra; Sam Waldo CC '10, Co-founder and CEO of Mantra; and David Zhu CC '12, Founder & CEO of WonderCV. Alex Chen CC '16 served as the moderator.
Entrepreneurship is not so much of a choice, but a task that is meant to be done, as Gavin suggested during the discussion, while Sam holds the idea that entrepreneurship is more like a process of ceaseless efforts, with the aim to address contemporary concerns. During his voluntary teaching experience in Yunan, China, Sam noticed that the kids who were struggling to see the blackboard had their interest in learning significantly shrunken. He said, "It suddenly occurred to me that we should start up a non-profit program to solve this problem." David Z., who used to work in investment bank industry, stated that he saw a cluster of possibilities in new media.
Four panelists also talked about their experiences at Columbia College and its importance. Gavin pointed out that the Lit Hum (Literature Humanities) course is in one of the most memorable, where professors require students to think and imagine how they would react in the era of Ancient Greece or Ancient Rome. "It was never simply about reading classics," Gavin added. Sam said that the University Writing course helps shape the perspective of students and cultivates their skills in writing and logical thinking. David T. related the Core Curriculum to entrepreneurship, and he explained that the competition in business is severe, as consumers are astute and wise: "The undergraduate education at Columbia College encourages students to be versatile, to see things from multiple perspectives, and to gain a head start in entrepreneurship."
Alex concluded that the key advantage of Core Curriculum is that it cultivates intellectual curiosity. The benefits of the curriculum would be a major factor in their working places. The event gathered around 100 participants and more than 111,000 people watched the event live. Columbia Global Centers | Beijing will continue to present the Columbia Entrepreneurship Panel Series. Please stay tuned for our future events.