The Fifth Women Leadership Panel: She Makes a Difference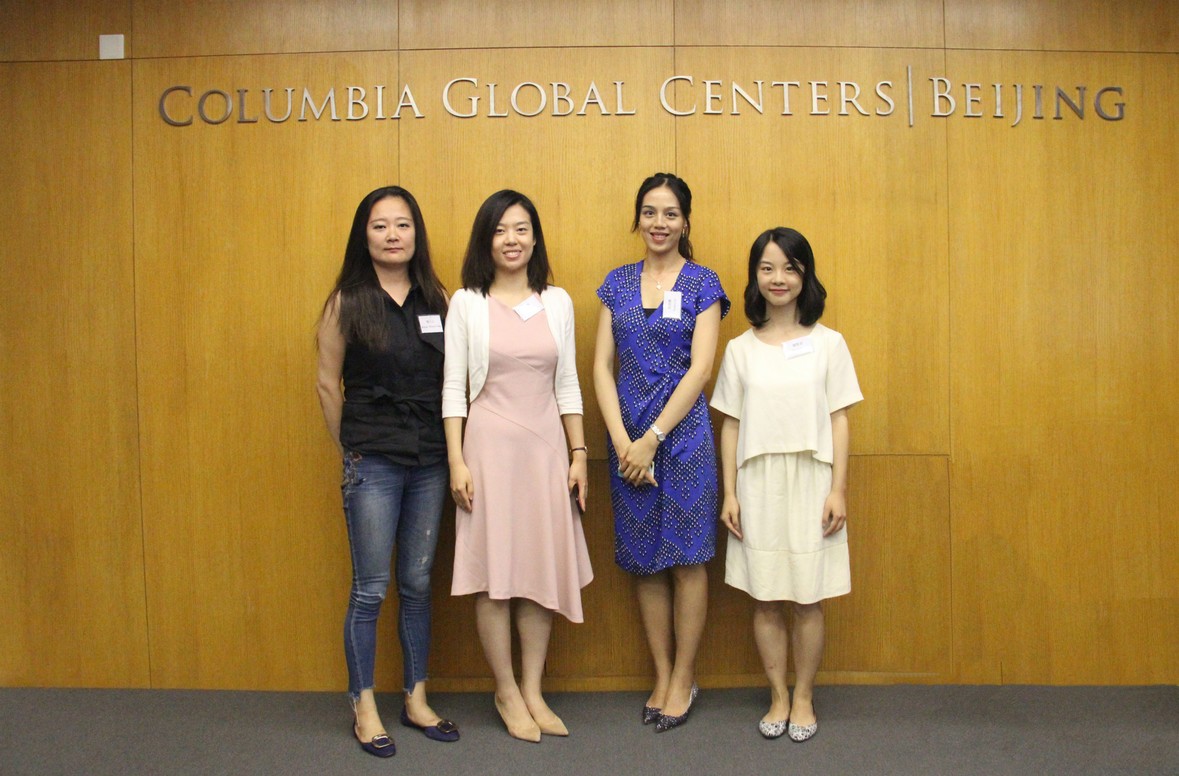 On June 30, Columbia Global Centers | Beijing hosted its Fifth Women Leadership Panel with three Columbia alumnae who are experienced professionals in the financial industry to share their stories and provide insights in this sector. The panelists were Yuzhen Liu (TC '13), Economist in Bank of China's Asset Management Department; Fei Qiao (SIPA '12), Special Assistant to Chairman and Vice President for Corporate Development at Huatai United Securities; Ruyun Winnie Yang (GSAS '13), Co-founder of πch Co., Chief Scientist of Advanced Fintech Institute. Mudi Liang (TC '15), researcher in China Securities Regulation Committee, served as the moderator.
During the panel, four outstanding female professionals stated their views on the financial market, artificial intelligence, and big data. They also shared their experiences in becoming successful managers with the audience.
Ms. Yuzhen Liu works at the Bank of China as a researcher in macro economy, interest rate, and exchange rate. With her previous researches, Ms. Liu highlighted in her speech that China is one of the friendliest countries to women's career development. As Ms. Liu observes, the students back to the country could increase the efficiency with their knowledge and skills in many fields of the society.
Ms. Fei Qiao works at Huatai United Securities. She participates in formulating as well as executing the international strategies of the company. In her speech, Ms. Qiao recalled her story that she gave up the opportunity to work at the Wall Street and came back to Beijing after her graduation. Now, with the rapid growth of the capital market in China, Ms. Qiao would soon leave for the U.S. to promote the business in investment.
Ms. Ruyun Yang is the Co-founder of πch Co., which focuses on combining financial services and AI technique. Looking back at her career path, Ms. Yang concluded that one should not only focus on the business itself but also endeavor to be a good team leader, which requires one to pay attention to every member and put them in the right place. As Ms. Yang observes, only in this way could a team make the best use of its talents and achieve its goals.
Inspired by a seminar course on financial crisis when she was at Columbia, Ms. Mudi Liang now works for the China Securities Regulation Committee. Ms. Liang pointed out that only with the enthusiasm for financial business could one go further in such field regardless of all the difficulties one might meet. At the end of her speech, Ms. Liang highly praised that it is very important and meaningful to have such dialogue which enables students with abroad experiences to exchange their opinions and ideas.
People's Daily Online, the biggest newspaper group in China, covered this event. Click here to read the full article.