In Flourish of Scholarship, Columbia Health Students Dissertate on Summer Practicums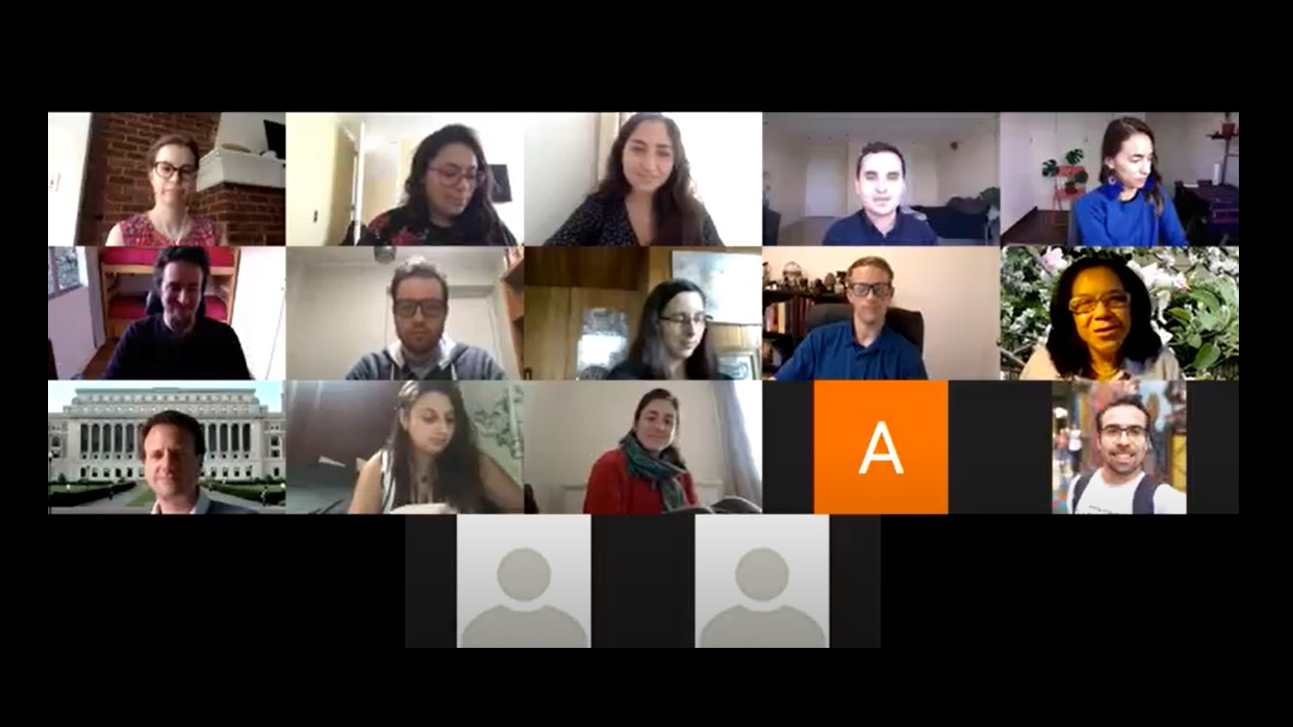 At end-August, five students from Columbia's Mailman School of Public Health (MPH) and Vagelos College of Physicians and Surgeons (VP&S) presented their practicum projects that they have been developing in conjunction with the Society and Health Research Center (CISS by its acronym in Spanish) at Chile's Universidad Mayor.
Allison Stewart presented her findings from a qualitative analysis on migration and substance use in Chile and Mexico, working with interviews conducted by Teresita Rocha-Jiménez, assistant professor at Universidad Mayor. She intends to publish her research to improve harm-reduction strategies and interventions in terms of substance use. She also did research surrounding migration and Covid-19 in Chile, in which she is compiling a database for a report in a local newspaper.
Julián Ponce's research focused on the mediating effect of alcohol abuse on the mental health of older adults in the United States. He worked with Antonia Díaz-Valdés Iriarte, assistant professor at Universidad Mayor, looking to add to the limited existing literature on alcohol consumption among older adults.
Kristina Howell and Thomas Wagner worked together with guidance from both PhD student and ER doctor Abraham Gajardo and Álvaro Castillo Carniglia, associate professor at CISS. Their research was about the effect of Chile's 2019 social protests on health services utilization in Santiago, which they aim to publish as its findings can be applied globally.
Ilana Mittleman's presentation was on social isolation and loneliness in older adults. Her work was with the CISS director, Esteban Calvo. Although Mittleman's research focused on surveys of isolation before the Covid-19 pandemic, her work has become even more relevant in this context.
All students are moving forward with their work into the fall as this partnership between MPH, CISS, and VP&S continues to flourish. Calvo, commenting on the partnership said, "These practical projects are an important part of a broader partnership that we have with CISS, the Mailman School of Public Health and the Columbia Global Centers | Santiago. Since 2018 we have been very active, supporting 11 practicum students... We've published more than 30 scientific articles, leveraged more than US$ 700,000 in research grants and disseminated activities through a number of seminars, media coverage, social networks and institutional websites." Of the projects specifically, he commented, "I want to celebrate these five students because each of them exceeded our expectations. They displayed outstanding discipline, motivation, sensibility, and intellect. They're exactly the kind of people we want to have working in our research labs. I thank them for their contributions."
Following the presentations, Ana Jimenez-Bautista, Director of Field Practice at Mailman, thanked the students: "You all have done such a wonderful job, and are such wonderful representatives of scholarship at Mailman. We are very proud of the way you've been able to show your commitment and come up with conceptual ideas… each one of you doing a tremendous job in working with different types of topics but really making good research and good scholarship possible remotely." She also thanked the supervisors and doctoral students that worked with the Columbia students, the Santiago Center, Universidad Mayor and particularly Esteban Calvo.