The Future of Energy Markets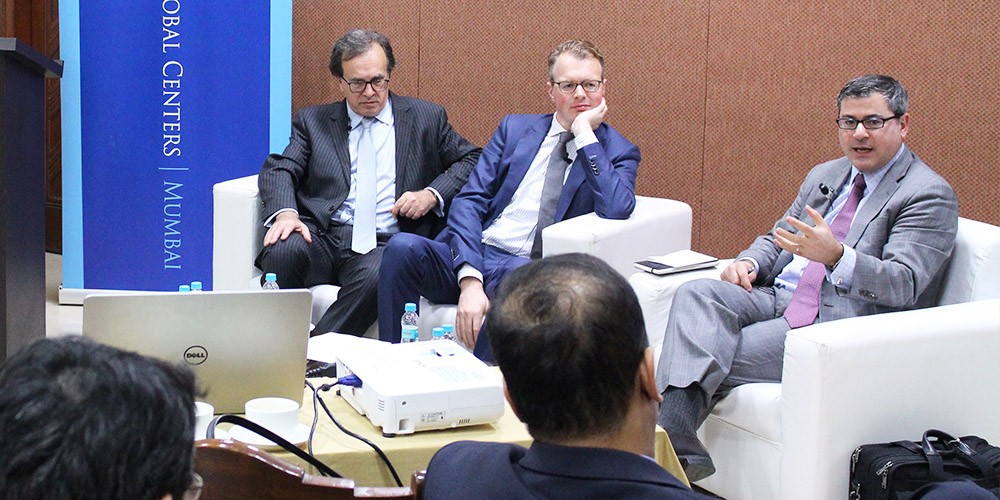 Amidst climate change threats and geopolitical struggles, can nations afford to take an isolationist perspective in determining their energy policies or is global thinking and interdependence the way for a sustainable and stable future?   What are the latest trends in global oil and natural gas markets and what implications do these have for countries like India?  A panel discussion on this issue was organized by Columbia Global Centers | Mumbai featuring energy experts from Columbia's Center on Global Energy Policy (CGEP) at the India Merchants Chambers on December 1st.
The panel was led by Professor Jason Bordoff, founding director of CGEP and former Special Assistant to President Barack Obama.  In the aftermath of the presidential elections in the United States, he presented research supporting the case for global interdependence and captured the sense of uncertainty that loomed in the U.S. over the future of key energy and climate policy issues such as the historic Paris Climate agreement, Clean Power Plan, and Energy Exports and Methane Emissions.  According to Professor Bordoff, "Getting energy right is critical for geopolitics. We need to get our research out there to inform policymakers and the public."
The second panelist, Dr. Tim Boersma, Senior Research Scholar and CGEP's Director of Global Natural Gas Markets, provided an overview about the United States' journey with shale gas and trends in LNG exports.  The subject is particularly pertinent to India, which is the world's fourth largest LNG importer in 2015.  Following Dr. Boersma was Professor Antoine Halff, Senior Fellow and CGEP's Director of the Global Oil Markets Research Program, whose observations on oil markets were of special interest, coming as they did soon after the OPEC's (Organization of the Petroleum Exporting Countries) landmark deal to reduce their oil production by 1.2 million barrels per day, in order to raise oil prices. This is the first such curb since 2008 and provides the backdrop for shifting dynamics in oil markets. "India may be the biggest piece of the peak in oil demand in the future, but it has very low per capita consumption right now," said Professor Halff, explaining the implications of global market dynamics for India.
The audience for the event consisted of a highly-engaged corporate and government professionals from the energy sector, civil society organizations, environmentalists, and Columbia University alumni.