Gender and Agency
The Paris Center pursued several joint initiatives this spring on the theme of gender and agency.
July 25, 2016
The Paris Center pursued several joint initiatives this spring on the theme of gender and agency. On April 13, in partnership with Columbia's Institute for Research on Women, Gender, and Sexuality (IRWGS) and the Vassar-Wesleyan program in Paris, the Center invited Ludovic Zahed, the founding imam of the first European LGBTQ -inclusive mosque in Marseille, to speak about the challenges he has faced reconciling his homosexuality with his faith. Zahed spoke about the persecution he has encountered from his fellow Muslims and his personal triumph over bigotry.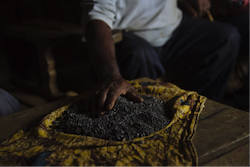 On June 23, an evening for local high school students highlighted the work of two young activists, Margot Chesné and Albane Liebel, and their commitment to exposing the human rights atrocities committed in the Democratic Republic of the Congo.  With the support of Maitre Hamuli Réty, former president of the lawyers' association of the International Criminal Tribunal for Rwanda and chief advocate for the creation of an ICT for the DRC, Chesné and Liebel demonstrated how globalization, particularly in the mobile phone sector, colludes with local politics to create a vicious cycle of exploitation, dehumanization, and destruction. This evening continued the discussion sparked by Joseph Mwantuali's book event on February 10th on rape as a weapon of war and feminicide in the Congo.
On July 5th, Joanne Mariner, senior crisis response adviser at Amnesty International, captivated a room of attentive Reid Hall students, with stories of her experience helping women and families of women who have been raped by UN peacekeeping forces. She lamented the decline of journalism, which leads to the underreporting of such cases, a gap that she is filling with her own words and testimony. This powerful event was organized with the help of Patricia Dailey, associate professor of English and Comparative Literature and director of IRWGS.  Professor Dailey served as a close advisor to the Paris Center programming team during her sabbatical over the 2015-16 academic year, and will continue serving as part of the Center's faculty committee on gender.