A Global Framework for Migrant Rights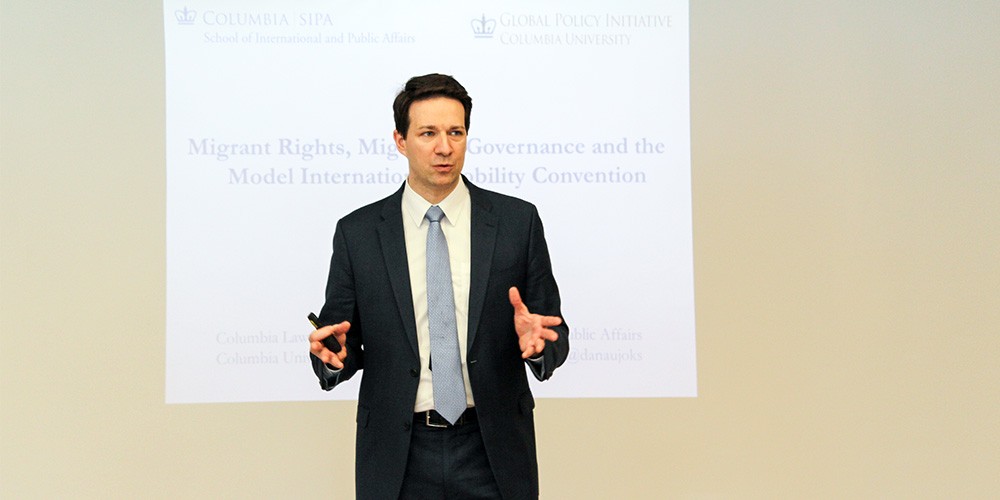 As part of its ongoing efforts to study the future of the global economy, Columbia Global Centers | Mumbai partnered with Columbia University's Global Policy Initiative to organize a workshop focusing on the Model International Mobility Convention (MIMC). The MIMC, which provides a global framework for the rights and protections of migrants crossing international borders, was designed after reaching a consensus with more than 40 academics and policymakers in the fields of migration, human rights, national security, labor economics, and refugee law from around the world.
The workshop was led by MIMC Committee Member, Daniel Naujoks, Adjunct Assistant Professor, School of International and Public Affairs, Columbia University. According to Professor Naujoks, international migration totaled 384 million in 2017, with migration between countries of the global south leading the total flow at 38%, followed by migration from the global south to the global north at 35%. Indian migration, for instance, has gone up from 6 million to 17 million between 1990 and 2017, with 54 percent going to countries in West Asia for largely economic reasons. He proposed that while international migrants represent only 3.4 percent of the world's population, these trends showcase the global and multidimensional nature of international mobility, raise issues of international workers' rights and human rights, and also highlight the need for a global mechanism to address these population flows.
The MIMC takes into consideration the importance of upholding migrants' rights but it does not invent any new rights. Instead, it brings together and reaffirms rights presented in established frameworks such as the 1990 Migrant Workers Convention and the 1951 Refugee Convention. It categorizes migrants as visitors, tourists, students, migrant workers and residents, and forced refugees with each category granted escalating, cumulative rights. These rights range from basic human rights like the right to life and protection, which are accorded to all, to more substantive rights like the right to residence and employment, which are granted more selectively. Professor Naujoks reiterated that the MIMC reinforces the rights of states, and offers a guidance and governance framework for governments through the international mechanisms that it seeks to establish.
The workshop also addressed MIMC's global purview, possible implications for Indian immigration, and how academic processes and exercises can affect public policy and global decision-making. Participants of the workshop included experts from the fields of migration, economics, labor studies, diaspora studies, law and governance, and political science.