Istanbul Center Stories: Katherine Dieckmann
As a part of its 2018 Faculty Summer Residency Program, Columbia Global Centers | Istanbul hosted Katherine Dieckmann, renowned writer-director and Associate Professor of Professional Practice at the School of the Arts, Columbia University, for a closed screening and workshop and a public screening on her latest film, Strange Weather, on June 1 and 2 in Istanbul.
June 21, 2018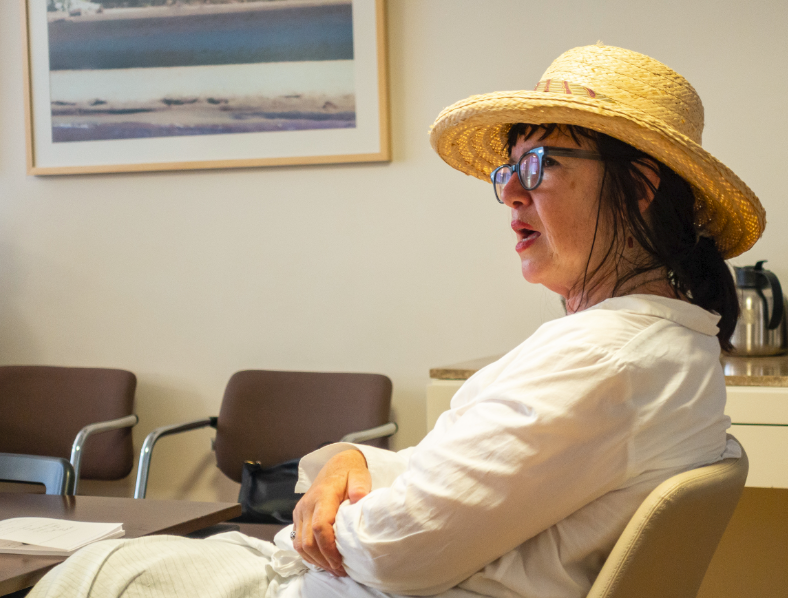 1. We just hosted you for a workshop and screening of your latest film, Strange Weather. Tell us a little bit about your experience.
The workshop and screening allowed me to create a very specific experience for participants, and my hope is that the practical advice offered as a result — about screenwriting, project genesis and development, pre- and post-production and the overall process of making an independent feature film — was useful and ideally inspirational to those involved. I was impressed by the range of people who attended, from teenagers to alums of the Columbia Film Program to a 50-year-old woman seeking to break into the business of writing scripts. The diverse nature of the participants added to the richness of the experience for everyone, I felt. Because we screened "Strange Weather" prior to the workshops, I was able to draw in detail on my experiences, and provide participants with concrete examples of what it is like to make low-budget, personal, character-driven films. I spoke in some detail about my background and path as a maker and teacher, and my trajectory in terms of writing and directing. I urged those attending to speak up, ask questions, and share their opinions, which made for a lively session.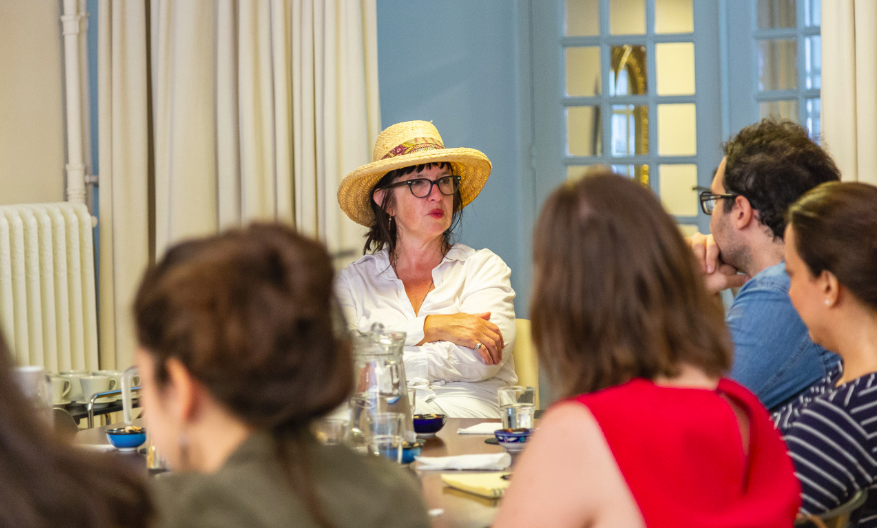 2. Your father fled Germany in the 1930's and lived and taught in Turkey for a number of years. How has that experience informed your work?
Certainly as a child I had a very strong sense of my father's legacy as a refugee from his home country, and I know that his time in Istanbul was enormously important to him. He passed away some time ago, in 1986, when I was in my mid-20s, and I wish I could have had deeper dialogues with him about his time in Turkey, and many other things. But I am confident it would have made him extremely happy to see his daughter travel to this city he loved so dearly, and to appreciate many aspects of the place that he no doubt appreciated, too. I have always been fascinated by the story of my father fleeing Germany as Hitler rose to power. While my father was Protestant, his first wife was Jewish, and they were both intellectuals, teaching first in Istanbul, and then in the United States. My father's specialty was French and Comparative Literature (particularly Diderot), while his first wife was a Goethe scholar. I've often wondered what it was like to have two intense intellects occupying a marriage that also involved severing ties with a shared past and beginning a new life in more than one foreign country. I have also wondered about what their connections might have been to other immigrant intellectuals, and whether there was some sort of society among those who made the difficult choice to leave and begin personal and professional life anew somewhere else. In part because of this curiosity, I am in the process of developing a series around the German intellectuals who came through Istanbul before the war — it is a vexing, fascinating period in history, one that definitely has strong parallels to our own political moment, and seems to me to provide rich fodder for an episodic narrative. Exploring this idea allows me to honor my father's legacy while learning more about this particularly charged historical period.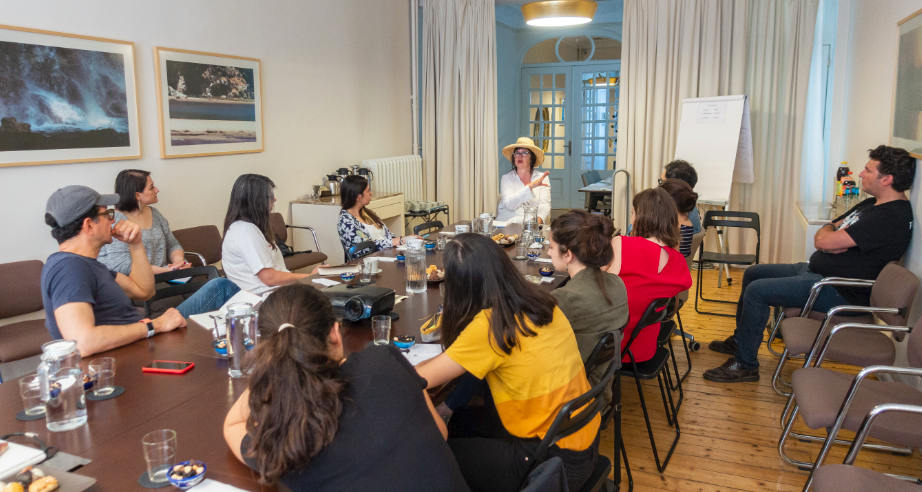 3. You have been to Turkey twice now, the first time in 2013 for a Sundance Lab. How do you find the Turkish film industry and Turkish filmmakers?
Actually I think I learned the most about Turkish filmmakers from attending a party with Ali Betil that was populated by many of the young talents working today: I got quite the overview of some of the main personalities involved over cocktails and pounding dance music. But seriously, between doing the Sundance lab five years ago and through my connections with Turkish students in the Film Program at Columbia, I do think I have some sense of the temperament and interests of those working in cinema in Turkey today. I know less about the overall industry (although I have seen every film by Nuri Bilge Ceylan, and he is one of my favorite directors) than I do about the energetic newer voices emerging from Turkey, and I find that quite exciting. Of course, there is a sense of what can and cannot be approached and expressed as subject matter in Turkey, and I think filmmakers living and working there are finding ways to work around it, or at least that is my sense. But in general I feel a great sense of momentum coming from the rising generation, and I am eager to see the work they create, and I hope they are free to create it, as much as possible, without limits.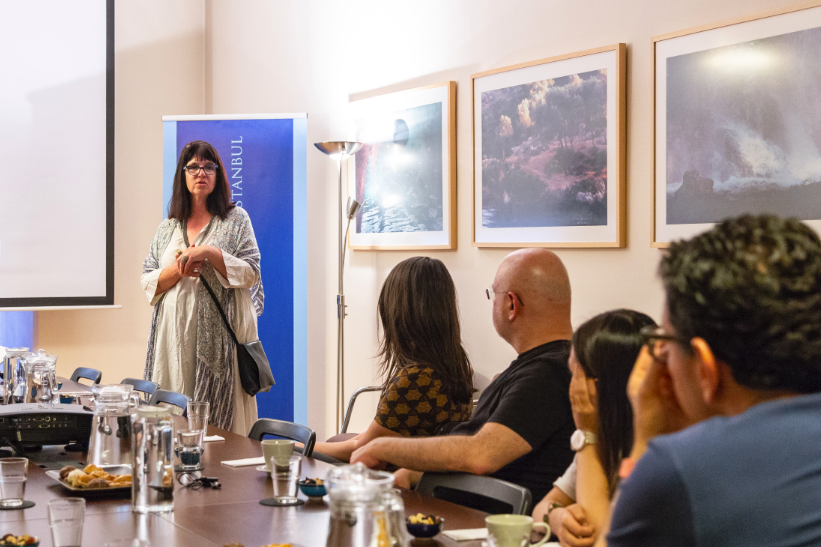 4. How do you see the role of Columbia Global Centers | Istanbul in promoting and facilitating the collaborative and impactful engagement of Columbia University with the world?
The Columbia Global Centers | Istanbul seems to me uniquely positioned to forge all sorts of connections between the university and a wider populous in terms of art, science, and forward thinking. Istanbul is an intensely international and complicated city, engaging many political beliefs and religions, and it is, of course, literally the crossroads of the world between east and west. There is so much that Columbia as an institution can accomplish in terms of generating a dialogue about where we are today in a global sense, and above all, where we need to go. By inviting professors and scholars from Columbia to present their work and ideas to interested parties in Istanbul, it seems like a great cross-current of ideas can be created. While the workshop I did with the Columbia Global Centers | Istanbul was intimate and specifically related to my practice as a filmmaker, I think programs engaging wider communities in Istanbul on broader topics also can also be profitable. Also, and quite obviously, visiting faculty from Columbia benefit hugely from exploring and interacting with all the vital aspects of what Istanbul has to offer. I know I gained interesting insights from engaging with members of Istanbul's film community, and look forward to continuing my overall engagement with the Columbia Global Centers | Istanbul.