Marking Our Return to Campus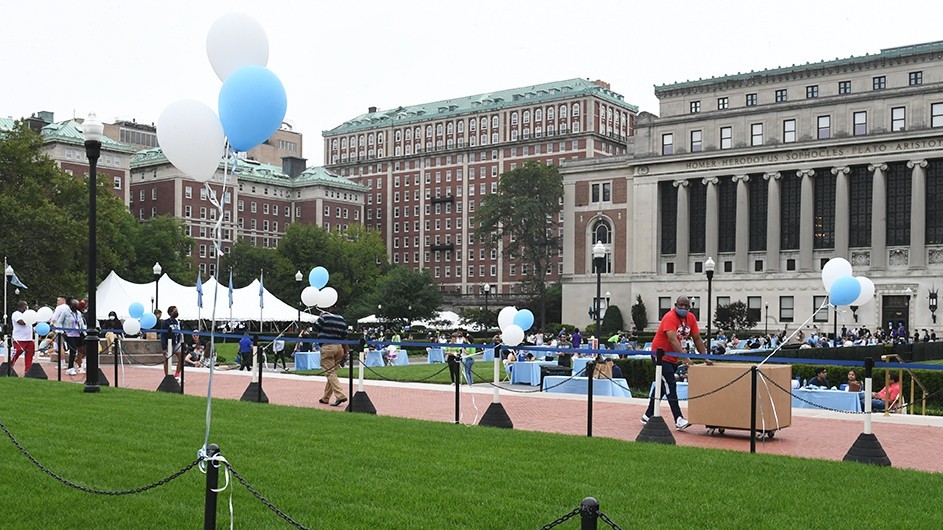 Dear fellow members of the Columbia community:
On Sunday, March 8, 2020, I wrote to share the news that we would cancel classes for two days because an individual on campus had been diagnosed with COVID-19. By Wednesday, teaching across the entire University had become remote and New York City was shutting down. By Saturday, I announced my decision to send everyone home. As we downloaded Zoom and emptied dorms and offices, few imagined that this strange period—the grimmest work of fiction come to life—would last 18 long months.
Today I write finally—indeed, joyfully—to welcome you all back to campus. Welcome to not one but two new classes of undergraduates, including thousands of first-year students who likely finished high school remotely, sophomores who completed their initial year at Columbia without setting foot on campus, and juniors and seniors who were last here together as new students. Welcome to the record number of international students, many of whom navigated pandemic-related travel restrictions as well as visa backlogs to be here. Welcome to our dedicated faculty, researchers, and staff—and we send our deep appreciation to all of those who have been coming to campus every day since March 2020, following strict public health guidelines, and longing for the day when their colleagues would join them again. These individuals saved lives and contributed to continuing our research and service missions.
Every one of the more than 32,000 students who have enrolled in classes this fall, and indeed, every faculty member, researcher, and staff member, has overcome some form of personal adversity in the past 18 months. We deserve to celebrate as our classrooms, residence and dining halls, offices, labs, and libraries return to life.
But, while this is a revelatory moment, it will also be a fragile period. The extent to which we are now able to teach in person and return to some semblance of normal campus life is precisely because of our vaccine mandate and public health guidelines, including an indoor mask requirement along with other safety measures. Columbia led the way with our early adoption of the vaccine mandate across our community. Thanks to an overwhelmingly positive response, nearly 99 percent of faculty and staff with campus access are already in full compliance with the mandate, as are 93 percent of students, many of whom are just arriving in the country and are being vaccinated now. We are reaching out individually to the small percentage of community members who are not in compliance and they will not be able to attend classes or access our campuses as of September 9th if they remain out of compliance.
As we all come together this fall, the President's Advisory Task Force on COVID-19 will continue to meet regularly and will adjust its guidance based on information regarding the COVID-19 situation in our city and at Columbia, along with City and State requirements. But, until then, you can be assured that all of our policies and safety measures will enable us to be together, finally. Columbia is, and will be, moving forward. In January, Columbia Business School will relocate to its spectacular new home on the Manhattanville campus. The Columbia Climate School welcomes an inaugural class of 86 students in the Master of Arts in Climate and Society program. The Mailman School of Public Health is celebrating its Centennial, and one of Mailman's great scholars and practitioners, Dr. Wafaa El-Sadr, is assuming the leadership role at Columbia World Projects.
The antiracism task force that we formed last year continues its work, as we actively seek more effective and inclusive relationships with our neighbors in Upper Manhattan and on our own campus, by strengthening commitments to faculty recruiting, staff development, and public safety. And Columbia is fortunate to welcome new leaders to important roles, including Mary Boyce as Provost, Dennis Mitchell as Executive Vice President for University Life, Jeannette Wing as Executive Vice President for Research, and Troy Eggers as our new Dean of the School of Professional Studies.
As we inevitably try to take stock of our lives in this extraordinary period, both individually and collectively, there is so much that is simply impossible to grasp and absorb. The pandemic has had a shocking toll on the lives of millions, with so much suffering and loss. Opportunities foregone, especially in those precious years when young lives are launched, is its own form of tragedy, profound in its own ways. To recapture for our students, especially, something of that normal existence is reason enough for us to continue to be diligent and responsible both on and off campus. I can assure everyone that we will do everything in our power to maintain a safe, and thriving, campus, so that the coming year may be a time of renewal and rebuilding of the great teaching, scholarship, and service that form the bedrock of our University. 
Sincerely,
Lee C. Bollinger