MIA Students Travel to Turkey for SIPA's Inaugural Global Immersion Course
Editor's note:
This news was originally published on SIPA's website. Click here to be redirected to the site
Author: Catherina Gioino MPA '20
Photos: Zeyi Yang MIA '20
March 13, 2020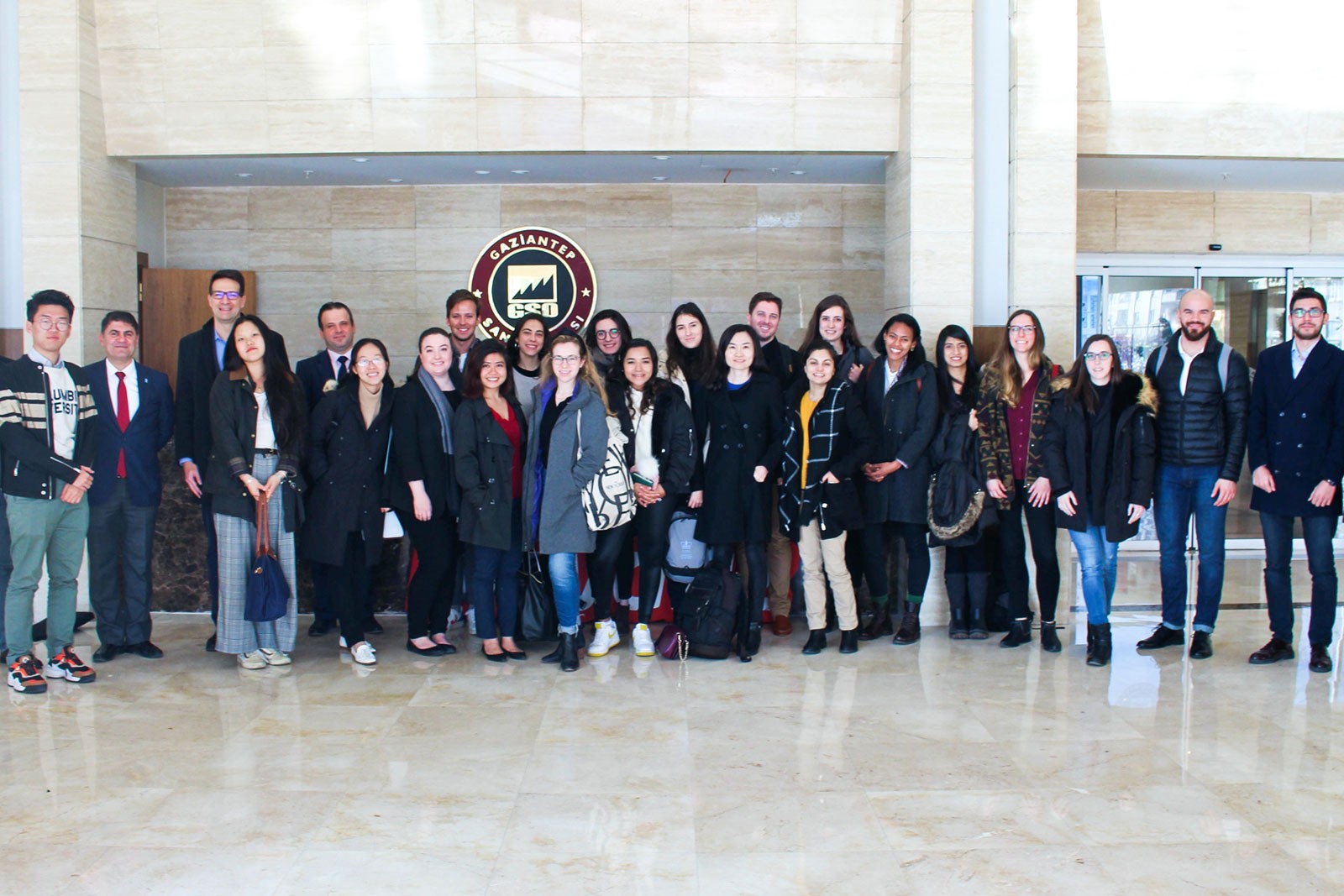 Twenty MIA students spent part of their winter break in Turkey, taking advantage of an opportunity to study issues related to Syrian refugees in the country that hosts the largest such population in the world. They did so as enrollees in SIPA's first global immersion course, entitled Beyond the 'Refugee Crisis': Refugees in Turkey and Global Public Policy.
Designed and led by Professor Daniel Naujoks, interim director of the International Organization and UN Studies specialization, the course offers a unique learning option within the SIPA MIA program's new enhanced curriculum.
Students in the course spent 10 days in Turkey. They were based in Istanbul, and convened at the Columbia Global Center in Istanbul for classes on refugee law and policy in Turkey and the world, multilateral cooperation, and how displacement-centered efforts link to the UN's Sustainable Development Goals. Participants also took a two-day trip to the southeastern city of Gaziantep, which has absorbed a large number of refugees from Syria and elsewhere in the region.
In both locales students visited experts in varied fields, political officials, and representatives of multilateral organizations—from both Turkey and other countries.
The Syrian-American journalist Rasha Elass, for example, who covered Syria and the Middle East for more than 10 years, detailed her experience working undercover in government-controlled Syria and reporting on the several waves of refugees flowing out of the country. Professor Ahmet İçduygu, director of the Migration Research Center at Koç University, explained Turkish policies regarding the influx of Syrian refugees, while UN resident coordinator Irena Vojackova Sollorano and Selen Ay of the UN High Commissioner for Refugees provided a deep dive into UN operations in Turkey.
Students also visited two refugee community centers. The first—the Mülteciler Derneği facility run by Istanbul's Sulanbeyli municipality—provides refugees free access to physical therapy, education, employment opportunities, and legal counsel.  At the second—operated by Turkey's largest and oldest refugee-serving NGO, the Association for Solidarity with Asylum Seekers and Migrants—students learned about programs like early childhood education, social cohesion activities for Syrians and Turks, and asylum case management, including for LGBTQ refugees.
The group also traveled to Gaziantep, which is located about 60 miles from Aleppo, Syria, which in turn has been devastated by the civil war. Gaziantep's population grew more than 30 percent over the past decade due to the migration of 500,000 Syrian refugees since the start of the war. One problem, students learned, was the mass exodus from Syria of over 70,000 private-sector companies—only 10,000 of which have been rebuilt in Turkey.
Students visited a range of UN agencies in Gaziantep, meeting with representatives of organizations including the International Organization for Migration, the World Food Program, the International Labour Organization, and UN Women. Each detailed their operations in Turkey and how they strive to ameliorate the lives of millions of Syrian refugees, while also supporting the communities that host them.
They also met representatives from non-governmental organizations—most of them partners with the UN—working on varied challenges: one builds social bridges between refugee and non-refugee students in Turkish universities, another one supports Syrian refugee entrepreneurs, and a third seeks to provide economic and social empowerment programming to women.
In Gaziantep students were invited to dinner at the home of a Syrian family, where they enjoyed home-cooked Syrian delicacies and learned about their hosts' path to Gaziantep and life in Turkey.
Naujoks said the group benefited from the support of the Columbia Global Center in Istanbul.
"The Center not only served as our base, providing a great classroom setup, but our colleagues there were also critical in helping us to meet with local partners, refugee organizations, and international organizations," he said.
Participants gave SIPA's first immersion course high marks.
"It's very helpful to actually be in Turkey while studying the Turkish refugee policies," said Zeyi Yan MIA '20. "It felt less distant and more personal, especially for students like me who didn't have a personal connection to the Turkish or Syrian society."
"This has been one of my favorite SIPA experiences thus far," said Loan Kim Chu MIA '21, who expressed gratitude for the financial support that SIPA provided.
Naujoks summarized the students' achievement.
"This course is what SIPA is all about," he said. "Students engaged with some of the most important issues of our times in a place where they matter most. They investigated the potential and constraints for global public policy and connected local actions and outcomes to national, regional, and international processes."
"This is the future of high-quality education in international affairs," he said.
— Catherina Gioino MPA '20