Disruptive Solutions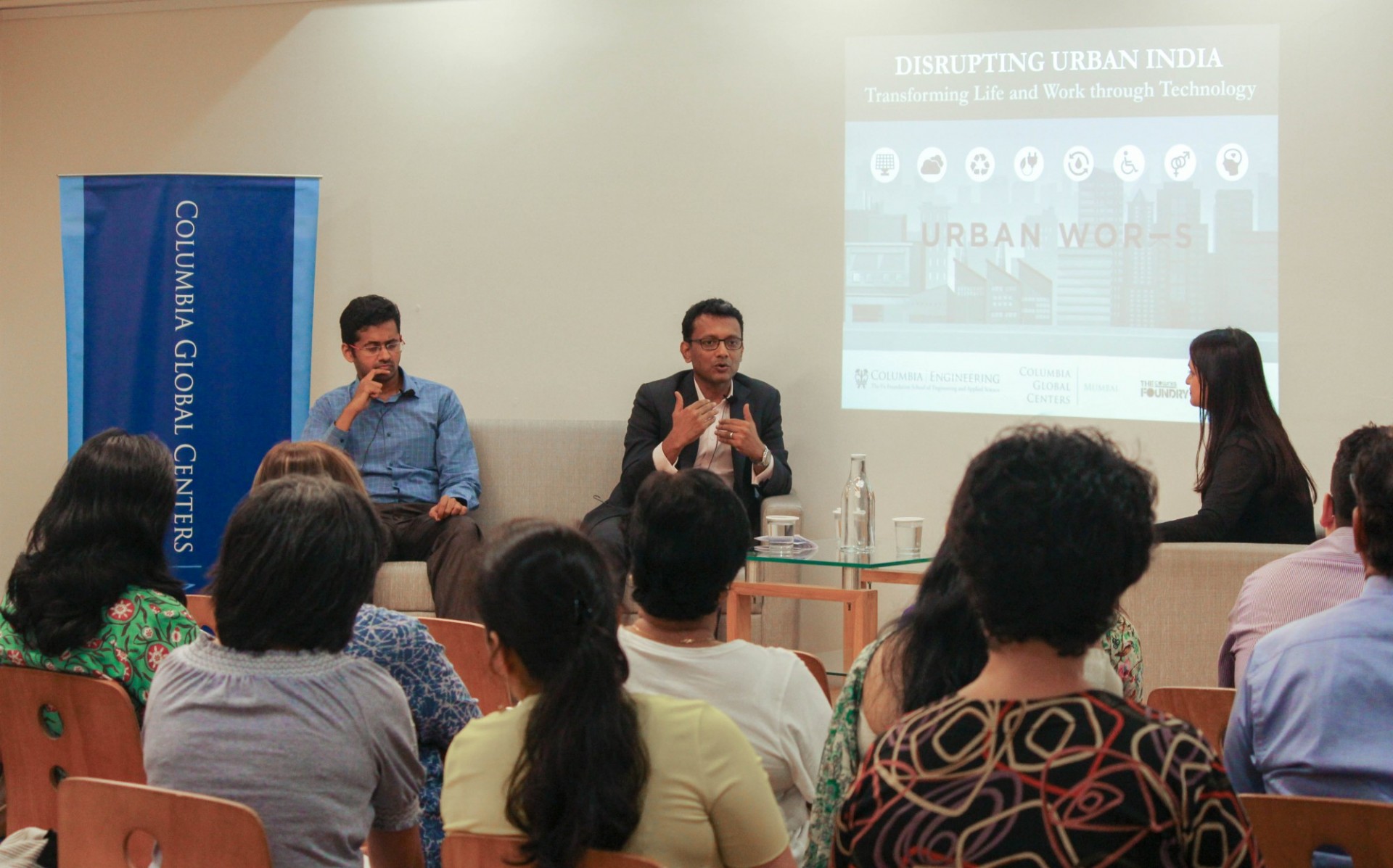 How are startups generating technologies that disrupt the ecosystem and solve complex city-level challenges today? 
To provide support to startups working on technology solutions for transforming Indian cities into sustainable and safe work environments, Columbia Global Centers | Mumbai and Columbia University's Fu Foundation School of Engineering and Applied Science developed the Urban Works Innovation Challenge project, in partnership with The CoWrks Foundry and the RMZ Foundation.  During its inaugural year, five winning startups and three student teams received mentorship and resources to refine and scale their innovations.
A call for applications was recently announced for the 2019-2020 year of the challenge with a series of panel discussions that were organized in Mumbai, New Delhi, and Bengaluru entitled Disrupting Urban India: Transforming Life and Work through Technology.  The Mumbai launch event that was held on October 4, 2019 was moderated by the Center's Director, Dr. Ravina Aggarwal, and featured two dynamic startup founders, K.P. Ashwin and Antony Alex.  K.P. Ashwin founded Promethean Energy in 2014 to help industrial and commercial establishments reduce fuel consumption and carbon emissions.  Antony Alex is the Founder and CEO of Rainmaker, a comprehensive online tool for prevention of sexual harassment (POSH) trainings, workshops, and compliance.
The panellists shared their journey towards becoming successful entrepreneurs.  Mr. Ashwin opined that the first step for creating tech solutions to problems is consulting the customer.  He remarked that no budding entrepreneur should commit the mistake of building a product or service based on secondary research alone.  Mr. Alex highlighted the need for a good support system, often family or friends, while thinking of starting up, especially given that risks are plenty while rewards aren't guaranteed.  Both speakers felt strongly that their value proposition lay not only in building a profitable business but also in affecting social change and behavioural shifts in the consumer market.  They cited conducive national and state-level policies as a key factor for social impact startups generating scale.  According to Mr. Alex, a critical aspect of achieving success as an innovator was believing in oneself and single-mindedly "chasing your dreams."
At the Delhi NCR leg of the challenge launch on October 10, 2019, a similar panel discussion was held with two distinguished speakers.  The first, Vaishali Nigam Sinha, is Co-founder and Chief Sustainability at ReNew Power, a startup that has become India's leading wind and solar energy company.  She is also an alumna of Columbia University and a member of the Center's Advisory Board.  The second panelist was Dr.  Kalpana Viswanath, Co-founder and CEO at Safetipin, an app that was born out of a philosophy of ensuring women's safety at all times, not just at moments of emergency.  Both speakers offered insights into entering and enduring the tech entrepreneurship space as women.  Ms. Sinha remarked, "To succeed, women founders must have ambition, agility, confidence, and laser-sharp focus. They need good female and male mentors. We do not have enough women-led ventures, in India or in Silicon Valley. We need to change the supporting ecosystem too so that women-led ventures receive greater backing."
The third and final launch event of the series is scheduled to be in Bengaluru on October 15, 2019.  Applications for the Urban Works Innovation Challenge 2019-2020 will remain open until November 15, 2019.  Innovators and entrepreneurs who are passionate about producing viable and interdisciplinary tech-based solutions for transforming 21st century cities in India into sustainable and safe work environments are encouraged to apply.  Selected teams receive mentorship from faculty and alumni of Columbia's School of Engineering as well as distinguished entrepreneurs and academics in India. Winning teams can also avail of unrestricted capital from a total annual fund of Rs. 1.2 crores, and peer networks and infrastructural support from a tech-first collaborative workspace at The CoWrks Foundry for a six month period.  Startups with successful on-ground pilots will have opportunities to pitch their solutions to leading investors and corporations in the field.