Re-Framing Religious Heritage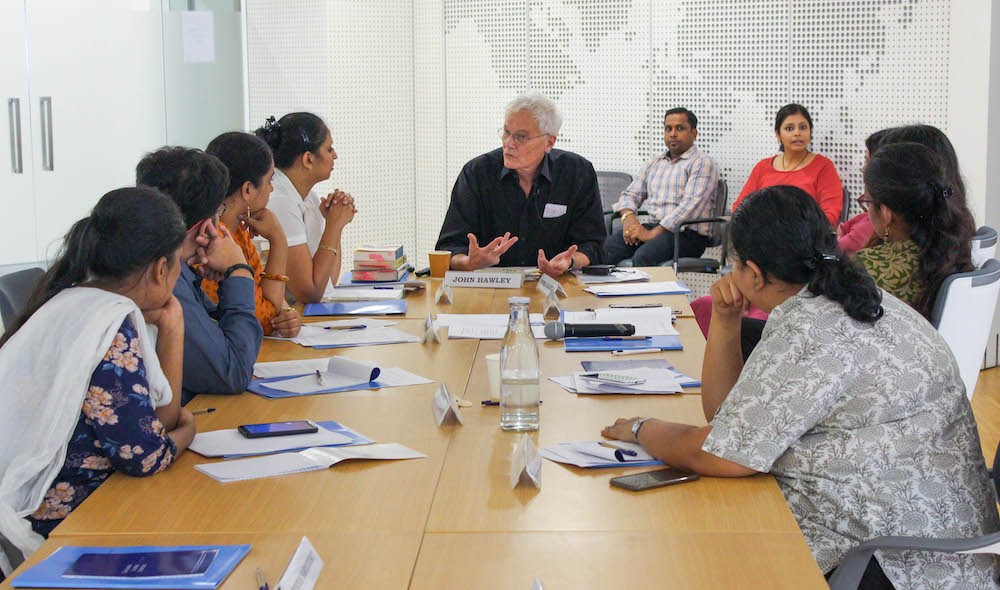 The historic town of Vrindavan in North India, renowned in lore as an idyllic pastoral landscape where Krishna is believed to have spent his early years, has seen rising tensions between developmental pressures and vestiges of its traditional character. A perspective on the tide of transformations affecting this urbanizing area was provided by John Stratton Hawley, Claire Tow Professor of Religion at Barnard College, Columbia University, who has spent over forty years visiting and doing academic work in Vrindavan. Professor Hawley was speaking at a public lecture and launch of his latest book, Krishna's Playground: Vrindavan in the 21st Century (Oxford 2020), organized by the Columbia Global Centers | Mumbai on January 13, 2020.  
In many ways, Vrindavan's transformation represents the realities of several small towns in India amidst exploding urbanization, observed Dr. Ravina Aggarwal, Director of Columbia Global Centers | Mumbai in her introduction to the lecture. In Vrindavan, the construction of the world's tallest religious building is underway on the banks of the now dangerously polluted Yamuna and New Delhi's megalopolitan sprawl inches closer day by day.  Such transformations, especially over the last decade and a half, had motivated Professor Hawley to address this startling new landscape and evoke questions about the town's status as a heritage landmark in his new book. 
Drawing from his encounters with the changing nature of Vrindavan, Professor Hawley discussed the rolling out of infrastructure projects, changes in road and transportation, proliferation of new mega temples and real estate projects in a landscape that previously housed abundant grasslands, shrubs and peacocks.  While the continuity of traditional practices and customs persist, he described how they were also being renegotiated to sync with the forces of urbanization and influences from other parts of the nation and beyond.  Professor Hawley equated this impetus towards modernization to consumerist culture, comparing the new swathes of development and accompanying services for pilgrim-visitors to theme parks and strip malls. 
Through his long-standing relations and interactions with local individuals, families and institutions, Professor Hawley also reflected on some of the prominent communities in Vrindavan, including ashrams and organizations for widows and other social services that were integral to the fabric and identity of the town.  Despite the changes afoot, he attributed the lasting draw of the town to its energy and deep-seated place in India's cultural and religious imagination.  He noted that while Vrindavan was a symbol of modern Hindu religion in India, it was equally relevant from an ecological point of view. "It stands for where we are as a world," he said. 
With parts of its distinct landscape still untouched, architectural heritage including temples, ghats and palaces, and the town's historical, cultural and religious importance, Professor Hawley made the case for Vrindavan's candidature as a World Heritage Site.  Although some landmarks already fell under the protection of the Archeological Survey of India, he stressed the urgency for a broader preservation plan that integrated cultural as well as ecological sites, fostering a balanced approach to safeguarding Vrindavan's heritage for future generations while also paying heed to its vibrancy and appetite for growth. 
While in Mumbai, Professor Hawley also conducted an interactive seminar entitled, 'Historicizing Bhakti', for History faculty from the city's colleges on January 10, 2020, as part of the Historical Methods Seminar Series that is co-hosted by Columbia Global Centers | Mumbai and the South Asia Institute at Columbia University in partnership with the Mumbai History Teachers Academy. The series aims to strengthen capacities in research and curriculum design for college professors in the discipline of History.  Drawing from research on his book, A Storm of Songs: India and the Idea of the Bhakti Movement (Harvard 2015), Professor Hawley expanded on the different methodologies employed in his study of the great poet-saints of early modern North India. By citing key examples from the text, he discussed various challenges in confirming the veracity of sources and their analysis, including manuscript research, oral history, evaluation of visual sources, and contemporary rapportage. Participating faculty and researchers eagerly engaged with materials and group exercises.