Narrating Latin America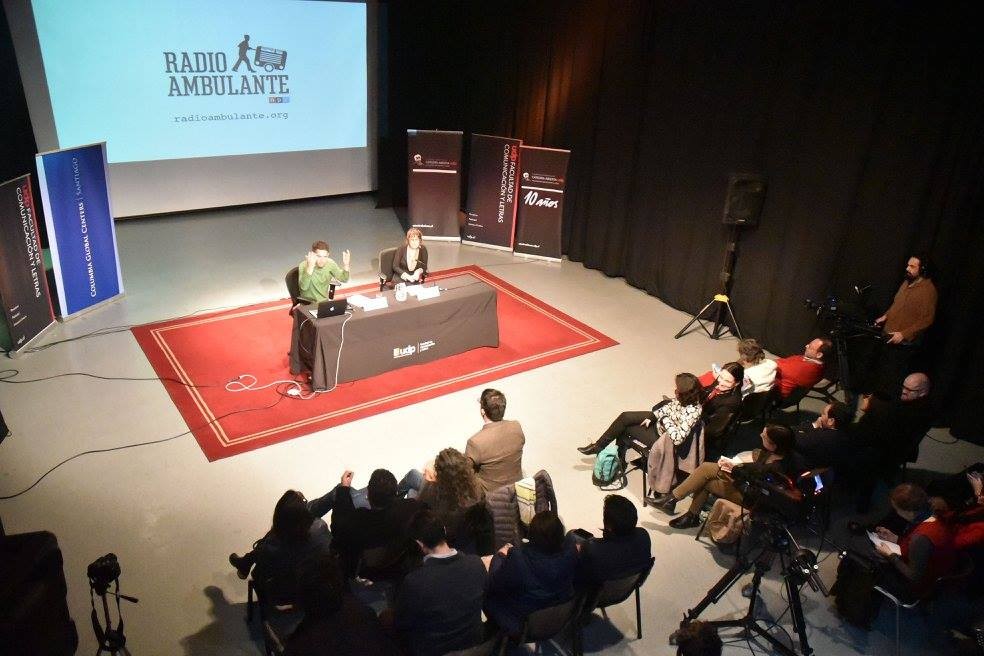 Radio Ambulante is an award-winning Spanish language podcast, distributed by NPR, which uses long-form narrative radio journalism to report on Latin American and Latino stories. Since its creation in 2012, it has covered themes, events, and people from all over the continent in a groundbreaking, unique audio sequence that includes reporters' descriptions, interviews, dialogues, and realistic backdrop sounds. Among the stories covered by Radio Ambulante are those on  the undergroundhard-rock scene in Havana,  the life of immigrant children that came to the US from Central America without their parents, a chaman in Colombia hired to stop rainfall during a soccer tournament, and environmental conflicts in Southern Chile.

Daniel Alarcón, co-founder of Radio Ambulante and assistant professor of broadcast Journalism at Columbia University, visited Chile in August to participated in the series "The Future of Journalism" organized jointly by the Santiago Center, Universidad Diego Portales´ School of Journalism and Columbia' Journalism School. He also met with local broadcast journalists and Columbia alumni.
During his presentation, entitled "How to Narrate a Continent (without Dying in the Attempt)," he recounted the history of Radio Ambulante, explained the way in which editors and reporters work on each story, described the main journalistic and technical elements behind elaborating a podcast, and, finally, reproduced a story, originally broadcasted in March 2017, entitled "Contra la Gastronomía Peruana".
Daniel Alarcón began working as a journalist in 2004, first in print for Latin American outlets such as Etiqueta Negra, and later for American and European publications including Harper's, the New York Times Magazine, El País, and Granta. His long-form journalism has included deeply reported pieces focusing mainly on Peru, the country where he was born, with topics ranging from the rise of the new nationalist left, the book piracy industry, and the emerging democracy inside Lima's most notorious prison. This last piece, "All Politics is Local," was published in Harper's in 2012, and was a finalist for a National Magazine Award that year.
Alarcón is also a fiction writer: His first short story, "City of Clowns," appeared in The New Yorker in 2003, and HarperCollins published his first collection "War by Candlelight," two years later. His first novel "Lost City Radio" was published in 2007, named a Best Book of the Year by critics across the country, and eventually translated into over a dozen languages. "At Night We Walk in Circles," published in 2014, was a finalist for the PEN/Faulkner Foundation Award.
During his visit to Chile, he also presented his latest book "La Balada de Rocky Rontal," a set of chronicles originally published in English and translated into Spanish by Alejandro Zambra and Jazmina Barrera.
Watch Daniel Alarcon´s lecture here.