Obama Town Hall India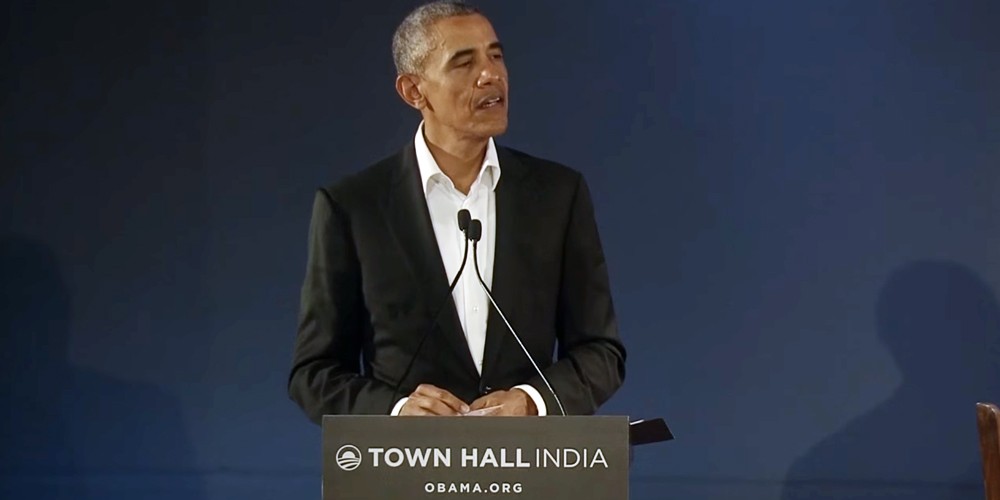 On December 1, the Obama Foundation hosted a Town Hall in New Delhi with former US President Barak Obama and a selected group of young Indian leaders from across the country. The Town Hall expanded upon the conversations during similar events in Germany, Indonesia, and Brazil – exploring how the Obama Foundation can support leadership development for making an impact in the world.
"The single most important thing I want to focus on is lifting up, identifying, working with, and training the next generation of leadership. Not just in the United States, but all around the world," said Obama. He noted that as one of the most culturally, religiously, linguistically, and ethnically diverse nations on earth, India's democracy shows the collective strength of engagement within and across communities. Most of India's 1 billion people are under 35 years old, and includes leaders who are finding innovative ways to create positive change across India — change that benefits the world.
Columbia Global Centers | Mumbai partnered with the Obama Foundation to identify young leaders for the Town Hall in New Delhi.  A selected participant, Anshul Ailawadi, who graduated from the School of international and Public Affairs at Columbia University in 2013, had this to share from his experience: 
"In my current role, I assist the Group CEO of Viacom18, Sudhanshu Vats. Mine is a private sector role in an industry that's witnessing disruption from every angle. I am closely involved with an organizational transformation program that is currently underway. I was fortunate to be invited to the Obama Town-Hall in Delhi. I distinctly recall watching the 2012 election results while at Columbia University. Back then, I found it hard to explain why I was rooting for the Presidential candidate of another country. Such was, and is, the charisma of Barack Obama. There was no way I would have given up on the opportunity to hear him live, seated about 40 feet from where he stood. Rarely can one expect such candor and humility from someone who has achieved so much. In the 90-odd minutes that he spent with us, he reinforced why he remains amongst the most respected global leaders of the current generation. It was a treat to hear him reminisce about his time as a youngster and the role that Michelle Obama has played in his success. One particular reference he made stood out for me at a personal level. When he spoke about how it's impossible to create change and be a purist at the same time, it was an 'aha!' moment for me. I took a lot away from this specific message and can now appreciate the 'importance of compromise' in creating a win-win situation. My participation at the Town-Hall was truly a memorable experience that I will cherish for a long, long time. I look forward to learning more about the plans of the Obama Foundation for India and South Asia."