Our Story is Our Story: Reflections on Race and Racism
With the approach of the American elections and the debate on police accountability fueling the Black Lives Matter movement, Columbia Global Centers | Paris and the MA in History and Literature decided to dedicate the first week in October to a series of events organized around the topic of "Race and Racism: Global Perspectives."
October 13, 2016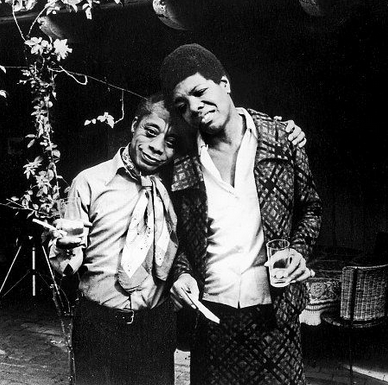 With the approach of the American elections and the debate on police accountability fueling the Black Lives Matter movement, Columbia Global Centers | Paris and the MA in History and Literature decided to dedicate the first week in October to a series of events organized around the topic of "Race and Racism: Global Perspectives."
Although the individual events approached the issues from different perspectives, one particular thread emerged, weaving the events together: the importance of storytelling in the creation of identity, community and history, and the transformative power of those stories.
"We Americans are told to remember our history, but not all of it," said author and journalist Linda Hervieux who kicked off the series on Monday, October 3 with a presentation of her book, Forgotten: The Story of D-Days Black Hereos, At Home and At War. Hervieux's book tells the moving story of the 320th Barrage Balloon Battalion, the only all-black combat unit to fight in the D-Day landings in Normandy. 
These soldiers, upon their return to America, were completely effaced from the pages of history books, documentaries and films about World War II. "Two black units were given commendation by Eisenhower but we don't know about either of them," Hervieux explained, as she recounted some of the individual soldiers' experiences of coming from a segregated Jim Crow south to unexpected freedom in Europe. Although the soldiers' experience abroad would later contribute to the nascent Civil Rights movement in the United States, the government's deliberate refusal to acknowledge the heroism of the over 2,000 black troops who fought in WWII kept many veterans from sharing their exploits even with members of their own families.
In 2005, however, these men began reclaiming their stories when the first black veteran was granted a medal of honor.  Hervieux reported on this event, and the interest and curiosity that grew out of the research for the article ultimately fueled her desire to write about this forgotten part of history.  Her efforts to fill the void came none too soon -- one of the veterans she interviewed, Wilson Monk, exclaimed that he had "been waiting fifty years for someone to call."
The importance of storytelling in creating both personal and cultural identity was also the subject of the following day's panel on black expatriate writers. Marcellus Blount, Associate Professor of English and Comparative Literature at Columbia, along with William Dow and Alice Craven, both professors of Comparative Literature and English at the American University of Paris, spoke about the ways in which France—and Paris, particularly—provided the refuge and relative freedom that black writers such as Chester Himes and Richard Wright needed to tell and understand their own stories.
Zora Neale Hurston Professor of English Robert O'Meally introduced the evening by presenting the "The Color Line: African American Art and Segregation."  The exhibit, which was curated by Professor O'Meally's close friend Daniel Soutif, had opened that day at le Musée du Quai Branly.  Tracing social history through art, the exhibit examines the role that art played in blurring or reframing the discriminatory boundary separating white from black in America. 
Although the individual events approached the issues from different perspectives, one particular thread emerged, weaving the events together: the importance of storytelling in the creation of identity, community and history, and the transformative power of those stories.
If writing gives voice to the voiceless, so too does music. Or so argues Senegalese sociologist, Mahamadou Lamine Sagna, whose recently published biography of Cornel West was the topic of Friday's discussion, moderated by Myriam Cottias, historian and former president of the Centre national de l'histoire de l'escavagisme.  Sagna was in conversation with Patrice Vermeren and Stéphane Douailler, both philosophers from Paris VIII.  Sagna, who spent over a decade teaching at Princeton University with Cornel West, explained how central the notion of counter-time in blues and jazz was in fashioning West's conception of social dissonance.  Indeed, it is this same music that gave the black community "a voice and a biography, a space where struggle was transformed into hope."
The talk was preceded by a performance by dancer Stephane Mensah and kora musician Djeor Cissoko, who, as Myriam Cottias explained, demonstrated through art "how history and culture are written in the body."
What better story to conclude with than that of poet and activist Maya Angelou? Writer and director Rita Coburn Whack spoke about her friend and mentor Angelou, who was the subject of Whack's documentary that premiered this year at the Sundance Film Festival: "Maya Angelou: And Still I Rise." Whack, a born story teller, spoke eloquently of her own decision to become a filmmaker: "A lot of filmmakers that get into documentary work are frustrated historians…When I read history books, I didn't see myself there, I didn't see my mother or my father."  The desire to tell their stories, the story of her community, to give voice to the stories that history had forgotten, is a driving force for Whack, who is a champion not only of the black community but also of women.
Her first encounter with seeing something resembling the story of her community came the first time she picked up I Know Why the Caged Bird Sings: "On the back there was a photo of a black woman, and I had never seen that before." She would later meet Angelou and become the producer of her radio show, staying at her home and accompanying her on her travels, which in turn inspired her to do a documentary. In telling Maya Angelou's story, as panelist and professor Françoise Zamour noted, Whack also succeeded in telling the larger story of the racial divide of the 20th century, from segregation to the Civil Rights movement to the election of the first black president.
The series ended on Monday, October 10, with a tribute to Maya Angelou at the Théâtre de l'Odéon by writers Russell Banks and Léonora Miano, director Rita Coburn Whack and former minister of justice, Christiane Taubira.  The event included readings of Angelou's poems and autobiographical texts, a celebration in words of a "phenomenal woman" (so states the poet: "I'm a woman/Phenomenally./Phenomenal woman, /That's me»).
"Race and Racism: Global Perspectives" was organized in association with the Columbia University Masters in History and Literature and Les Editions Noir Sur Blanc.