Parents of Columbia Chinese students: Donate to protect heroes in the fight against COVID-19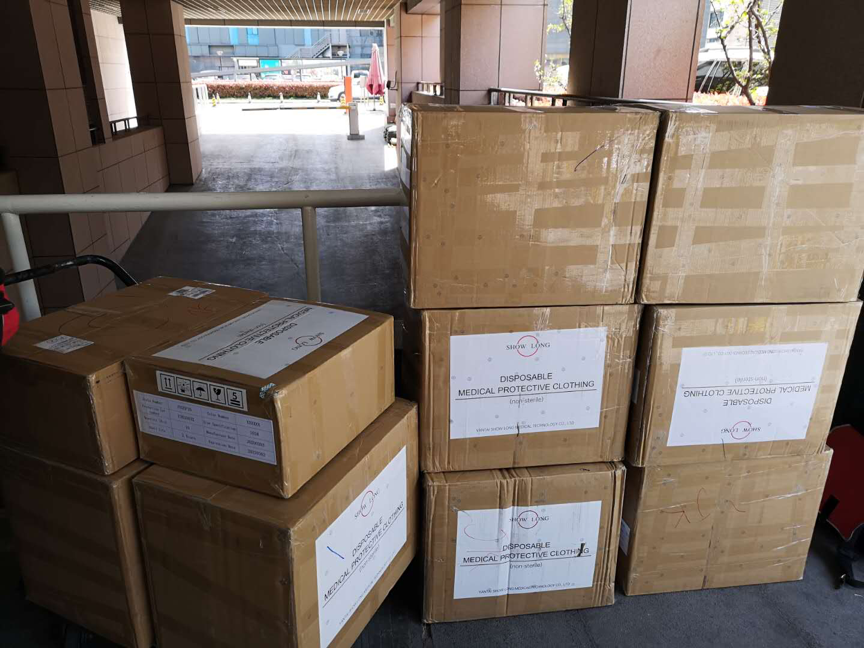 Parents of Columbia Chinese students contributed in their way to support the university during the fight against COVID-19.
With RMB 365,000 ($51,000) in cash and 1,940 protective suits, the Chinese parents delivered personal protection equipment (PPE) to Columbia University Irving Medical Center in March.
The donation came from more than 220 families, including over 200 undergraduate students.
Earlier in January, the parents also contributed over RMB 100,000 ($14,130) to No.9 Hospital of Wuhan in China's Hubei Province.
Columbia Global Centers | Beijing interviewed Rachel WANG, one of the undergraduate students' parents who organized and participated in the action. She revealed more details. 
Q: How did you get in contact with all the parents of undergraduate students during the donation?
Wang: We have a WeChat group for parents of undergraduate students at Columbia University. Members in the group, together with some special guests, have their children at Columbia College (CC) and the Fu Foundation School of Engineering and Applied Science (SEAS). Parents of both undergraduate and graduate students contributed to the donation for New York. Some of their friends also took part in the contribution to Wuhan after they heard about the appeal.
Q: How did you come up with the idea of making donations to Columbia University?
Wang: Our children receive the best education at Columbia University. We have witnessed how they grew up and established their values. We attribute their growth to this university. New York is a severely-affected area in this epidemic. Irving Medical Center is on the frontline, but there are not enough PPEs for the medical staff there. We want to help protect these heroes. Even though we did not know one another in the WeChat group, we got together because of the same Columbia identity.
Q: We heard that you have a volunteer group to deal with the donation. How did the group operate and assign tasks across countries?
Wang: The volunteer group has around ten people. They belong to different volunteer teams, including an internal purchase team, a transportation team, a foreign purchase team, a team for receiving goods and delivery, etc.
We did not hear any complaints from our members when encountering difficulties in the process, which was the most touching part of the activity. Every time I asked a parent for help, he or she would say, "I'll do it." No one shirked.
Q: Did you come across difficulties in the process? How did you deal with them?
Wang: In Face with stricter export and import restrictions between China and the United States, we needed to figure out how to exchange money received from donation into PPEs and send it to medical staff. And this was the biggest challenge. Compared to the Wuhan donation activity, the one for New York had a higher demand for workforce. Many parents contributed silently in this month-long process. They found resources, shipped them safely to the United States, and sent them to the frontline.
When we were transporting the second shipment, we learned that Columbia University had a strict requirement for supplies. It would take a long time to deal with supplies donated from society. However, staff working at the frontline did not have enough PPEs. We decided to receive the supplies by ourselves and send them to Columbia University Irving Medical Center in person. Doctors from Irving Medical Center received the supplies and delivered them to people in charge of the inspection. Then the PPEs were distributed to frontline medical workers more quickly.
Q: Can you tell us about the similarities and differences between these two activities? They both received extensive support.
Wang: From my perspective, many parents living in foreign countries were not very concerned about the first donation. They were more compassionate in the one for Columbia. The total amount of contribution to Columbia University is more than three times that of Wuhan. One of the parents donated three times using different accounts with several thousand dollars each time.
"When I donated the money for the first time, I just did it calmly. But at the second and third donation, I cried when I thought of it. Those children who graduated ahead of their work in hospitals are the parents' flesh and blood. They are just like mine," she said.