Paris Center Stories: Anastasia Gracheva, '21 GS
Recent graduate Anastasia Gracheva, '21 GS, looks back on her time as a student in the Columbia Sciences Po Dual BA program and shares her Commencement 2021 experience.
May 12, 2021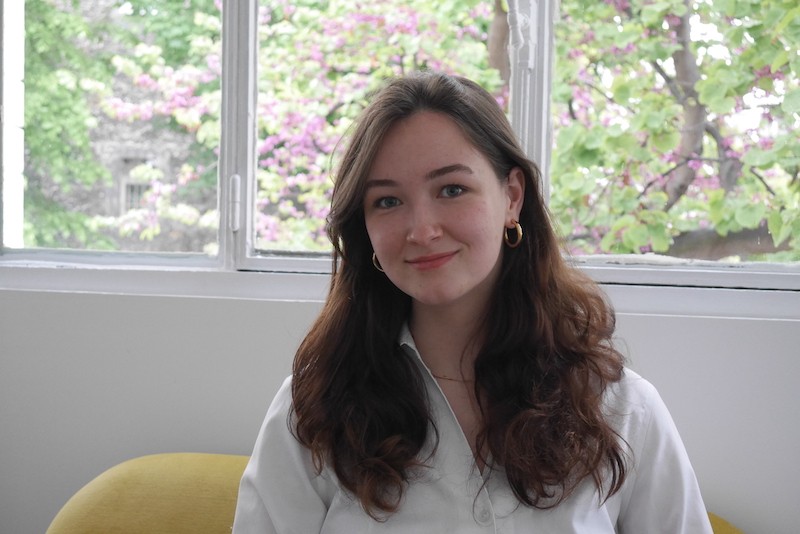 Tell us about yourself. Where are you from? How did you decide to go to Columbia?
Throughout my educational path, my parents strongly encouraged an international lifestyle and academic journey, giving me the opportunity to travel to almost 36 countries before I was 18. For my high school experience, I went to Stanford University's Online High School, which gave me the opportunity to have a very flexible international curriculum, to focus on my language study, and to travel, so I wasn't tied to any "brick and mortar" place. This really gave me an opportunity to figure out what part of the world I wanted to be in, what subjects I wanted to focus on, and which regional specialization I wanted to pursue.
When I was 16, I traveled to Japan as part of an organized trip and continued to conduct multiple Japan-focused research projects. When I was in my junior year, I learned about the opportunity to apply to the Columbia Sciences Po Dual BA. The immediate advantage of the program to me was that it gave me the opportunity to spend your time on a regionally specialized campus. So for me, the opportunity to be in Le Havre in Normandy, meant that my curriculum would be fundamentally similar to other Sciences Po campuses, but I could focus on East Asia, which was exactly what my background responded to. I ended up entering the dual B.A. when I was just 17 and graduating a few months earlier than planned.
Over the four years, I learned that my education at Sciences Po and Columbia complemented each other equally. Sciences Po gave me a "taste of France" with a small cohort of students from dozens of countries. The knowledge and international experiences I received through Sciences Po continued at Columbia through my participation in clubs, my courses, and my honors thesis. The choice of the undergraduate program flowed well and was the perfect fit for me.
How has this year and the challenges created by Covid and confinement affected your experience?
Despite the original 2 + 2 year plan in the Dual BA, I ended up only spending about five months in New York City. However, I was lucky to have my classes online and in hybrid form. And when I was here in France - which is where I moved back after COVID happened - I even had the opportunity to visit the Global Center once or twice. Before Covid, I had made the trip to Paris for one or two musical events at Reid Hall - a unique opportunity to combine cultural events with feeling like part of the Columbia community when I wasn't yet in New York. I currently live in Paris, where I worked at the OECD as an analyst. It was really nice to be here and just live a Parisian lifestyle for at least a little bit, even without the open museums!
How did it feel to celebrate commencement at Reid Hall?
I received an email inviting me to attend a graduation ceremony in Paris for Dual BA students a few days before the commencement. Since many of us at Columbia have returned to our home countries, the pandemic continued to complicate previous plans for an in-person graduation event. Personally, I had planned on celebrating with my friends and family over Zoom!
However, celebrating my graduation at CGC Paris was probably one of the most unexpected yet warmest experiences I have had as a student in the Columbia Sciences Po Dual BA. When I arrived, Séverine and the CGC staff came down with big smiles and welcomed us with gifts and regalia. The entire hallway of Reid Hall was lined with beautiful big blue balloons. I had the opportunity to throw my cap in the air, take photos, as well as speak directly with my GS deans and team members. I was truly touched by the coordinated efforts that made this day unforgettable. 
What are your plans now?
I am going to be continuing my studies at Columbia, studying International Economics with a focus on East Asia. Although I'm not sure when I'll be going back to New York, Paris and Reid Hall will remain my second Columbia campus - a home away from home!