Paris Center Stories: Charlotte Force, '20CC
Meet Columbia College alumna Charlotte Force, a "campus native" who has now moved to Paris.
December 02, 2021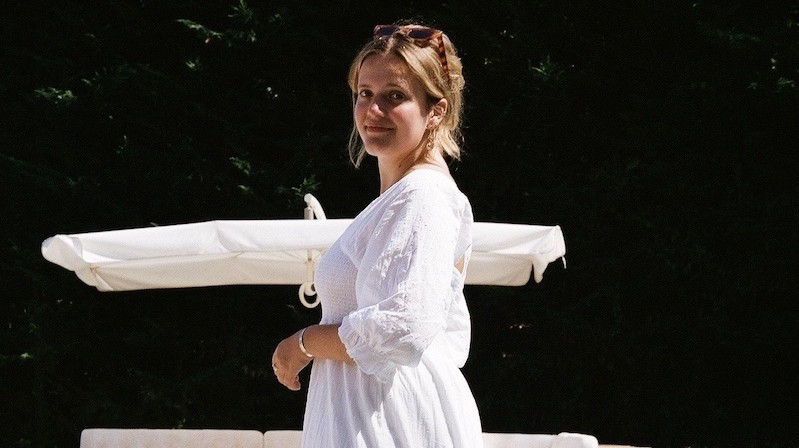 What is your connection to Columbia?
I like to joke that Columbia is my third nationality. I was born in the Columbia Medical Center, raised in Morningside Heights, and had my sixth birthday party in Philosophy Hall. My dad is a professor in the French department – tout s'éxplique.
During my first semester at Columbia College, I had a column called "The Girl from 116th," in which I mused about campus life from the perspective of a "campus native." I graduated in 2020 with a B.A. in History and Medieval Studies, and moved to France during the pandemic. After spending over a year in the Basque Country, I moved to Paris.
In the Summer of 2021, I became a member of the board of the Columbia University Club of France. As a board member, I get to have input in the events we organize, which has been one of the best things I've done since moving to Paris! I encourage any member of the Columbia community in France to join the club; and if you have ideas or requests for events, to get in touch!
What brought you to Paris?
In May 2020, I came here with a Parisian friend, and re-discovered this city that I thought I knew. After many successive confinements, people were open like never before, and I was enchanted. I immediately started looking seriously for a job in Paris upon my return home.
Paris wasn't love at first sight for me at all. For most of my life, I never thought I'd live in France, let alone here. In the Summer of 2018, I did one of the coolest programs Columbia has to offer undergrads: Art and Music Hum at Reid Hall, two months of seeing and listening to Paris. This, and a return to Reid Hall in 2019 for a thesis workshop, significantly thawed my strange reticence to come here. But there's nothing like a pandemic to make you reconsider your preconceptions!
Tell us about your current professional projects.
I am currently working as a research assistant on a new book project by New York Times contributing writer and bestselling-author Elaine Sciolino. I am also developing a documentary that I researched for the year I spent in the Basque country, on its cuisine and agriculture. If you'd like to learn more about the project, you can read my blog post presenting it!
You're the face behind CAA France's social media. Has the alumni network helped you broaden your network in France?
Indeed, the first thing I proposed when I joined the alumni club's board is that we make an Instagram! You can follow it @columbiaalumnifrance to see updates about upcoming events.
I did meet Elaine Sciolino, for whom I now work, through the alumni network – which is extensive and not limited to just Columbia grads! And since moving to Paris, I've met other alumni who I never crossed paths with in Morningside Heights (but seeing as they also made the decision to move here, they're clearly all brilliant and have excellent taste).
Favorite haunts in Paris?
For classic French bistro food without a thirty-euro price tag, I recommend the Bouillon restaurants (in Pigalle and Bastille), especially their excellent 3.80-euro soupe à l'oignon. For any cooks and bakers coming to Paris, definitely hit E. Dehillerin (tools) and G. Detou (baking ingredients), a stone's throw away from each other and encyclopedically well-stocked. The small movie theater Studio Galande has played host to shadow casts of the Rocky Horror Picture show for over forty years (Friday and Saturday nights). For thrift shopping, Emmaüs. And though central Paris is already very dense, I must shout out two banlieu spots: the Saint-Denis Sunday market, and Fontainebleau forest for stunning hikes.
To quote Edmund White: "Paris is a big city, in the sense that London and New York are big cities and that Rome is a village, Los Angeles a collection of villages and Zurich a backwater." Paris has infinite layers of history stacked on top of each other, cut up by Baron Haussmann, and squished together into neighborhoods. You won't ever get to all of it in any organized way. I think you can still – and should – be a flâneur in Paris.
Do you have any advice for recent alumni considering a move across the Atlantic?
Reach out to the members of the alumni club, by email or in-person at one of our events. We can give you professional advice (French CVs generally have a photo on them, unlike American resumes), practical advice (you get a social security number within three months of living in France), French advice (always say bonjour and merci), and fun advice (if you like to see more than one movie a month, consider getting the UGC/MK2 illimité pass). If you have any questions for me, n'hésitez pas: [email protected].